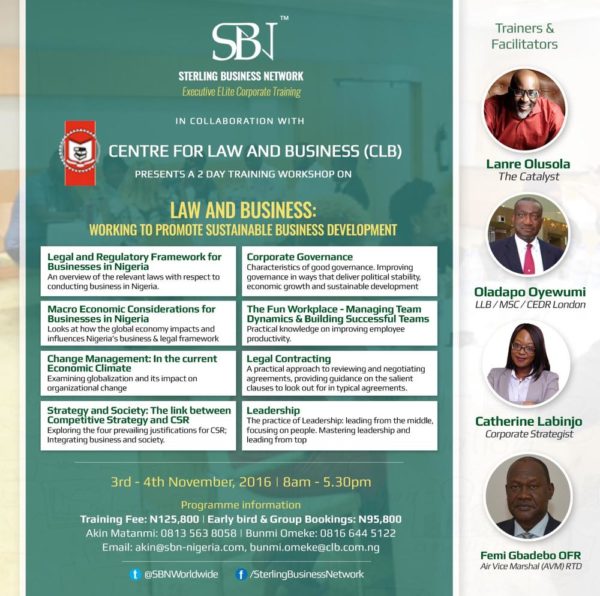 In this current economic climate, sustainability in every business remains key. Therefore, it is important for all individuals and organizations to understand how intertwined business transactions are with law. This workshop seeks to reinforce the idea of the symbiotic relationship between law and business, and the need for both to work together in the process of promoting sustainable development.
This workshop is suitable for Corporate Entities and Companies, Businessmen and women, Entrepreneurs, Banks and Financial Institutions, Accounting Firms, Consulting Firms, Chambers of Commerce and Business Associations, Professional Bodies, Regulators, Legal Practitioners and Lawyers in banks and financial institutions, Government Ministries, Agencies and Parastatals, Law Enforcement Agencies, the Media and all other interested persons.
This workshop targets individuals at the strategic level of the organizations within both the public and private sectors. It is intended to provide participants with a profound understanding of the administrative framework of conducting business in Africa, particularly in Nigeria.
Also, this workshop aims to demonstrate to participants how globalization and the creation of an interconnected global economy are impacting on the administrative, regulatory and legal framework, which in turn influences organizational change.
Finally, this workshop will sensitize participants on the need for Corporate Social Responsibility and the promotion of good governance; and would also highlight the key role of teams and enlightened leadership in the creation and sustainability of competitive businesses.
Workshop Details
The workshop details are as follows
Date: November 3rd-4th, 2016
Time: 8:30am – 4.30pm
Venue: Four Points by Sheraton, Plot 9/10 Block 2 Oniru Chieftaincy Estate, Victoria Island, Lagos
Course Fees
N125, 800.00 | Early Bird: N95,800 (payments made before October 14th, 2016)
5 delegates and more will attract a 20% discount.
Cost to cover course materials, training, certificate of participation, refreshments, and lunch for 2 days.
Payment Info:
SBN
GT Bank
Acc Name: SBN International
Acct No: 0211574993

CLB
First Bank
Acc Name: Centre for Law and Business
Acct No: 2028695237
To register, click on the following link: http://bit.ly/2cScNkU

Contact us:
SBN: Akin Matanmi
Email: [email protected]
Telephone: 08135638058
www.sbn-nigeria.com
CLB: Bunmi Omeke
Email: [email protected]
Telephone: 08166445122
www.clb.com.ng
________________________________________________________________
Sponsored Content