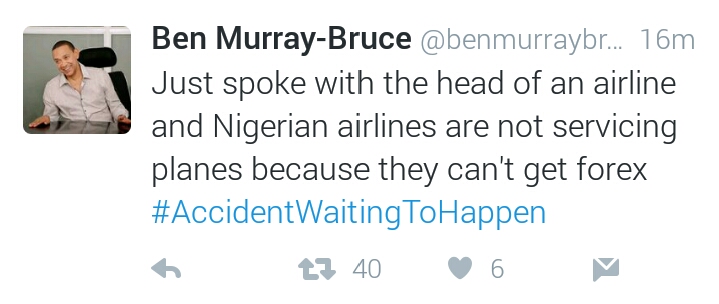 Senator representing Bayelsa East Senatorial District, Ben Murray-Bruce, on Monday, said that airlines are no longer servicing their aircraft due to lack of access to FOREX.
He made this known in a series of Tweets. Murray-Bruce said that he got his information from 'the head of an airline'.
Read what he wrote below:
Just spoke with the head of an airline and Nigerian airlines are not servicing planes because they can't get forex.

Pilgrims get forex at special rates while airlines can't get it to buy parts and are flying planes that could drop.

Right now in Nigeria, even aviation fuel isn't available. Airlines are forced to cut corners and put lives at risk.

Regulators license airlines with one plane. The planes is overworked without access to necessary service and parts.

Airlines are forced to source for forex on the parallel market. They are forced to cut corners and risk lives.

What is happening in our aviation sector is an emergency. We mustn't wait for the next accident to take storm.

In ALL airports in Nigeria, there are delays. No aviation fuel. No parts. Desperate travelers, weak regulator.

We must show concern for those who don't have access to Presidential Jets and Private Jets. Human lives are at risk.