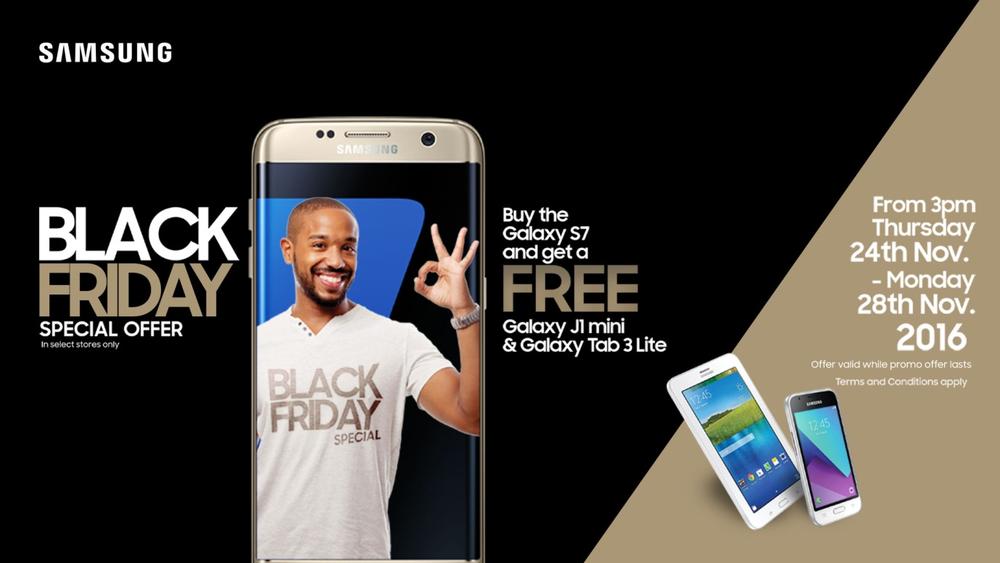 Enjoy special benefits in the Samsung Black Friday Promo!
Buy a Galaxy S7 edge or S7 and get a free Galaxy J1 mini & Galaxy Tab 3 Lite from 3pm on Thursday, November 24th, 2016 until Monday, November 28th, 2016.
This Offer is valid while stock lasts. Terms and conditions apply.
See full list of participating stores below. For more information, please visit www.samsungexperiencestore.com.
List of Participating Stores
Store
   Address
SLOT
   Wuse 2 Emab Plaza, Abuja
SLOT
   Garki, Abuja
SLOT
   Medical Road Computer Village, Ikeja, Lagos
SLOT
   Ikeja Mall, Lagos
SLOT
   Olayeni, Computer Village, Lagos
SLOT
   SLOT Building, Saka Market, Victoria Island, Lagos
SLOT
   SLOT Building, Adeniran Ogunsanya, Surulere, Lagos
SLOT
   Plot 126, Aba Road, Opposite First bank, 1st artillery, Port Harcourt, Rivers State
Samsung Experience Store, IKEJA MALL
  Ikeja City Mall, Lagos
Samsung Experience Store, MICRO STATION
   Saka Tinubu Street, Victoria Island, Lagos
Samsung Experience Store, IKOTA
  Ikota Ajah, Lagos
MEGA PLAZA
   Mega Plaza Building, Idowu Martins Street, Victoria Island, Lagos
PARK N SHOP ADEOLA ODEKU VI
   Saka Bus Stop, Adeola Odeku Street, Victoria Island, Lagos
SIMS IKEJA MALL
   Ikeja Mall, Lagos
Samsung Experience Store
   GSM Arena Plaza, 18, Awolowo Way Ikeja, Lagos
Samsung Experience Store
   Adeniran Ogunsanya Shopping Mall Surulere, Lagos
SIS-STS POINTEK
   Medical Road Computer Village, Ikeja, Lagos
FINET
   Awolowo Way, Computer Village, Ikeja, Lagos
POINTEK
   Saka Tinubu, Victoria Island, Lagos
MEHDI GLOBAL SERVICES LTD (MGS)
    198,Sanusi Fafunwa, Victoria Island, Lagos
SPAR PARK N SHOP
    58, Town Planning Way, Next To Standard Chartered Bank, Ilupeju, Lagos , Nigeria
HARMONY REAL PLUS
    Ikeja Mall, Lagos
MICROSTATION
   Otigba, Computer Village, Ikeja, Lagos
Samsung Experience Store
   Nelle Mall, Admiralty Way, Lekki Phase 1, Lagos
Samsung Experience Store, MARYLAND
   Maryland Shopping Mall, Lagos
POINTEK
  Pointek Building Adeniran Ogunsanya, Surulere, Lagos
DSCL
  Saka Tinubu, Victoria Island, Lagos
Samsung Experience Store
   27/29 Allen Avenue, Ikeja, Lagos
PLAN A
   Wuse 2 Emab Plaza, Abuja
Samsung Experience Store
   Jabi Mall, Abuja
Samsung Experience Store
   Wuse 2 Emab Plaza, Abuja
PARK N SHOP
   Wuse 2 Emab Plaza, Abuja
MEHDI GLOBAL SERVICES LTD (MGS)
   Wuse 2, Abuja
KOLIANGEL 1
   Wuse 2 Emab Plaza, Abuja
Samsung Experience Store
   Apo Shopping Mall, Abuja
Samsung Experience Store
   Port Harcourt Mall Azikiwe Road, Opp. Government House, Port Harcourt, Rivers State
SPAR PARK N SHOP
   Spar Shopping Mall, Azikiwe Rd Near Govt, House, Port- Harcourt, Rivers State
EVERYDAY EMPORIUM 2
   21 Elelenwo Str. Opp Skippers GRA, Port Harcourt, Rivers State
FINET
   289 Aba Road Port Harcourt, Rivers State
EVERYDAY EMPORIUM 1
   7 Emerelu Str. GRA, Port Harcourt, Rivers State
CALLUS MILLER
   14 Aba Road, Port Harcourt, Rivers State
___________________________________________________________________
Sponsored Content