Farida Yahya of LumoNaturals Presents the Fourth Edition of Jungo – A Celebration of Everything DIY | Saturday, November 26th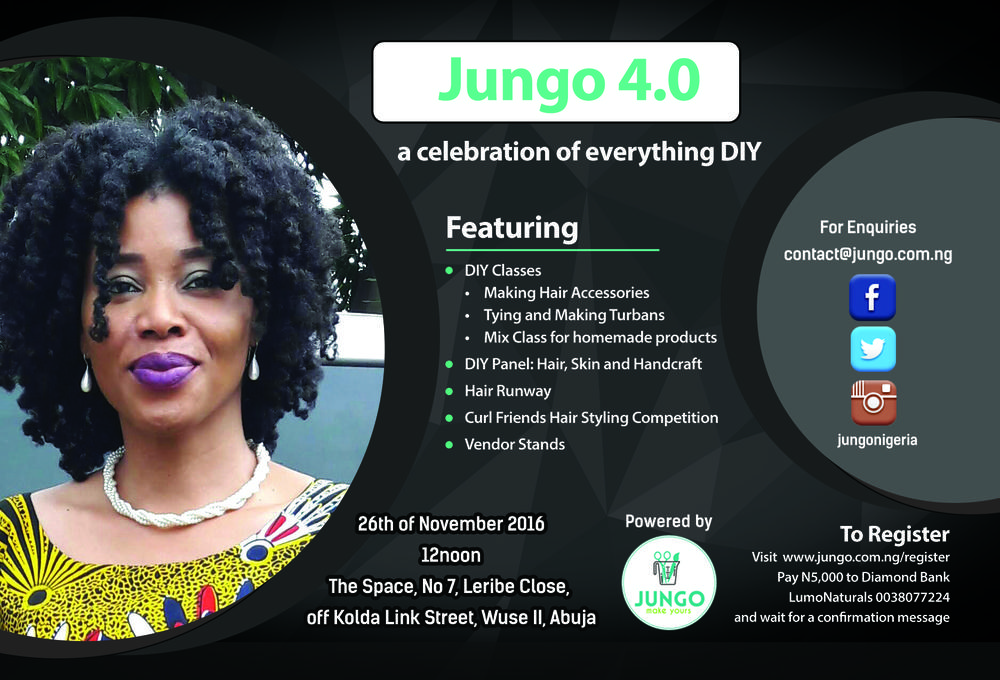 The project Jungo was conceived by Farida Yahya of LumoNaturals as an opportunity to teach and inspire young women, mothers and professional working women tips and tricks to creatively transform their world with color and style, without breaking the bank. Jungo4.0 is the fourth installment of the Jungo series by LumoNaturals.
From Do-It-Yourself classes teaching women how to make the best of resources at home and work to exploring new ways of making simple household items work for them in exciting new ways, to fashion and art, Jungo is all about making the most of what is available.
For Jungo 4.0, The Hair Edition, the focus is all on hair, Hair Guru Yellowsisi will be sharing tips and answering questions on everything natural hair while Soap et al will teach on how to make some simple organic cosmetic products.
But wait, there is more. There will also be a Hair Accessories Making Class and a How to Tie a Turban Class because we got you covered even on bad hair days.
Loctician Ade Balogun of Locitude will also at Jungo4.0, headlining the Natural Hair Runway as salons and stylists showcase the versatility of natural hair in a hair fashion show.
There will be loads of giveaways for attendees including natural hair products from our sponsors and partners plus the sum of N50,000 to be won in our Curl Friends Challenge.
Organic hair and skin products plus arts and crafts will also be on display and available for sale.
Jungo 4.0: The Hair Edition promises to be super exciting and we are looking forward to having an awesome time with all things hair. Don't be told!!!
For more information on how to attend and participate, visit www. jungo.com.ng
EVENT DETAILS
Date: Saturday, November 26th, 2016.
Time: 12noon
Venue: The Space, No 7, Leribe Close, off Kolda Link Street, Wuse II, Abuja.
____________________________________________________________________
Sponsored Content