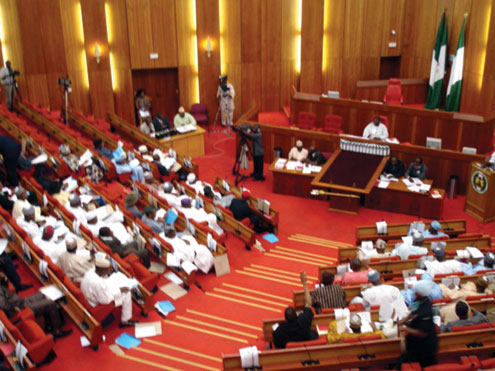 The Senate on Thursday rejected the nominations of former Speaker of Kwara House of Assembly, Ezekiel Benjamin and Alhaji Saidu Abubakar as Non-Executive Commissioners of the National Communications Commission (NCC).
The rejection of the nominees was predicated on the report presented by the Chairman, Committee on Communications, Sen. Gilbert Nnaji (PDP -Enugu).
The committee recommended Benjamin's background as a trained nurse "will not put him in good stead to effectively cope with the dynamics of the communications sector if his nomination is confirmed."
On Abubakar, the committee said that his response to questions during screening portrayed him as "a candidate not prepared for the demands of office of a non-executive commissioner on the Board of Nigeria Communications Commission".
It is believed that Abubakar ran into trouble with the Senate during his screening on October 18 when the committee confronted him with photographs of his frequent protests and calls that the Senate should be scrapped.
Abubakar reportedly reiterated his view that the Senate is an avenue for the wastage of scarce resources, when he was being screened.
Acting on the committee's recommendations, the Senate dropped Abubakar and Benjamin but confirmed Sen. Olabiyi Durojaiye's nomination as Chairman of the NCC Board.
Also confirmed were Sunday Dare (Executive Commissioner), Ifeanyi Ararume (Non-executive Commissioner), Clement Baiye (Non-Executive Commissioner) and Okoi Obla (Non-ExecutiveCommissioner).
The lawmakers also confirmed THISDAY Law Editor, May Agbamuche-Mbu (Delta), Prof. Okechukwu Ibeanu (Anambra) and Ahmed Mu'azu (Gombe) as National Commissioners in the Independent National Electoral Commision (INEC).
Others confirmed for as INEC Commissioners were Mohammed Haruna (Niger), Dr. Adekunle Ogunmola (Oyo) and Abubakar Nahuche (Zamfara).
The Senate also confirmed the appointments of Justices Dauda Bage and Paul Galinje as Supreme Court justices.