Watch the Most Anticpated Movie 'Dinner' at the Cinema this Weekend and Win a ZTE Blade V7 Max Phone Plus other Consolation Prizes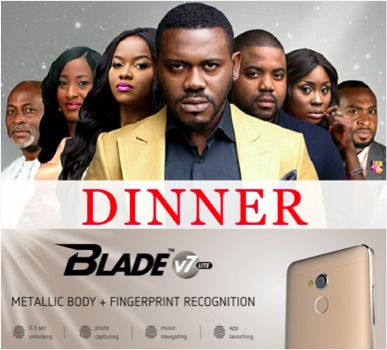 Here's how to WIN:
Go to the cinema this weekend and see Dinner the movie.
Take a picture of your ticket and upload on Instagram and Facebook.
Tell us the name of your favourite character and remember to use the hashtag #DinnerTheMovie.
Mobile phone winner will be selected by a random draw and announced on Tuesday 22nd November 2016 plus over N200,000 recharge cards to be won as consolation prizes in every cinema across Nigeria.
DINNER premiered on the 11th of November at the Filmone IMAX cinema and witnessed an overflow audience. The movie has been reviewed by cinema audience as the best movie to hit Nigerian cinemas this year. DINNER is showing in every cinema near you.
______________________________________________________________
Sponsored Content