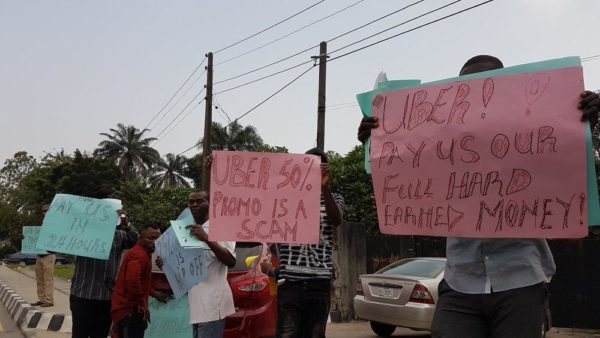 Uber drivers are currently protesting against non-payment of their entitlements following the company's latest promo where passengers got 50% off of their rides.
The drivers, who are currently protesting in Ikoyi, Lagos, claimed that the company is making them pay for the discount it gave to customers.
According to a Twitter user, Amara Nwankpa (@nwankpa_a), one of the drivers told him, "I was supposed to get N80k last week. Uber Nigeria paid me only N11, 900".
@LagosUberRide @UberLagosDriver @NSE_INVESTOR @gbenro @UberNigeria @Uber pic.twitter.com/eHTNKKo0QW

— CASH LORD (@isidags) November 16, 2016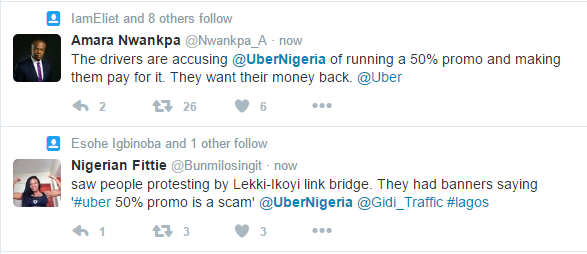 @LagosUberRide @Uber @UberLagosDriver @UberNigeria @Uber_Support @gbenro @NSE_INVESTOR protesters at Uber office lagos today. pic.twitter.com/BoAxykiqVR

— CASH LORD (@isidags) November 16, 2016
However, some persons are saying UBER partners (owners of some of the cars) are the ones cheating the drivers.
UPDATE:
Following their drivers protest in Lagos on Wednesday, UBER has released and official statement.
Read below, the statement by Samantha Allenberg, from Communications Department, Uber Africa.
In our many focus groups with driver-partners a suggestion was made for Uber to look at ways to get new riders to use the app for the first time. The 50% off marketing campaign was at the cost of Uber, meaning driver-partners did not have to pay for this promotion. Should any driver-partner have any questions or concerns about this campaign, they are welcome to contact us via our support channels and we will further explain the mechanics of the campaign to them.