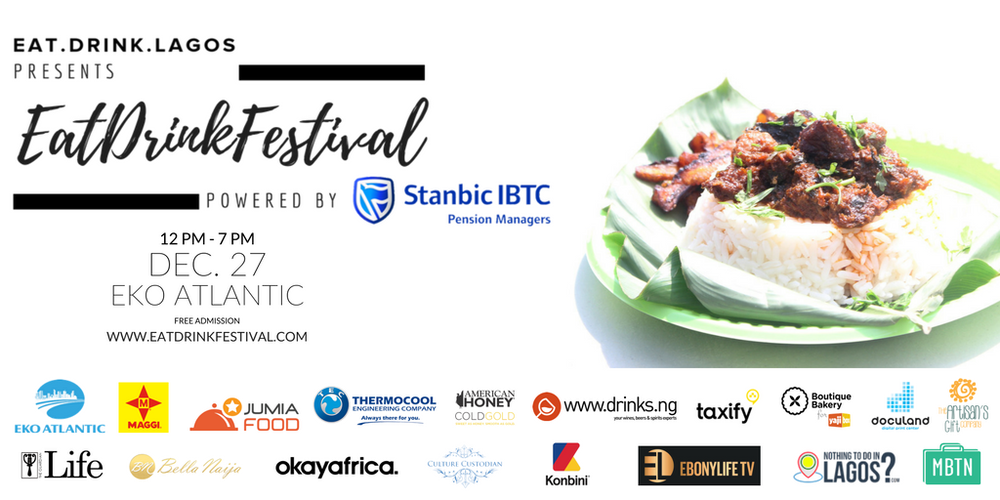 Eat.Drink.Lagos is pleased to announce a carefully selected list of vendors who will showcase a variety of options that will be made available on the Lagos culinary scene. There will be something for every palate.
Admission to #EatDrinkFestival is FREE. Food and beverages will be available for purchase from the following 50 vendors:
Heels in the Kitchen; Limehouse Bars; Drinks.ng; Bubble Tii; Honey's Cupcakes; Hans & Rene; Pop That Candy; Cocktail & Chops; Vanilla Bakehouse; Scratch & Social; Luxe Bars; Jamski; Shakz Shack Tiki Bar; Majik Juice; House of Grills; Feedrite Catering; Royal Pops; Rum & Passion; Selina Teas; Treats by Kiks; DEARHealthys; Cafe Jade; Ready Steady BBQ; Eko Cafe; Smoothie Express; Moo Diary Milkshakes; Lawla's Confectionary; Toasties by Biscuit Bone; BM Shawarma and Wraps; Segi's Zobo; Victoria Treats; Delicioso Mobile Chefs; Slush Queen; Captain Licious; Shawarma Xpress; Mo's Jollof; Smokey Bones; Gala Rosa; DazzleFoods; Crema Coffee House; Hot Hobs Cuisine; The Smokin Grill; Cafe De Viande; Happy Healthy Food; What Dami Did; 8tte's Finger Likin; The Snail Place; Burrito Express; Sydney's Cuisine and Urban Fuxion.
Select vendors will also offer a Festival Special option priced at N1500 or less, so that guests can choose to sample multiple items.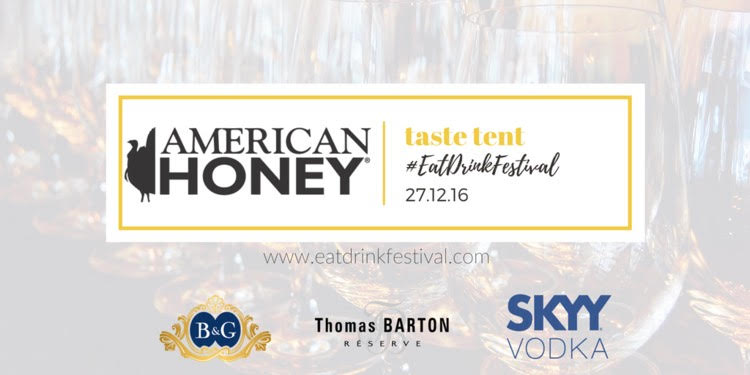 New to#EatDrinkFestival this season is the American Honey Taste Tent. Participants in this exclusive lounge experience will sample select pours from the Brian Munro portfolio of wines and enjoy specialty gourmand activities.
Speaking on the partnership, the General Manager of Brian Munro says, "It is important for us to provide a great experience for Lagosians, and that's why we have partnered with Eat.Drink.Lagos for the #EatDrinkFestival."
Also to look forward to are cooking demos and food tastings by #EatDrinkFestival partner Maggi, who have partnered with Eat.Drink.Lagos because of their commitment to celebrating good food mHoments and spreading the gospel of healthy food habits.
#EatDrinkFestival powered by Stanbic IBTC Pension Managers promises to be a hit. Don't miss it!!!
Date: 27th December, 2016
Time: 12 noon – 7pm
Venue: Eko Atlantic, Victoria Island, Lagos.
For more information, please check out eatdrinkfestival.com
#EatDrinkFestival is proudly sponsored by Stanbic IBTC Pension Managers, Eko Atlantic, Jumia Food, Maggi, Thermocool, Drinks.ng, Yaji Box, American Honey, Doculand, Taxify, and The Artisan's Gift Company.
_______________________________________________________________________
BellaNaija is a media partner for Eat.Drink.Lagos