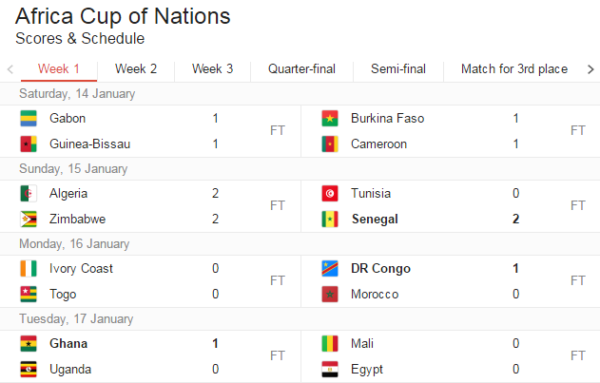 It's definitely a marathon on draws in the ongoing African Cup of Nations (AFCON) taking place in Gabon.
Of the eight games played so far, there have been 5 draws and two wins (or losses).
Gabon and Guinea-Bissau played 1 – 1 in the first game of the tournament, which began on January 14 2016. This was the same scoreline in the game between Burkina-Faso and Cameroon, played later that day.
At Full Time, the scoreline between Algeria and Zimbabwe was 2 – 2, but Senegal beat Tunisia 2 – 0 to record the first win of the game on Sunday.
Ivory Coast played 0 – 0 against Togo on Monday, and DR Congo beat Morocco 1 – o later that day.
Ghana beat Uganda 1 – 0 in Tuesday's first game, and Mali and Egypt played a goalless draw later in the night.