Did you watch day 3 of the Big Brother Naija reality show?
If you missed it, we've got the highlights for you!
**
The Morning
Despite the gloomy weather today, spirits are high in the Big Brother Naija House! First to wake up was Kemen but it wasn't long before everyone else followed suit and shuffled across to the arena for the morning workout.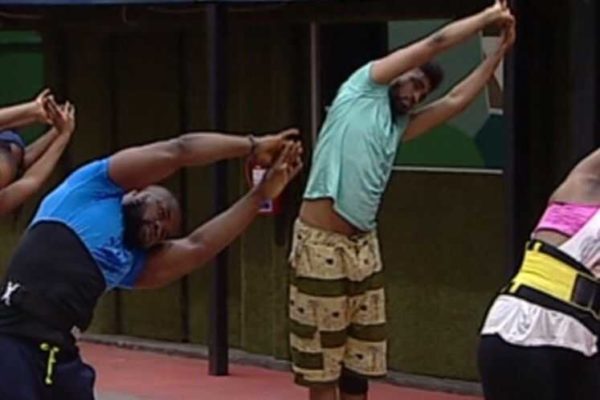 Head of House Uriel really put the Housemates through their paces today!
After the workout, Kemen and Bisola had a chat about how the latter was having a hard time with cramps before heading back into the House to clean up and shower.
The Housemates made breakfast while Biggie played music so it was lit and everyone seemed so upbeat. The guys even did a cute, choreographed routine in the mirror for our viewing pleasure.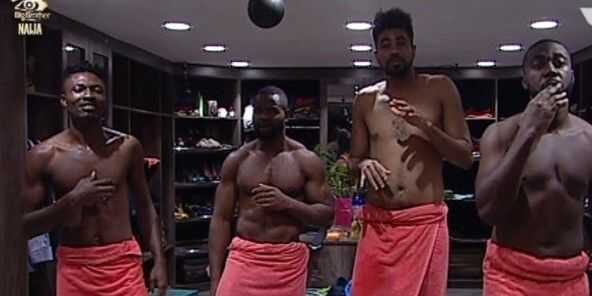 The Task
For today's task, Big Brother asked the housemates to start out by sharing some of the Nigerian folk stories they grew up hearing. Biggie then asked them to compare these stories and find out the things their own narratives have in common with those of different cultures.
After this, Biggie asked them to form groups of three with Marvis, Soma and Bally leading each individual group. He asked them to create their own Big Brother Folk Tale performance using lessons from the stories they've shared as well as any items that they find in the house.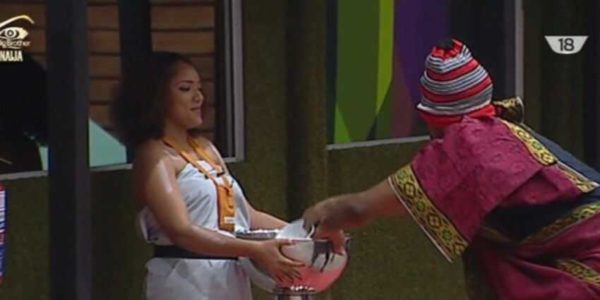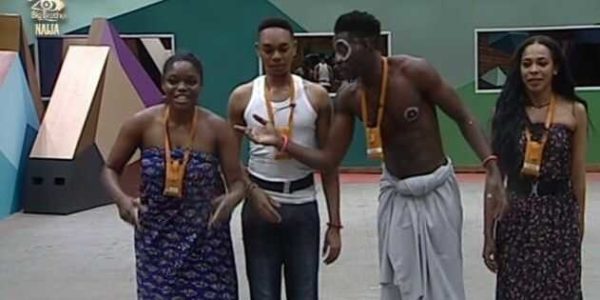 While the Housemates were busy planning their Nigerian folk presentations Big Brother threw a spanner into the works by introducing a second, surprise task. He wanted the Housemates to pair up with the same partners they had for the food challenge yesterday. The task was to use the fabric and other materials provided by Biggie to create an outfit that represents a Nigerian cultural group though it doesn't necessarily have to be traditional.
The Diary Sessions
Gifty said she had a good day overall and really enjoyed the folk tale task. She said it brought back so many memories and made her feel like a kid again. When asked about the group she's working with for the presentation she said she loves everyone but thinks TTT is her favourite and has brilliant ideas. She also enjoyed working with Uriel on the fashion task and believes her partner was really tolerant and supportive. When asked who else she'd pick as a partner she went with Bisola and said she also loved Bisola's outfit the most as it was "very true to Yoruba culture."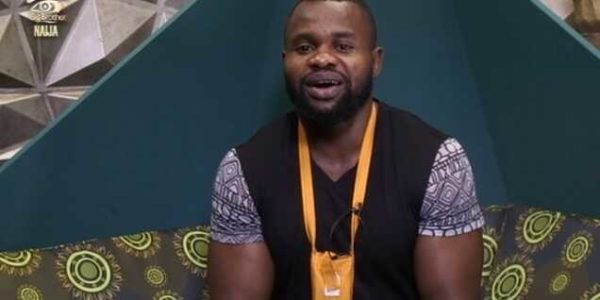 Kemen said the day was rough because it was one task after another. He also said he enjoyed being kept warm by Tboss last night. When quizzed about what he meant, he denied that there was anything more than friendship going on between them. Kemen also said he thinks everyone is being genuine though he finds Miyonse's flirtiness with the ladies a bit suspect.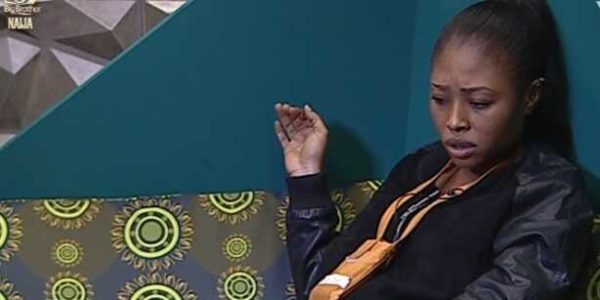 Cocoice said she loves the vibe in the house. She added that people were working under a great deal of pressure yet what they came up with was great. When asked about relationships in the house, Cocoice said Kemen was into Tboss. However, she went one step further and added that Miyonse's romantic advances weren't genuine and he was "just playing" with Tboss.
The Overeating
Biggie called the Housemates to task as he felt that the Housemates were concentrating too much on their culinary skills and were being wasteful with the food in the House. Biggie felt that the Housemates were overshadowing their good work in the Tasks and decided to withdraw their cooking privileges for the next 24 hours. He did say that he could reinstate their privileges depending on their performances in the upcoming task but he warned them that he reserved the right to extend the punishment and not return their cooking privileges
Biggie said that they still had access to what was left in the cupboards and that they could reheat any meals that had already been cooked but that they could not cook any new meals until Biggie said they could. This cut short their celebrations as they realized that they were still under Biggie's control and they were still playing a game and that not everything would always go their way.
***
Have you been watching #BBNaija? Which housemate is your fave, and why?