Burna Boy threatened to block the MTVBase twitter handle after they put up a side by side picture of him and musician Patoranking and asked their followers to 'Retweet' for Burna Boy or 'Like' Patoranking.
Buran Boy's fans weren't here for the comparison, as they were encouraging the artist to block MTVBase asking why they would compare the two artists especially as their music fall under different genres and they are completely two different types of artists.
See Burna Boy's tweet below.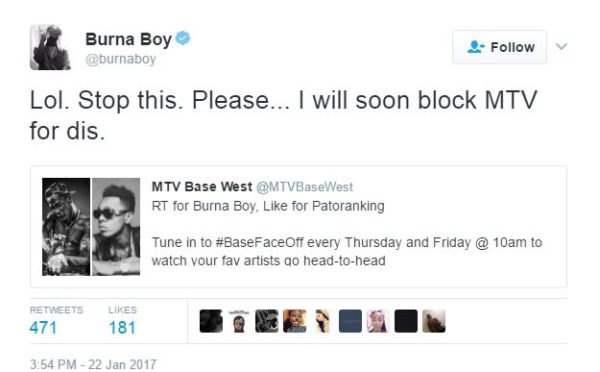 Check out some reactions from his fans:
@burnaboy… You've really got to block this peepu… Before now it was eazy, now it's patoranking…. Mtchew nonsense #Abinibiyatosiability

— Amos Oluwafemi pride (@Amos_Pride) January 23, 2017

@burnaboy fam trust me you one of the best in the game bro and you deserve more than this ….. when I listen to pree me I see greatness ✅✅✅

— Manfred (@phiifi_wadle) January 23, 2017

@burnaboy baba no mind them

— mufasa (@ObaroVictory) January 22, 2017

@burnaboy They call us burnaaaaaa
??, naff gun block them bad man one time

— kun Alexis (@Lexystrings) January 23, 2017