Rapper Ruggedman has reacted to the trending video of Club Owner, Mike walking into a wedding venue with two ladies on a dog leash.
Ruggedman, who expressed anger over what the "degrading act" on women, said that if ladies do not gang up tomake sure Mike apologises, he does not want to see any lady complain on his timeline about anything else.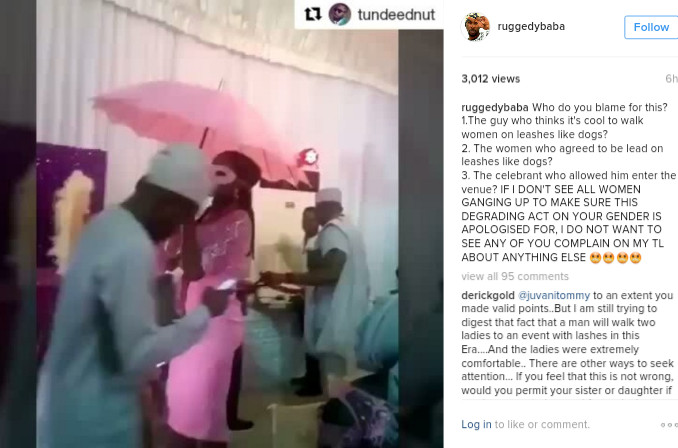 He wrote on Instagram
Who do you blame for this?
1.The guy who thinks it's cool to walk women on leashes like dogs?
2. The women who agreed to be lead on leashes like dogs?
3. The celebrant who allowed him enter the venue? IF I DON'T SEE ALL WOMEN GANGING UP TO MAKE SURE THIS DEGRADING ACT ON YOUR GENDER IS APOLOGISED FOR, I DO NOT WANT TO SEE ANY OF YOU COMPLAIN ON MY TL ABOUT ANYTHING ELSE ????
While many people have comdemned the act, others have said it is a sexual practice (BDSM), and since it's between consenting adults, it's none of anyone's business.