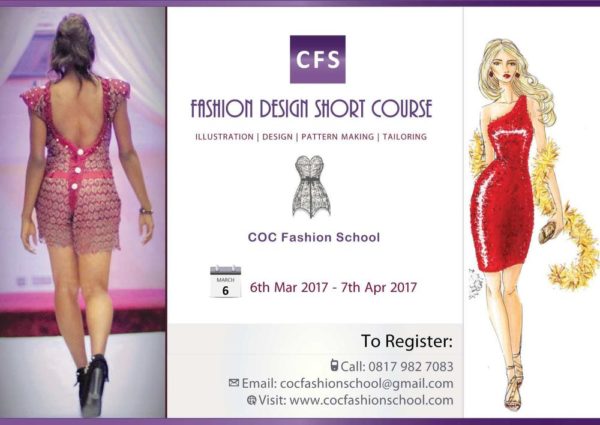 Is it part of your 2017 plans to become a fashion designer, exploring the world you love? Have you been concerned about coping with the multiple months required for an intense fashion course? Do you want valuable lectures for a shorter amount of time? Do you want to learn to illustrate alongside??
If this you, then we've got the perfect course for you!
Say yes to your fashion dream this year. Don't just wish for it, it's time to act on it.
COC Fashion School is inviting every Fashion Design aspirant to enroll for her 60% off, 1-month Intensive Fashion Design crash course that will transform every participant from a novice to a mini expert in little time.
Learn to make beautiful garments yourself (ready-to-wear standard), learn to illustrate super amazing garments, end this Crash Course with an in-house fashion exhibition plus sales' event showcasing your self-produced amazing collection and illustrated fashion artworks developed under our supervision.
A whole lot more, so why wait?? Here's a chance to end the first quarter of 2017 skillful!
The Fashion Design Curriculum includes:
Intro to Fashion Design
Design Phases
Elements of Design
Principles of Design
Fabric Study & Combination
Colour Study & Combination
Pattern Flow Techniques
Measuring Techniques
Deriving Country Body Sizes
Developing a Collection
Pattern Drafting
Tailoring Techniques
Learning to use the Sewing Machine
Sewing Machine Maintenance
Garment Construction
The Fashion Business
Project & Certification.
Garments to be taught include:
Phone Pouch
Basic Bodice
Kimono
Shift Top
Elastic Top
Circle Skirt
Pleated Skirt
Elastic Dress
Shift Dress
Oleku [Iro & Buba] – Bonus
Schedule & Further Details:
Course Title: Fashion Design Beginner's Crash Course.
Duration: 1 month | 13 Classes.
Date: Monday, March 6th 2017 to Monday, April 3rd 2017.
Venue: COC Fashion School | #3 Agungi Road, off Lekki Expressway, Lagos.
Lecture Days: Mondays, Wednesdays & Fridays.
Lecture Time: 2.00 pm to 6.00 pm.
Course Fee: N50,000 [Fifty Thousand Naira Only]
Certification: Yes [A certificate of attendance will be issued to you upon course completion]
Mini Sewing Kit: N5,000 extra [not compulsory]
The Fashion Illustration Curriculum includes:
Intro to Fashion Illustration & its opportunities
Fashion Illustration Techniques
Free Hand Sketching
Learning to draw a fashion figure
Drawing Fashion Model Poses
Drawing Faces – Asian, African, Caucasian
Rendering Flesh and Face Details
Drawing Fabulous Garments
Drawing Drapes, Ruffles, Trimmings, Buttons & Garment Details
Dressing Your Fashion Models
Rendering Fabrics – Sheer, Lace, Prints, etc
Conceiving a Fashion Collection
Creating a mood board for your collection
Developing a LookBook
Creating your portfolio
Project.
Fashion Illustration Details:
Course Title: Fashion Illustration Short Course
Duration: 3 days
Date: Friday, 10th March 2017 to Sunday, 12th March 2017
Venue: COC Fashion School | #3 Agungi Road, off Lekki Expressway, Lagos
Lecture Time: 2.00 pm to 6.00 pm
Course Fee: N40,000 [consists of certificate, light refreshments and tools]
For More Details:
—————————————————————————————————————–
Sponsored Content