Breaking the Glass Ceiling! Sola David-Borha, Standard Bank Group's CEO (Rest of Africa) is our #BellaNaijaWCW this week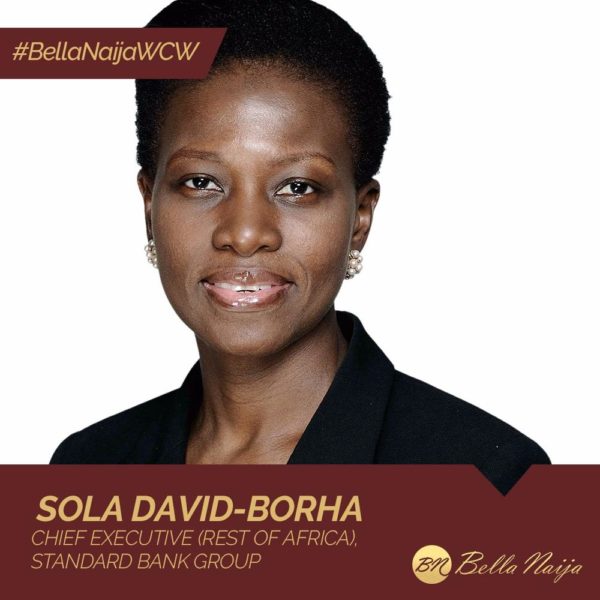 Sola David-Borha readily comes to mind whenever we talk about breaking the glass ceiling.
Until January this year, Sola was the Chief Executive Officer, Stanbic IBTC Holdings Plc. – a full service financial services Group with subsidiaries in Commercial Banking, Investment Banking, Pension and Non-Pension Asset Management and Stockbroking.
A few days ago, she was appointed Chief Executive Officer, Rest of Africa, Standard Bank Group.
Stanbic IBTC Holdings is a member of Standard Bank Group.
We love how Sola has grown organically in her career, destroying every barrier along the way.
Prior to 2007, when it was acquired by Standard Bank Group, Sola worked as an Executive Director at IBTC Chartered Bank Plc. 
She served as Chief Executive of Stanbic IBTC Bank (a product of the merger) from May 2011 to November 2012. She also served as Deputy Chief Executive of the Bank and Head of Investment Banking Coverage Africa (excluding South Africa).
Between 1984 – 1989, Sola worked in the Credit and Marketing department of NAL Merchant Bank Plc.
With an extensive experience in the financial industry, she has proven that she can steer her organisation to even greater heights.
Sola holds a B.Sc. Economics degree from the University of Ibadan, Nigeria, and an MBA from Manchester Business School, United Kingdom. Her executive educational experience includes the Advanced Management Programme of the Harvard Business School. She is also a fellow of the Chartered Institute of Bankers (CIBN) and currently the Vice Chairman of the Nigerian Economic Summit Group (NESG).
She is also a member – Governing Council of the Redeemer's University of Nigeria (RUN), and an associate Pastor at RCCG, City of David Parish.
In 2016, Sola was singled out as the All Africa Business Woman of the Year at the All Africa Business Leaders Awards in Partnership with CNBC Africa.