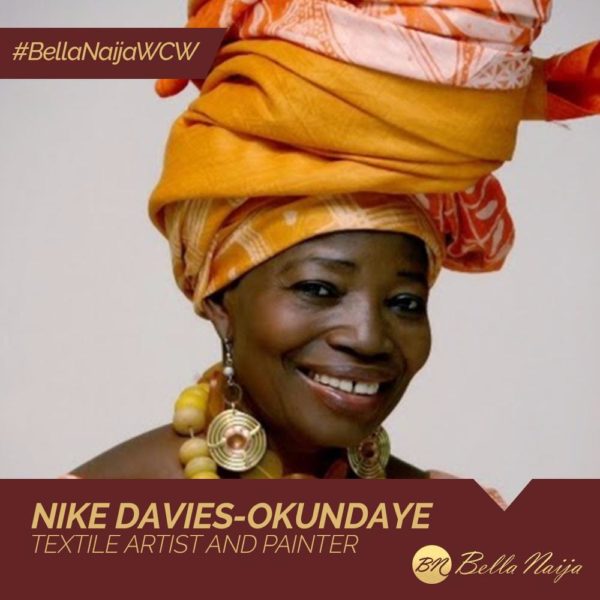 Born in 1951 in a small village called Ogidi-Ijumu in Kogi State, Nike Davies-Okundaye was brought up by her great-grandmother and an aunt who was an artist.
Nike was principally educated in art by her great grandmother whom Nike lived with after the death of her mother (when she was 6) and grandmother (when she was 7). Her great grandmother was a weaver and an "Adire" textile maker/dyer during her lifetime.
Her father, late Nicolas Ojo Allah who was a village traditional drummer and baskets weaver in his days could not help her much to acquire higher western education.
Nike stopped schooling at primary 6 school level. However, Nike went ahead to teach herself English at home. She never went to school to study art which has brought her to global spotlight.
Watching her great grandmother in the art of "Adire" textile processing and helping her out in "Adire" making, Nike walked up the line to become an expert in "Adire" textile making, dyeing, weaving, painting and embroidery. This was the way vocational training was passed down from parents to children in Yoruba communities in those days in Nigeria.
Today, Nike's paintings sell for between N500,0000 to N4 million. In 1983, she opened an art centre known as Nike Centre for Arts and Culture, world-renowned for craftsmanship in Osogbo, Osun State. The centre has provided training for hundreds of aspiring young men and women. Teachers instruct students in sculpture, paintings, bead work, mosaic, batik, adire, applique, pen and ink paintings; quilting, drum making and dancing.
Considering her background, Nike says she does not want to see any young woman go through what she went through in her early life.
"I want these girls to understand that they can make a living; a good living with their hands. They should come and join the centre and learn some crafts. Let them come and get trained. The training is free of charge, and accommodation is free. And after their training, I expose their works and products to the outside world," she says.
In her quest to further promote, enhance, sustain and provide enabling environment for the growth of African cultural heritage in Nigeria, Nike single-handedly went ahead in 2009 and built a five floor ultra modern cultural art centre at Lekki Peninsula, Lagos with the main purpose of positively transforming the landscape of the hitherto neglected art and culture in Nigeria. This building was opened to public in September 2009. This building also holds Nike's second textile museum. It also houses the 4th Nike Art Gallery in Nigeria with a large stock of Nigerian and African art of deferent media.
Nike has had over 102 solo art exhibitions and 36 group art exhibitions in her artistic life. Nike's art works can be found in many private homes collections and public institutions collections including schools, colleges, universities, palaces and museums all over the world. Two of Nike's major art works "Liberal Women Protest March (Parts 1 & 2)" were collected by the prestigious Smithsonian National Museum Of African Art in Washington DC, USA for permanent display in 2012.
Nike has given workshops on traditional Nigerian textiles to audiences in the US and Europe during the past 20 years.
Nike has participated in scores of international shows as well as bagging dozens of awards.
Workshops, lectures and international shows
In 1996, Nike held an exhibition at the University Of Tampa Florida, USA. The exhibition was followed by series of lectures and workshops she conducted at the department of fine art of the University.
In 1997, Nike held an exhibition at the prestigious Schobgarten Galleria in SCHOBGARTEN, Germany.
In February 2004, Nike was artist in resident at the University of California, Berkeley, USA.
In July 2004, Nike was artist in residence at the International Folk Art Festival at Santa Fe, New Mexico, USA. The festival was sponsored by the Museum of New Mexico Art Foundation.
In October 2004, Nike was appointed a member of the UNESCO Committee of the Nigerian Intangible Cultural Heritage Project.
In May 2005, Nike was a guest artist in e at the African Art Festival in Wurzburg, Germany.
In June 2005, Nike was in Graz, Austria with her cultural troupe to perform and show case Nigerian art at Maria Moser Centre.
In May 2006, Nike was appointed a board member of the Federal Capital Territory of Nigeria Tourism Board at Abuja, Nigeria.
In April 2007, Nike was invited by Harvard University, Cambridge to conduct workshops and lectures on batik and technique of adire textile processing and African dyeing techniques.
Some Awards and Recognitions
In May 2006, Nike was awarded one of the highest Italian national awards of merit by the government of the Republic of Italy in appreciation of her efforts in using art to address and solve the problems of Nigerian prostitutes (sex workers) in Italy. See more on this in paragraph 20 below.
In 2005, the National Commission for Museum and Monument of Nigeria awarded Nike a certificate of excellence in recognition of her efforts in the development of Nigerian cultural heritage.
In 2005, the Department of Fine Art, Obafemi Awolowo University, Ile – Ife awarded Nike a certificate of merit in recognition of her efforts in the promotion of art education in Nigeria.
In 2004, Nike was awarded an honorary certificate of merit by the Nigerian Union of Journalists, Osun State Chapter in recognition of her contribution to the advancement of Nigerian cultural heritage.
In June 2013, Nike was presented with a golden plaque, titled "Life Achievement Award" by the Ogidi Development Union in Kogi State in recognition of her efforts in the development of  Ogidi village in Kogi State of Nigeria, her birth place.
In March 2014, Nike was invited by the First Lady of Kogi State under the auspices of "Kogi State Women Association of Nigeria" and she was awarded "Women Inspirational Award – 2014" in recognition of her efforts in motivating and economically empowering the rural women of Kogi State.
For her outstanding contribution to women empowerment and inspiring millions of others to keep developing themselves, Nike Davies-Okundaye is our Woman Crush Wednesday this week.