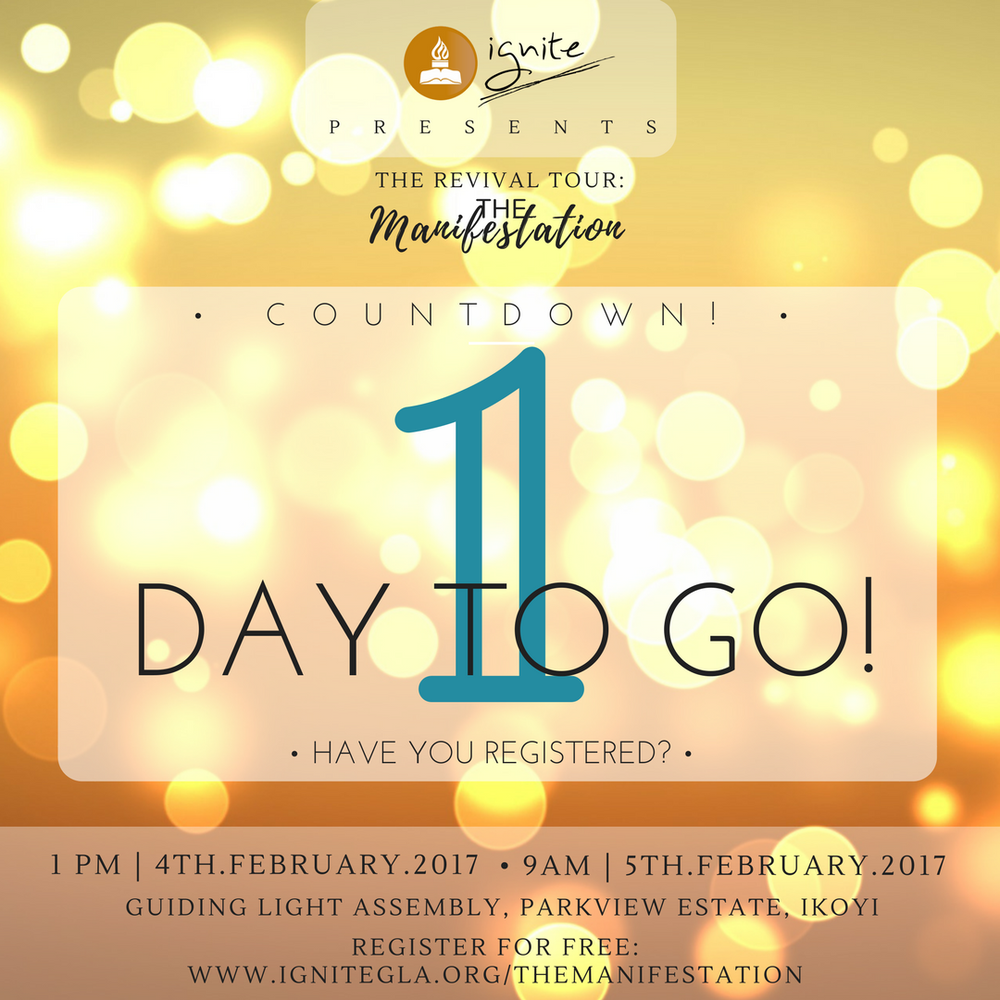 Nigeria is buzzing, as one of the year's biggest youth events, Ignite GLA's youth gathering, 'The Manifestation', holding on the 4th and 5th of February 2017, is almost here!
The event seeks to encourage the youth to manifest their God-given light, as the verse says, "No one lights a lamp and puts it in a place where it will be hidden, or under a bowl. Instead they put it on its stand, so that those who come in may see the light."
Our key verse for the gathering is, "the earnest expectation of the creature waiteth for the manifestation of the sons of God," (Romans 8:19) and we believe that this verse is truer than ever, particularly in these times, when the world seems to be getting increasingly darker. Everyone is desperately seeking solutions, but they cannot find them because the children of God – who God has given solutions, business ideas, talents and abilities – aren't fulfilling their mandate to the fullest.
In this gathering, our earnest desire is for people to come and be empowered, stirred up and revived, so that we can be the light that the world is desperately seeking.
We are humbled and excited to be hosting Pastor Cornelius Lindsey and Heather Lindsey on the Nigerian leg of their Revival Tour at our gathering! We cannot wait to see God move mightily in the hearts of His children.
Dates: Saturday, February 4th, 2017
Time: 1PM prompt.
Venue: Guiding Light Assembly: Layi Ajayi Bembe street, Parkview Estate, Ikoyi, Lagos.
Date: Sunday, February 5th, 2017.
Time: 9AM prompt.
Venue: Guiding Light Assembly: Layi Ajayi Bembe street, Parkview Estate, Ikoyi, Lagos.
There will be great music and powerful testimonies from Nathaniel Bassey, Flo Rocka, Mairo Ese, Ighiwiyisi Jacobs, Lynxxx, Dupe Fagbohungbe, Adebola Williams and Martin Abraham.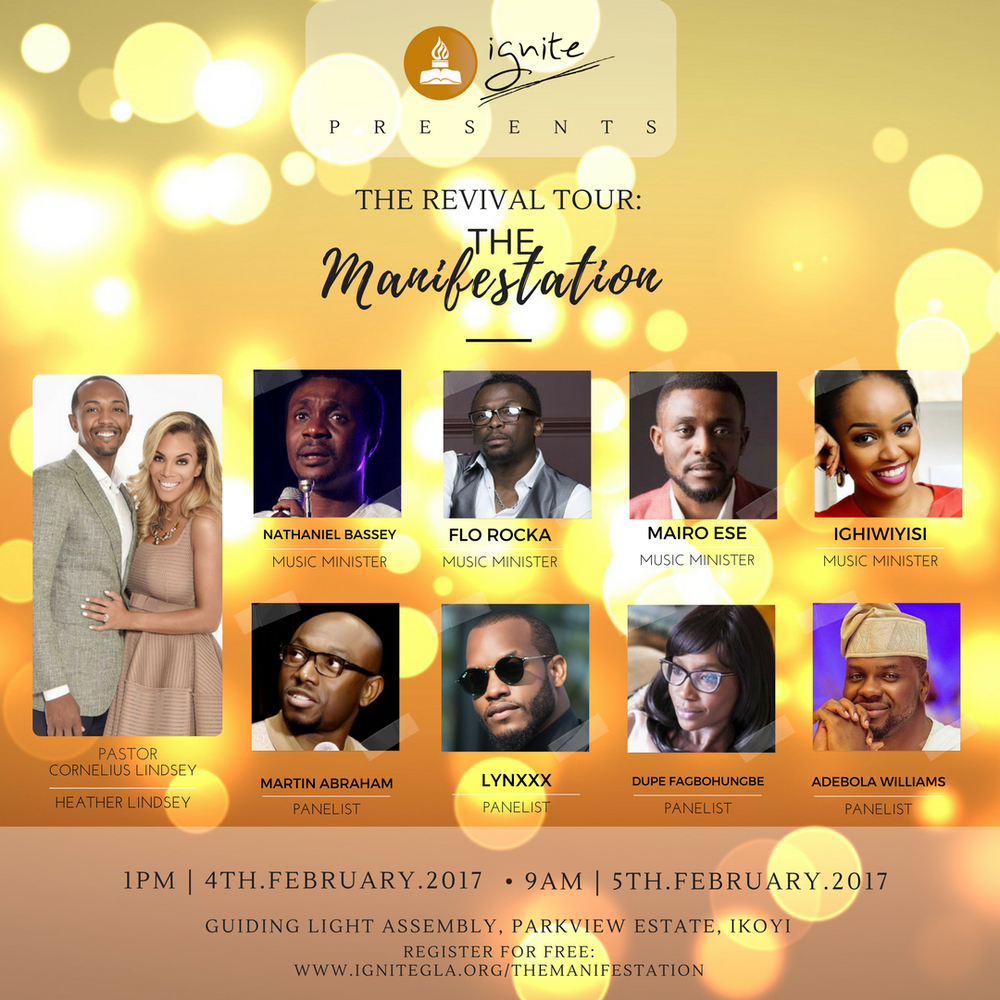 It is free to attend, but registration is required. Simply visit http://www.ignitegla.org/themanifestation/ to register.
You don't want to miss this. It is time for the children of God to Manifest.
See you there!!!
Ignite is the youth fellowship of Guiding Light Assembly. We are the young members of the GLA family – young men and women in business, young couples, young entrepreneurs; all young Christians who love Jesus and are trying to figure out how to live the Word in an increasingly complicated world. We meet on the first Saturday of every month to gist with the Holy Spirit, ask a lot of questions and to find out what He has to say about our everyday issues.
For more information, kindly contact us at: info [at] ignitegla [dot] org, or ignitegla [at] gmail [dot] com
Or via social media: Instagram: @ignitegla | Twitter: @ignitegla | Periscope: @ignitegla | Snapchat: @ignitegla | YouTube: ignite Gla | Facebook: Ignite GLA | Blog: www.ignitegla.org