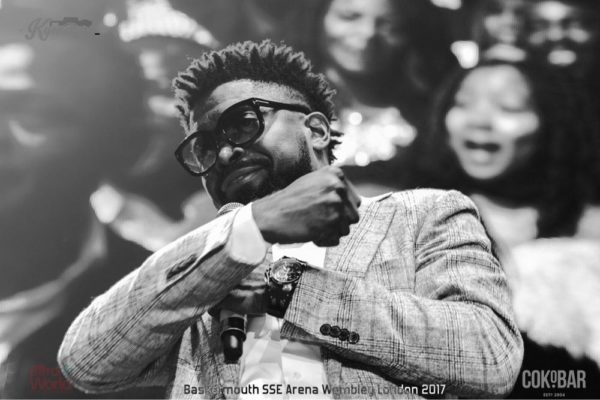 Anticipation and some kind of curiosity led me to the Basketmouth show of the 14th of February held at the SSE Arena London. This event, albeit being very well publicised, still left some doubt in my mind as to how a Nigerian based comedian with jokes told predominantly in Pidgin English would attract "the crowd" that would fill up "the SSE Arena".
The SSE Arena, Wembley is an iconic events centre situated right at the heart of Wembley Park. This venue is flanked by the famous Wembley Stadium and the purpose-built London Designer Outlet. Formerly known as the Wembley Arena before it was rebranded, the 83 year old venue, has housed legends like Abba and Madonna. Sell out shows like the X-factor have also graced this centre. Security checks at the SSE Arena is tight and sort of mirrors what you would find at the airport. Organisation for Basket's show was brilliant with many hosts and ushers strategically positioned at every exit.
The main arena sits 12,500 people, but I noticed that about 2500 seats were cordoned off, which means Basket was targeting 10,000 guests. The show was billed to start at 6:30pm and finish at 11pm.  I was in the arena promptly at 6:45pm to meet only about 50 people sitting down. Guests continued to trickle in initially and then in droves until the hall was at about 75% capacity. The VIP section was completely full. Just so you know ticket prices were from £15 to about £75. Do the Maths and you know that Basket really did great!
The show kicked off at 8:30pm (Naija timing is a disease!) with a Ugandan comedian named Salvador. His jokes were rooted strongly in smartly-crafted stories and each punch line being least expected sent the audience into rapturous applause. Another 2 or 3 comedians followed suit. I don't know their names, but the energy they brought to the stage was infectious. It was refreshing to see this new breed of comedians using fresh techniques to engage the crowd. I wish I had caught their names as their delivery had me in stitches mostly.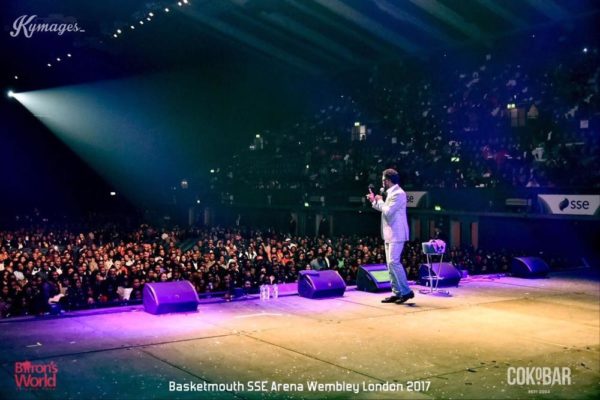 Basket arrived in all his glory at about 9:30pm and gave us a good 90 minutes of unstoppable laughter. His familiarity with the audience and his up-to-date knowledge on news, social media and pop culture in general made his jokes relevant amidst all the fun. Basket is quick on his feet and even when he was distracted by the "kisscam" or special effects, his recovery was always phenomenal. He maintained full control of the crowd from start to finish! By the way the "kisscam" was a nice touch as it went well with the theme of the show. Surprise acts like Burna Boy showing up thrilled the crowd and had them at their feet. It was indeed a successful show for Basket.
On another note, I wonder if the Nigerian restaurant in the foyer of the arena has always been there. Their puff-puff is top notch! I know the Suya guys outside the venue were definitely adhoc. My Naija people never fail to use every available opportunity.
See you Basket – next year February 11th (God willing) you have a new fan!