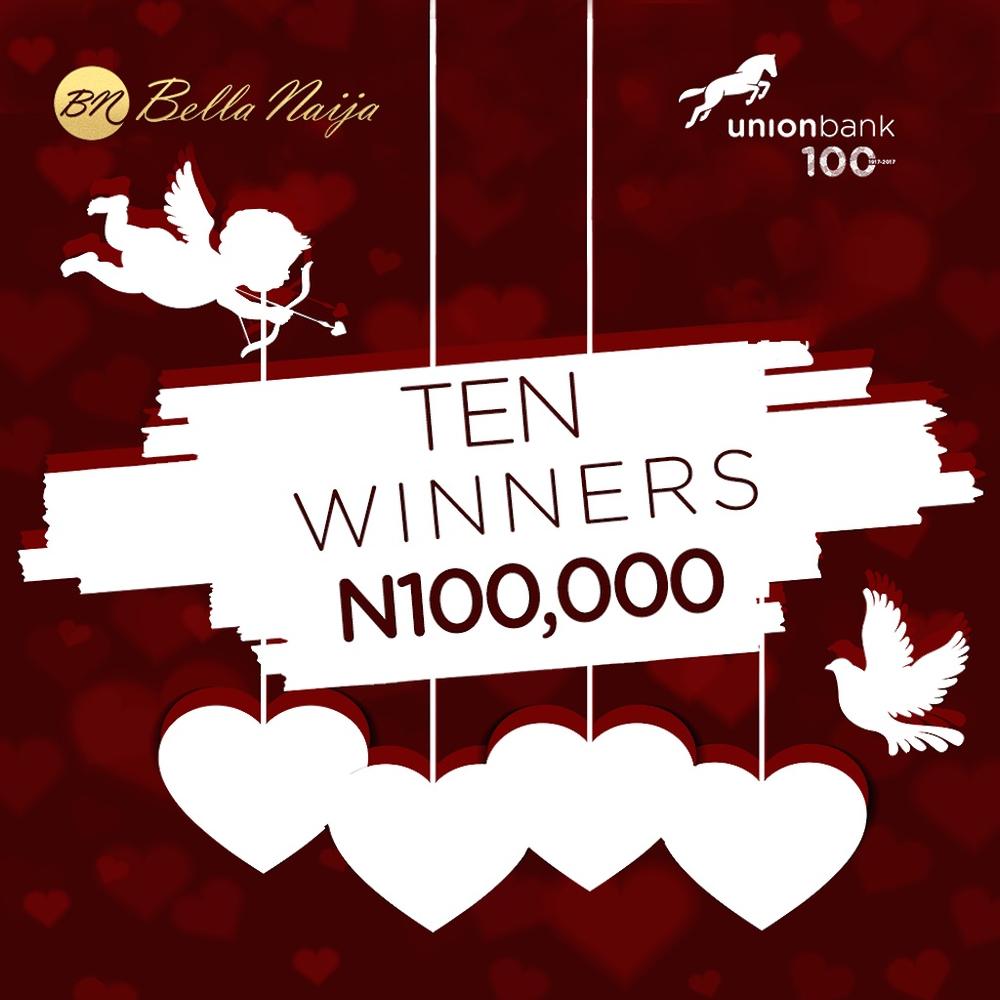 Hey BellaNaijarians,
As promised, Union Bank and BellaNaija are giving away N1,000,000 to our BellaNaijarians this Valentine Season. We asked how the money should be shared and several people voted for it to be shared between 10 people at N100,000 each, and that's what we are doing!
Union Bank is celebrating its 100-year anniversary with lovers and in collaboration with BellaNaija, Union Bank is set to reward 10 people with N100,000. 1 special Union Bank loving BNer will get to win N100,000 Daily for the next Four Days (today inclusive) and it is really easy to win.
How To Win:
Day 7

The theme for today's competition is '100 Ways to Find Love…on Holiday',  and for day 7 all you have to do is share an interesting story about love on a holiday.

It can be your story, it can be "gist", it can be a made up story, it can be a true story, it can be a love story which led to a breakup or it can be a happy story, this is a fun competition, let your creativity flow"

Make sure to use the hashtag – #UnionBank100BellaNaija.
NEW TWIST
To make things more fun, we urge all entries to be even more creative. You can submit a one-minute video on social media, or get creative with a voice-over narrative. Don't restrict yourself to prose. We'll love to see your video/audio entries!

Make sure to use the hashtag – #UnionBank100BellaNaija.
***
You can share your love story on this post, on your Instagram page, Twitter page or via your Facebook page (Note that entries made via Private Pages will not be visible and are ineligible).
Here are some of the terms and conditions:
Participant must be 18 and above based in Nigeria.
Everyone over 18 based in Nigeria can enter. However, payment will ONLY be made into the winner's Union Bank account. If you do not have one, you can open one now in faith or after you win.
All entries must have the official hashtag for the competition – #UnionBank100BellaNaija
Quick tip – All entrants are advised to follow Union Bank social media accounts on your favourite platforms – Facebook – @unionbankng, Twitter – @unionbank_ng and Instagram – @unionbankng
We understand that not everyone is on social media and this competition is open to you regardless. However, during the selection of daily winners, whether or not you follow Union Bank on social media will be used as a tie-breaker to select the winner. So you are up against a Union Bank follower, they're gonna win! So get following!
You can only win once during the course of this competition but you can keep entering until you *fingers crossed* WIN
All instructions must be followed to win, any step missed will lead to automatic disqualification.
*Terms & Conditions Apply*
***
The Winner for DAY SIX will be announced on BellaNaija at 3PM
***
Please note that entries on Social Media made under OUR post will be disqualified. To make your entry valid, simply publish on YOUR Social media page using the #UnionBank100BellaNaija hashtag.