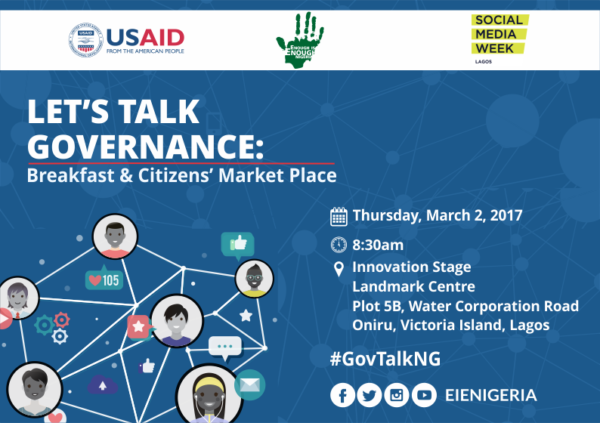 "Government is supposed to be about how we do things together and we can do that much more together if we use technology smartly right now."Jennifer Pahlka
For the 5th year, EiE Nigeria will provide a space for citizens to learn and share how technology helps facilitate engagement with government during Social Media Week Lagos.
The first of the five events was a hackathon – Office of the Citizen Hackathon 2.0 –  last weekend hosted by Co-Creation Hub in partnership with BudgIT and Paradigm Initiative. The hackathon had five mixed teams of developers, designers, governance practitioners and active citizens who collaborated to build prototypes of technology platforms/apps where active citizens can engage and provide solutions to key trending issues in their locality.
The hackathon was preceded by a Workshop to set the context featuring Aisha Yesufu, Chairperson of the Bring Back Our Girls (BBOG) Strategic Team; Muyiwa Gbadegesin (APC), Jude Feranmi (KOWA), Babasola Kuti (PDP), Adeolu Ogunbajo, President, National Association of Telecom Subscribers (NATCOMS); and Lanre Suraj, Chairman, Civil Society Network Against Corruption (CSNAC).
The winning teams had projects focused on medical negligence, electricity and curating 'rants' which will be presented at the Office of the Citizen Demo session on Thursday, March 2nd at 9:30am.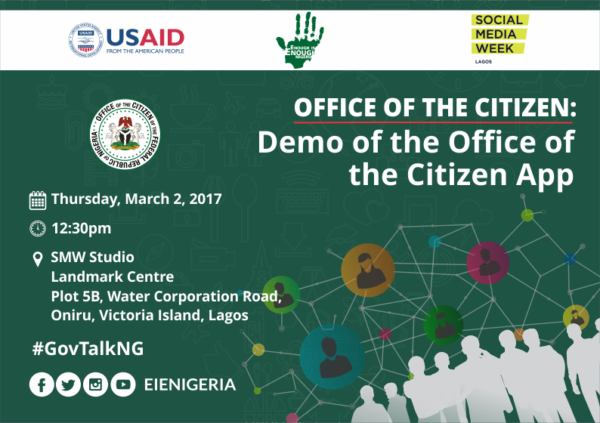 This will be followed by a session on 'Technology as a Policy Imperative: Spotlight on Public Officials Who Leverage Technology'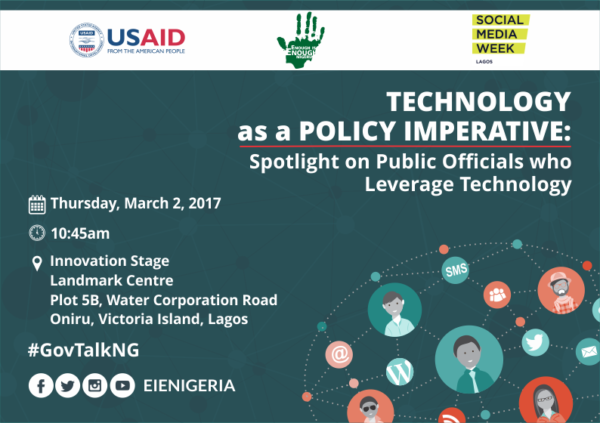 In partnership with IDAfrica, we will run a masterclass on content and in partnership with Localized Digital, we will run a masterclass on using Facebook, Twitter & Google effectively.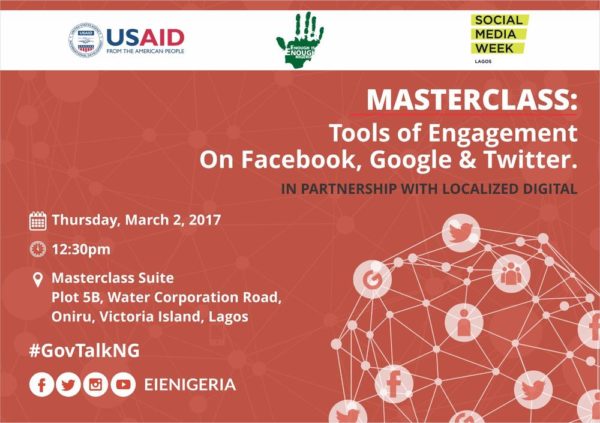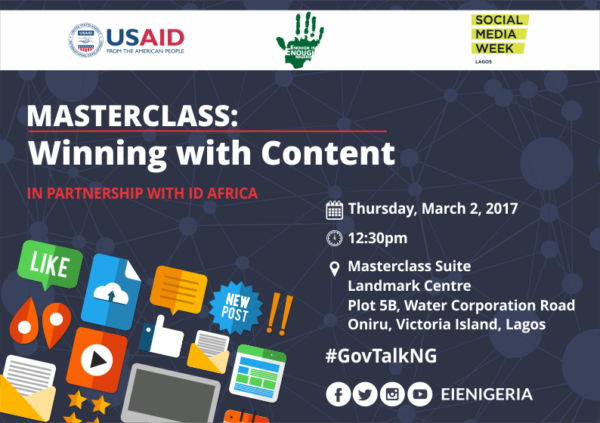 On Friday night, we'll continue our tradition of using music and spoken word to speak to the power of social media. Lyrical maestro Reminisce, an RSVP Ambassador will be part of the Wrap Party line up.
EiE's participation at this year's Social Media Week Lagos is supported by the USAID's Strengthening Advocacy and Civic Engagement (SACE) project.
The events will take place at the Landmark Event Center, Plot 5B Water Corporation Road, Oniru, Victoria Island, Lagos. They are free and open to the public.
Join the conversation by following @EiENigeria on all social media platforms and the following hashtags: #GovTalkNG #OfficeOfTheCitizen #OOTCHack2 #SMWLagos
About EiE
EnoughisEnough Nigeria (www.eie.ng). Started in 2010 and formally incorporated in 2012, EiE is Nigeria's leading coalition of individuals and organizations focused on good governance and public accountability, which is driven through active citizenship.
EiE Nigeria created the RSVP (Register|Select|Vote|Protect) Campaign to leverage technology, especially social media to mobilize significant participation from citizens in the 18-35 age bloc in the 2011 elections and beyond.
As part of its 5th anniversary in 2015, it launched the #OfficeOfTheCitizen campaign focused on educating citizens on their rights and responsibilities.
USAID's Strengthening Advocacy and Civic Engagement (SACE) works to increase the capacity of citizens across the country to be more involved in the democratic reform processes. By fostering an environment of engagement and advocacy, the program helps Nigerian citizens better influence institutions whose function it is to serve public interests. This work is co-funded by the PIND Foundation in the Niger Delta.
__________________________________________________________________________-Sponsored Content