Koffi Abena: Is Wizkid's "Daddy Yo" a Good Song? A Review of PlayDataChart's Most Played Songs in Nigeria for Week 10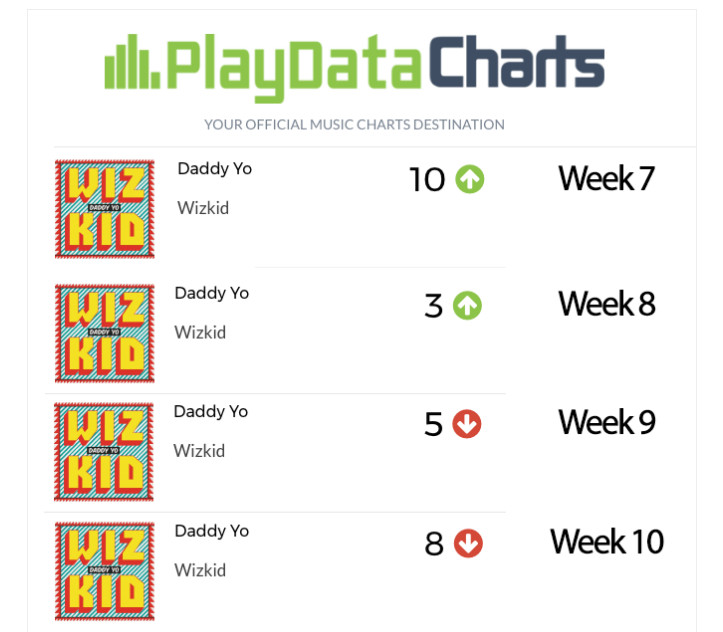 Week 10 of 2017 is upon us, and with it, the Playdatacharts Most Played Songs in Nigeria.
I'm going to skip lightly over the fact that "Mad over You" by Runtown is number one again, looking like a strong competitor against 2016's "Pana" (by Tekno) 11 weeks total at number 1 on RadioTopTen.
Side note, "Mad Over You" was released approximately 3 weeks before "Daddy Yo", and has been number one since Week 2, only dropping once to number 3 in week 5, then back to one in week 6 and staying there til date, totaling 8 weeks at number one so far."
"Daddy Yo" peaked at number 1 in Week 5, and then fell completely out of the Top Ten in Week 6. As you can see below, "Daddy Yo" has been wobbly ever since, seemingly climbing up and now steadily falling lower and seems to be on its way out of the Top 10, this time for good?
Is "Daddy Yo" a good song?
Wizkid has dropped several mediocre performing tracks between April 2016's smash hit "One Dance" with Drake, and "Daddy Yo" and this has left people asking serious questions like,
Will the international community experience buyers remorse?
Will Wizkid be known as an international one hit wonder?
Is "One Dance" a hot track only because it's a Drake vehicle?
It is not until "Daddy Yo" that we've felt a semblance of quality from Wizkid, but it really falls far short considering that its lyrical content is very lacking. "One Dance" is a great song because you can listen to it in a variety of situations and still enjoy the track; "Daddy Yo", on the other hand, only works as a dance piece, and when you're not in a dancing mood or situation, the skip button will be tapped, believe that.
On March 1st, 2017, Wizkid released a new Afrobeat track called "Sweet Love"; and in my opinion, it has the capacity to do at least as well as 2015's "Baba Nla", which charted on RadioTopTen well into 2016. Hopefully, this is the continuation of an upward trend for one of Nigeria's biggest exports. And who knows? "Daddy Yo" may yet gain more popularity and radio requests, and become a staple on the Radio Play Charts for the next few months. Time will tell.