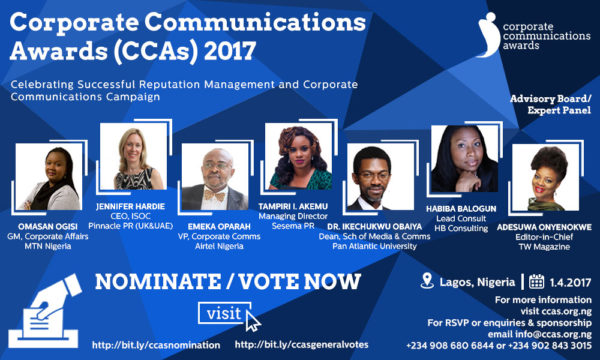 The Corporate Communications Awards CCAs 2017 is a brand new award honoring the unsung heroes behind successful brands and celebrating achievements in the Corporate Communications industry. The Award ceremony is slated for 1st of April 2017 in Lagos, Nigeria.
The awards will celebrate successful reputation management and Corporate Communications campaigns of organisations in all sectors, whilst acknowledging the different personalities behind them.
CCA Advisory Board also includes other highly seasoned experts like; Habiba Balogun – Lead Consultant, Habiba Balogun Consult, Omasan Ogisi – GM Corporate Affairs MTN NG,  Adesuwa Onyenokwe – Editor in Chief, TW Magazine, Emeka Oparah– Director, Communications and CSR Airtel NG, international partner: Jennifer Hardie – CEO, International School of Communication/ Pinnacle PR (UK&UAE) and organiser Tampiri Irimagha Akemu – Managing, Director, Sesema Public Relations.
Our International partnership with two recognized institutions includes; The International School of Communication (ISOC), a private institution of higher learning that operates worldwide with headquarters in London and a training centre in Dubai. The School of Media and Communications (SMC), Pan Atlantic University is a foremost institution offering high quality education in communication and media; to be a reference point for research in Africa, and to be a leading centre of learning globally.
In line with its objective of fostering growth in the Nigerian Communications landscape, the CCAs will also feature the second edition of the Corporate Communications Pitch Competition (CCPC); which is targeted at identifying and providing enabling career frameworks for promising budding Communications professionals. Winners of the CCPC will be awarded a 6-month paid Internship and N260, 000 cash prize.
Why Nominate?
As a communications professional and executive, we deem it necessary to have your input in selecting the most deserving awardees. Your nomination(s) is needed in the categories below;
PR Professional of the year
PR Campaign of the year
Best Rebranding Project
Why Vote?
Play an active role in the nomination process of appreciating, highlighting and improving best practices in the Public Relations industry
Vote for your favorite nominees in the General Votes Category of Corporate Communications Awards (CCAs) the nominees that receives the most number of votes will win the award in that category, which means, the more you vote for your favorite nominees, the better their chances of winning.
We need your vote(s) in the categories below
BEST USE OF INDIVIDUAL PR
NOMINEES
BEST USE OF PR IN ENTERTAINMENT
NOMINEES
To vote, click your preferred nominee
Wedding party- Elfike Film Collective
93 days – Steve Gukas / Bolanle Austen-Peters
76 – Izu Ojukwu/Adonaija Owiriwa
BEST USE OF PR IN SME
NOMINEES
To vote, click your preferred nominee
Dress Me Outlet (TEEP) OLatorera Oniru
Omo Alata (She leads Africa) Kasope Ladipo – Ajai
Wilson Juice – Seyi and Seun Abolaji
BEST USE OF VIDEO
NOMINEES
To vote, click your preferred nominee
Jago Milk For the winner in you (Watch video here)
Pampers #Momsknowbest (Watch video here)
Glo WIzkid TVC; Thank Glo its Friday (Watch video here)
Airtel – Life without Data (Watch video here)
MTN – Pulse; it's who we are (Watch video here)
For more information visit www.ccas.org.ng and our social media platforms Instagram and Twitter; @ccasng Facebook; @CCANigeria
For Sponsorship and partnership enquiries send an e -mail [email protected] or call +234(0) 908 680 6844 +234(0)1 295 3849
RSVP: Email [email protected]
OR Call 234(0) 908 680 6844
Abiola 234 (0) 9028433015
This award is supported by;
Media Partners:
ABOUT CORPORATE COMMUNICATIONS AWARDS (CCAs)
The Corporate Communications Awards (CCAs) is part of an initiative to raise the standard of PR and Corporate Communications practice in Nigeria by creating an aspirational target for practitioners. The Corporate Communications Awards (CCAS) is an initiative of Sesema Public Relations, a leading Public Relations and Marketing Communications agency in Nigeria.
For enquiries send an email [email protected] or call +234(0) 908 680 6844 +234(0)1 295 3849
——————————————————————————————————————
Sponsored Content