The nation's health sector, at the weekend, received a major boost, as Skipper Seil Group in partnership with Eye-Q, unveiled a state-of-the-art facility, known as Skipper Eye-Q Super Specialty Eye Hospital in Lagos. This was part of plans to provide world-class diagnostic, medical, surgical and optical ophthalmic services in Nigeria.
The facility was commissioned in Victoria Island by the Cross River State Governor, Prof. Ben Ayade in the company of President, Dangote Group, Alhaji Aliko Dangote; Special Adviser on Entrepreneurship to Katsina State Governor , Alhaji Ibrahim Jikamshi; Publisher/Editor in Chief, Daily Times, Fidelis Anosike; Chairman, Eko Atlantic Group, Mr. Ronald Chagoury, among others.
Speaking at the unveiling ceremony, Founder, Eye-Q Eye Super Specialty Hospital, India, Dr. Ajay Sharma, who rolled out various plans for the hospital to improve eye care services in Nigeria, said the hospital was established to assist Nigerians with visual impairments regain their sight and to also save them the trouble of travelling abroad for treatment. Sharma, one of the most renowned eye surgeons in India, said having such a facility in Nigeria was long overdue considering the fact that 4.5 million adults in Nigeria aged 40 years and above, were visually impaired or blind, based on the National Blindness and Visual Impairment Survey conducted in 2005 – 2007.
He said: "In a bid to enable more people to access medical care, the JV-Skipper Eye-Q Nigeria-aims to improve medical services in the region. It is committed to delivering its services using the most advanced, progressive and highest standards of quality eye care at an affordable price and we have a team of highly qualified and experienced ophthalmologists to provide the best possible service." According to the World Health Organization (WHO), 285 million people are estimated to be visually impaired worldwide: 39 million are blind and 246 million have low vision. WHO also says that about 90% of the world's visually impaired live in low-income settings like Nigeria.
Sharma therefore, said the hospital will invest $20 million dollars in eye services in Nigeria through the establishment of 30 eye centres in the next few years, which will further help the country to achieve the global eye health action plan 2014–2019, which seeks to reduce avoidable visual impairment as a global public health problem and to secure access to rehabilitation services for the visually impaired. Already, he said Skipper Eye-Q Super Specialty Eye Hospital had started partnering with four states in the country; Kaduna, Kano, Katsina and Cross River to improve their ophthalmology clinics and upgrade their facilities. According to him, the hospital will be involved in the training of Nigerian doctors with ultra modern facilities on surgeries and different eye care so as to enhance their performance and services. Apart from offering Corporate Social Responsibility services, Sharma also noted that the hospital will be creating jobs for Nigerians.
Commissioning the hospital, Ayade said Nigerians will be happy to see this as it will help in reducing medical tourism. "We have intelligent and smart doctors, but the equipment are not there. Now that we have this state-of-the-art facility in place, it is an opportunity for our doctors to learn and upgrade their knowledge in eye care services", he said. To enable the people of Cross River state access quality eye care at a very affordable price, the governor said he had already signed a MoU with the hospital.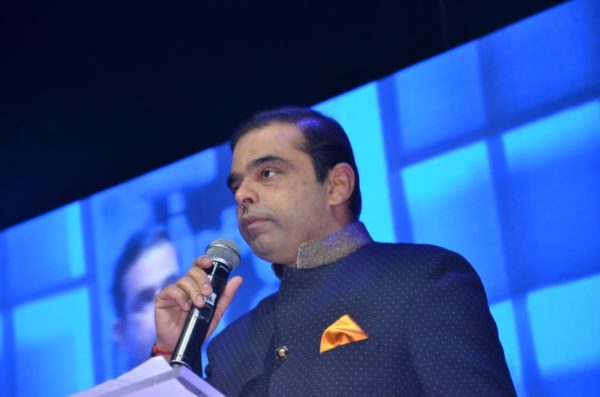 He said: "Vision is important. Without vision, you are nothing. My responsibility after the commissioning is to take the innovation and technology home. I have given a contract to the management of the hospital to replicate same in my state." In his remarks, Alhaji Dangote who expressed delight at the establishment of the facility, said his foundation will work with the hospital to provide free eye care services to the poor, stressing that provision of effective and accessible eye care services is key for effectively controlling visual impairment including blindness.
He added that the foundation will also support the training of doctors. Group President, Skipper Nigeria, Mr. Jitendra Sachdeva, said Nigeria has an alarming number of visually impaired people and therefore, needs such specialized state-of-the-art hospitals that can treat all kinds of eye ailments.
"With the launch of this centre, we look forward to catering for the country's population and provide best eye care facility to the people. As a community healthcare provider, our main focus will be on the primary and secondary eye care needs of local people of Lagos and its neighborhoods," Sachdeva said.
Also, Lagos State Commissioner for Health, Dr. Jide Idris, said having Skipper Eye-Q Super Specialty Eye Hospital in Lagos remains a plus for the state as it will boost the state's services on eye care. Apart from improving eye care in the state, Idris pointed out the hospital will assist in building capacity locally and also update the knowledge of eye care professionals in the state.
He said, "We have a shortage of human resources in all specialties and eye care is one of them. Establishing the hospital in Lagos state is more like a plus to us. "It is a positive thing because they have compact equipment that will help boost our services in eye care." He, therefore, urged Nigerians to carry out regular eye check to help prevent glaucoma which causes irreversible blindness if detected late.
———————————————————————————————————————-
Sponsored Content