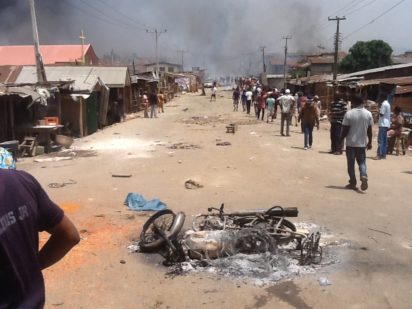 The Osun State Government has imposed a two-day curfew in Ile-Ife over the crisis that erupted on Wednesday in which some were people were killed.
The fight between Yoruba and Hausa communities in Sabo area in Ile-Ife also led to loss of properties.
Reports say between tens of people were killed during the clash.
In a statement by Semiu Okanlawon, a media aide to Governor Rauf Aregbesola, the curfew will be between 6PM and 7AM from Wednesday to Friday.
He said the state government was compelled to impose the curfew following the breach of the peace in the town which, according to him, has led to avoidable destruction of lives and properties.
Okanlawon warned that the government will not tolerate breach of public peace.
He said Gov. Aregbesola had called for deployment of heavy security personnel to Ile-Ife to curb the crisis.
"This is to assure all and sundry that the breach of the peace in Ile Ife is not beyond the control of our highly mobilised security forces.

To this end, the Governor of Osun State, upon receiving reports of the fracas, the exact cause of which is still under investigation, has ordered deployment of adequate security forces and is getting minute-by-minute situation reports.

The government, therefore, warns those involved in this act of criminal breach of public peace to end it immediately as the full weight of the law would be brought to bear on anyone arrested," he said.
Photos from the clash:
In a telephone interview with NAN, the Police Public Relations Officer Folashade Odoro, said the police have been able to curtail the situation.
Odoro said that the Commissioner of Police in the state, Fimihan Adeoye, had visited Ile-Ife to douse the crisis.
"We have been able to put everything under control and the CP has paid an on-the-spot assessment visit to the scene of the crisis in Ile-Ife. We are in Ile-lfe and still assessing the situation; we will ascertain the immediate and the remote causes of the crisis," Odoro said.
Photo Credit: Vanguard