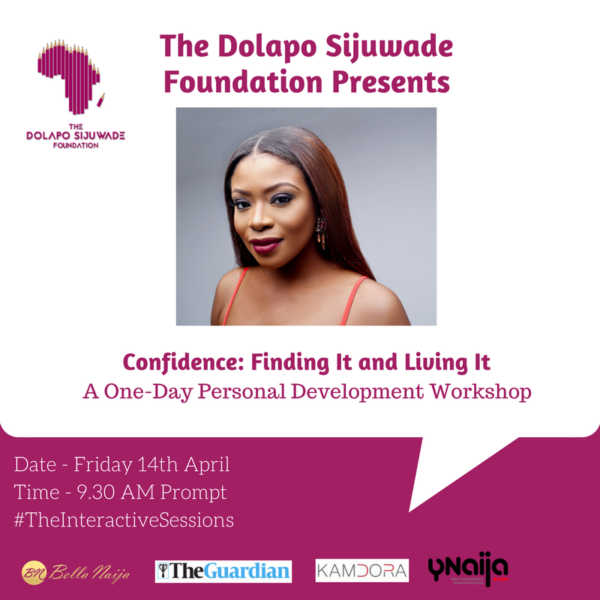 Dolapo Sijuwade Foundation, founded by Dolapo Oni- Sijuwade is aimed towards helping youths set the right goals towards identifying the right career path. The foundation is set to hold its first workshop for the year themed 'Confidence: Finding it and Living it'.
Date: Friday, April 14th, 2017.
Time: 9:30am
The workshop will have focus sessions on self-esteem, causes of low self-esteem, overcoming low self-esteem and building confidence.
The workshop promises to be interactive and educative as there will be practical activities for participants. The goal of the workshop is to help youths pursue opportunities for employment related to their chosen career field and equip them with the understanding and resources to make ethical and vision driven decisions. The workshop will provide an opportunity for the youths to learn and practice professional networking skills and also help them develop a greater initiative, increased independence and self-confidence.
The media partners for the DSF workshop are Kamdora, Guardian, BellaNaija and YNaija.
To register for the Dolapo Sijuwade workshop, follow the link below;
https://goo.gl/forms/ZWAnlTeGH5AQ6aUk1
_______________________________________________________________________________
This content has been published for free as part of BellaNaija.com's commitment to youth, education, healthcare and community development as part of our corporate social responsibility programme.