"Jealousy gets you nowhere" – Nicki Minaj Responds to Remy Ma's Diss Tracks with THREE New Songs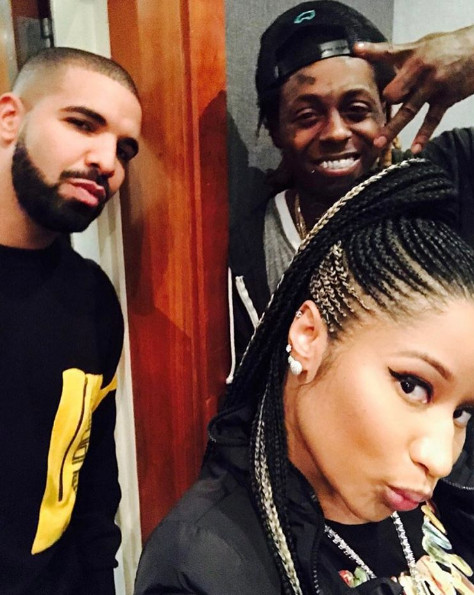 The spat between rappers Nicki Minaj and Remy Ma seems not to be abating anytime soon as Nicki has finally responded to Remy's diss tracks with not one, not two, but three diss tracks of her own.
Nicki has dropped three new songs titled "Regret In Your Tears", "Changed It" & "No Frauds"."
"Changed It" features Lil Wayne while "No Frauds" features both Lil Wayne and Drake, both of whom were on the trip to Paris with her. It was on her verse in "No Frauds" that she actually took shots at Remy. She said:
Tried to drop 'Another One,' you was itchin' to scrap / You exposed your ghostwriter, now you wish you were scrapped / Heard your p***y on 'Yuck,' I guess you needed a pap / What type of bum b**ch shoot a friend over a rap.
However, a number of comments on social media show that fans believe Nicki Minaj has left it a little too late.
Nicki Minaj posted on Instagram:
#NoFrauds #FactsOnly ft @champagnepapi & @liltunechi #YoungMoneyTilTheDeathOfMe committing perjury #IGotB4andafterPicturesOfYourSurgery #StopSurgeryShamingB4IPostThem #Fraud diss records can't be lies. Great diss records are FACTS. But here @ Young Money, we don't do diss records, we drop HIT RECORDS & diss u ON them. I got a bunch more on cock. Pauz. The greats took 3 months to respond to diss records. Queens don't move on peasant time. Queens shut down Paris, then drop hits on #QueenTime. I love my fans. Y'all the real MVP's. Been writing my own raps since I was 11. GOD knows. Next week I'll beat Aretha for the most Hot 100 hits on billboard by ANY woman in the world EVER in the history of music. Stay in your bum ass place. Jealousy gets u no where. Love to all my bad btchs. Now I got a countdown of my own for Sheneneh. U got 72 hours to drop a hit and I'll give u half a million dollars if u can book ANY show or interview w/o mentioning the Queen name. On another note, my album is nothing but waves. Lol my babies, you're gonna get your complete LIFE. love u guys so fkn much. Let's go. #NoFrauds #ChangedIt#RegretInYours Reggie Martin and S/O to Lady Luck for spkn facts. They act like they didn't see her interview tho. Lol ????
Listen to the songs below and let us know your thoughts: