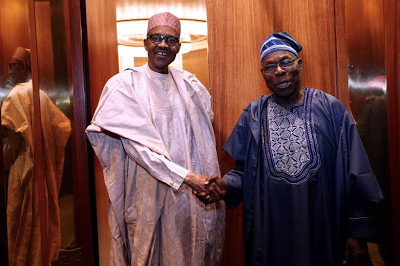 Former president of Nigeria Olusegun Obasanjo turned 80 today and according to a statement by President Buhari's spokesman, Femi Adesina on Sunday, the duo had a conversation initiated by the latter to felicitate with Obasanjo on the occasion.
According to the president, who is on medical vacation in London, a time like this provides opportunity to reflect on Obasanjo's invaluable roles and contributions to the unity and cohesion of Nigeria, the brotherhood of all Africans, as well as peace and amity over the globe.
President Buhari described the former president as "a true citizen of the world".
While recalling their days in the military, President Buhari said:
"Those of us who served under you in various capacities recall a man with boundless energy, with razor sharp mind, and one who does not suffer fools gladly. Working with you was a school in itself, and the lessons learnt are worth their weight in gold."
"Chief Obasanjo wished President Buhari good health, adding he stands together with him in prayers, so that he can return soon to continue the good work he is doing for the country," the statement also said.
Obasanjo was Nigeria's former military ruler (1976 to 1979) and former democratically elected president (1999 to 2007).
Meanwhile, a government house statement issued in Lokoja on Sunday said that President Buhari made a telephone call Governor Yahaya Bello of Kogi.
Kingsley Fanwo, the Director-General on media and strategy to the governor who signed the statement, said Bello received the call in Lagos on his way back from Abeokuta, where he attended the inauguration of Obasanjo Library.
"The President thanked the governor for his support and his leadership qualities. He told the governor that he was observing rest and will return very soon to continue his assignment of providing purposeful leadership to  the nation," Fanwo said.
He said  Bello received the call in the presence of the Speaker of the state house of assembly, Ahmed Imam, some members of the house, commissioners and top government functionaries.