117-year old Jamaican Violet-Moss Brown is now World's Oldest Person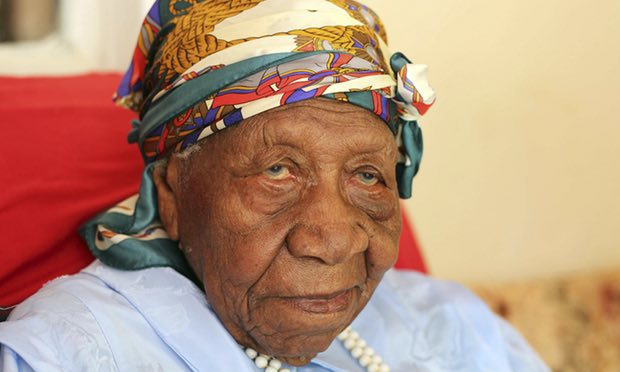 According to the Gerontology Research Group, the world's oldest registered person is now Violet-Moss Brown, a 117-year-old Jamaican woman. Brown (otherwise known as Aunt V) was born March 10, 1900, which is 67 years before Jamaica was founded. Good genes seem to run in the family; Brown's son is 97.
Raised Christian, she has been a music teacher and church organist for over 80 years. After her husband's death in 1997, she took over his responsibilities and became a record-keeper for the local cemetery, a job she continued well after her 100th birthday.
At 117, Brown has witnessed a lot of history's milestones. She remembers when the first cars and planes came to Jamaica, as well as the first electricity and piped water. She has lived through both world wars and the founding of her country. She's also the last living subject of Queen Victoria.
Violet became the oldest person in the world after the death of Emma Morano, the Italian woman who was previously the oldest human being on the planet when she died at 117 on Saturday. Morano who was also one of the five oldest people in recorded history was officially confirmed by Guinness World Records as the last living person to have been born in the 1800s.
The second and third oldest people are two Japanese women, Nabi Tajima and Chiyo Miyako, who were born, respectively, on 4 August 1900 and 2 May 1901. A Spanish woman, Ana Vela, 115, who was born on 29 October 1901, is the oldest European and the fourth oldest person in the world, according to the GRG.
Source: The Guardian/CNN