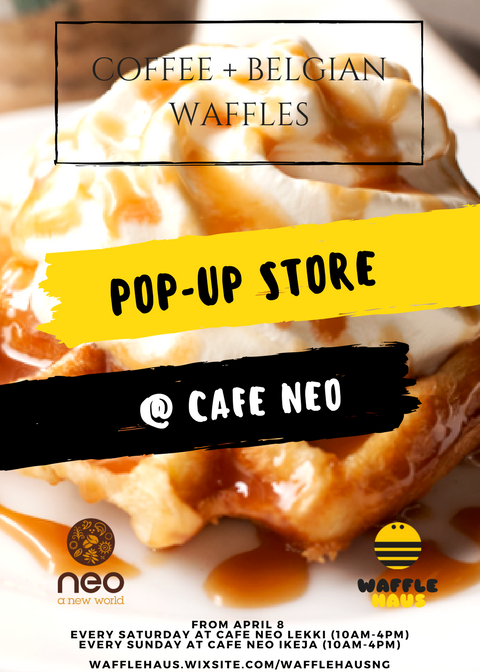 Cafe Neo has teamed up with Waffle Haus, connoisseurs of European-style Belgian Waffles, to deliver a new weekly concept! This weekly pop-up event is a chance for customers to relax in a warm and inviting space. Neo enthusiasts can take delight in their favourite beverages and try the new authentic handcrafted Belgian Waffles.
The scrumptious gourmet delights from Waffle Haus are made in small batches, guaranteeing perfection with each bite. Using high quality ingredients, such as pearl sugar from Belgium and a brioche-like dough, every waffle is created from a two day fermentation process. With an assortment of toppings, and flavours such as Cinnamon Love and Tiramisu, these waffles are a mouthful of caramelized goodness.
Cultivating customer experience is a part of the Cafe Neo brand and to kick off the event, customers are encouraged to participate in the "#GuesstheWaffle" campaign. The first ten participants to guess the name closest to the new Cafe Neo Special Waffle will receive free waffles, courtesy of Waffle Haus!
Waffle Haus will debut its first collaboration series at Cafe Neo Lekki on April 8th, 2017, and Cafe Neo Ikeja on April 9th, 2017.
The Waffle Haus Pop-up Store will be open every weekend on:
Saturdays @ Cafe Neo Lekki (10am-4pm) & Sundays @ Cafe Neo Ikeja (10am-4pm)
For more information, and updates, log on to: wafflehaus.wixsite.com/wafflehausng
Follow our social media streams:@wafflehausng & @mycafeneo
——————————————————————————————————————–
Sponsored Content