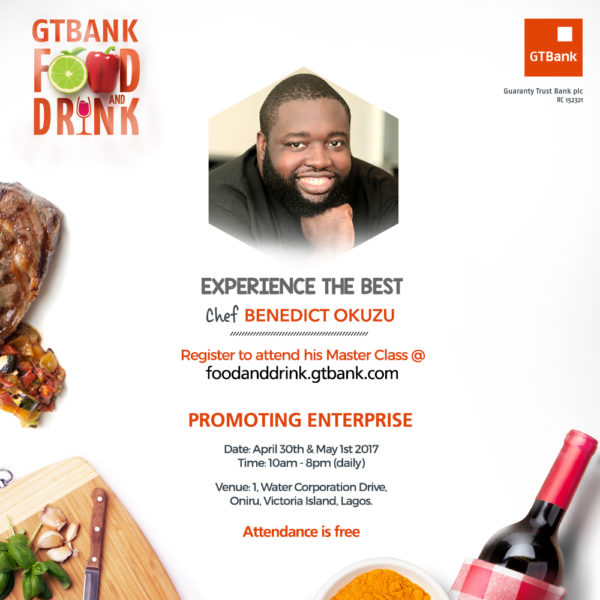 Though African and proud, Chef Benedict is a custodian of Italian Cuisines. Having grown up in the ancient city of Florence, his career as a Chef, which began in 2013, has sought to preserve and promote the balance, freshness and simplicity with which Italians approach food.
His mantle of authority in the kitchen was handed him by two great institutions: Le Cordon Bleu Firenze (Scuola d'arte Culinaria Italiana), and Carpigiani Gelato University, Bologna.
Chef Benedict will be at the GTBank Food and Drink Fair to guide participants into the historical realms of Italian Culinary Art.
Date: Monday, May 1st, 2017.
Time: 12:45 pm
Venue: 1, Water Corporation Drive, Oniru, Victoria Island, Lagos.
Want to be part of Chef Benedict's audience? Click here- http://foodanddrink.gtbank.com/registration/masterclass/ to register for his Masterclass.
Please note that the GTBank Food and Drink Fair is FREE to attend and does NOT require registration.
—————————————————————————————————————- 
Sponsored Content