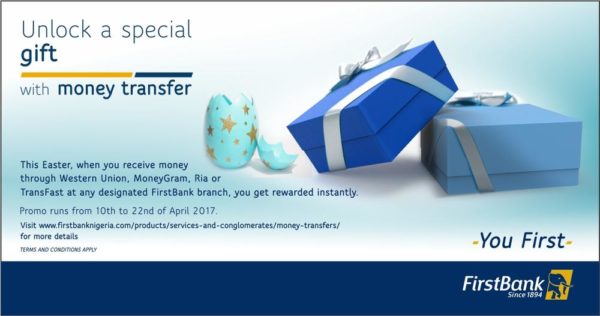 There are easy and rewarding ways to receive money from overseas. We are offering you convenient ways to do this at designated FirstBank branches across Nigeria.
Here is the good part; this Easter, every time you receive money through Western Union, Money Gram, Ria or Transfast at designated FirstBank branches, you get rewarded instantly!
We offer you a quicker way to receive money from overseas through our network of branches across Nigeria. You will experience no delay whenever you receive money from overseas at any of our designation branches nationwide. Visit a designated FirstBank branch now to receive money via Western Union, Money Gram, Ria or TransFast and get rewarded instantly from Monday, April 10th – Saturday, April 22nd, 2017. 
At FirstBank, this is one of the numerous ways we appreciate you for your endless patronage and loyalty.
Limited gifts are available at designated FirstBank branches only.
Visit https://www.firstbanknigeria.com/products/services-and-conglomerates/money-transfers/ for more details.
—————————————————————————————————————–
Sponsored Content