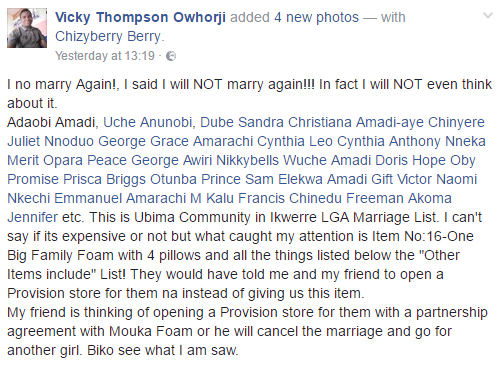 A Facebook user Victor Thompson Owhorji was left in shock after seeing the list of items to buy before his friend can get married to lady.
The marriage list, which is a popular tradition in many ethnic groups in Nigeria, was presented to Victor's friend from a family in Ubima Community, Ikwerre LGA, Rivers state.
Victor took to Facebook to let out his anger.
"I no marry Again!, I said I will NOT marry again!!! In fact I will NOT even think about it…. This is Ubima Community in Ikwerre LGA Marriage List. I can't say if it's expensive or not but what caught my attention is Item No:16-One Big Family Foam with 4 pillows and all the things listed below the 'Other Items include' List! They would have told me and my friend to open a Provision store for them na instead of giving us this item.

My friend is thinking of opening a Provision store for them with a partnership agreement with Mouka Foam or he will cancel the marriage and go for another girl. Biko see what I am saw," he wrote.
See the list below:
Photo Credit: Facebook – Victor Thompson Owhorji