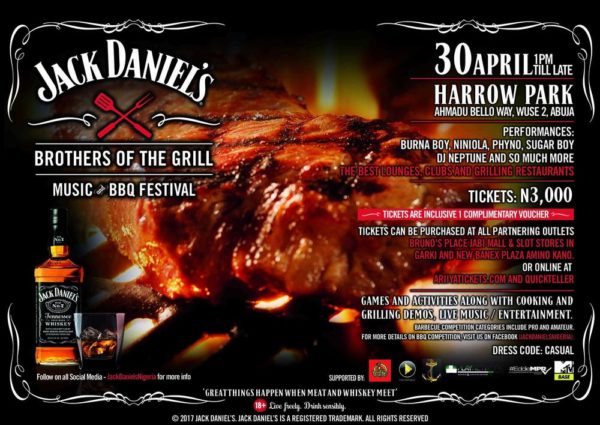 The Biggest BBQ festival in Nigeria is coming to ABUJA!
In case you haven't heard; come Sunday 30th April, meat and whiskey will meet in Harrow Park, Abuja at the Jack Daniel's #BrothersOfTheGrillNG festival. This festival is a full 1-day unique experience that combines music and BBQ seamlessly giving friends and family the best in outdoor entertainment.
Tickets are only N3000 and are inclusive of FREE Jack Daniel's cocktails while BBQ servings from O's Grill and Bright grillzz and various Jack Daniel's cocktail option can be purchased from partnering clubs – Play Lounge, Traffic Lounge, Caribbean Lounge.
With a big stage for the exciting lineup of performers – Burna Boy, Phyno, Niniola, Sugar Boy, Terry Apala, Alternate Sound led by Gospel on the beat, DJ Neptune, DJ Whales and more surprises; the heat is on. There will be DJ sets from DJ Neptune and DJ Whales who will keep people entertained and keep the momentum going all through.
It's about cooking meat with fire and smoke, chowing down together on a big table with family and friends while listening to great music. There's a holiday the next day so come and have a drink on us.
Date: Sunday, April 30th, 2017
Time: 1.00 pm
Venue: Harrow Park, Wuse II, Abuja
Tickets: N3,000
*Tickets can be gotten online @ www.ariiyatickets.com; Bruno's Place, Jabi Mall, and selected SLOT outlets in Garki and Banex Plaza. Tickets not for sale to persons under the age of 18 years. Excessive consumption of alcohol is harmful to your health.
————————————————————————————————————————
Sponsored Content