Hello BellaNaijarians!
The weekend is almost here, and the list of all the exciting events happening this weekend is ready.
Scroll through to see.
For all the events happening near you, be sure to follow @bnrsvp on Instagram.
**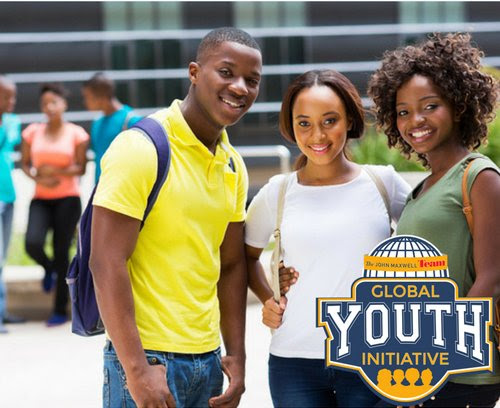 Global Youth Initiative Week
The John Maxwell Global Youth Initiative (GYI) Week is a full week dedicated to helping kids & teens become bright leaders and changemakers across the continent!
Date: Monday – Sunday, April 24 – 30, 2017
Venue: Port Harcourt
Openings for corporate sponsorships, partnership and registration are available. For further information please call Coach Kate: (+234)-08037675685, Caleb: (+234) -07064805635 or send an email to [email protected]
---
Django Girls Enugu
Are you a female, interested in programming? Do you live in Enugu or anywhere around the east? This is for you. Build your first website with Django and Python.
Date: Thursday – Friday, April 27 – 28, 2017
Venue: Vosan Wellness Resort, Independence Layout, Enugu
---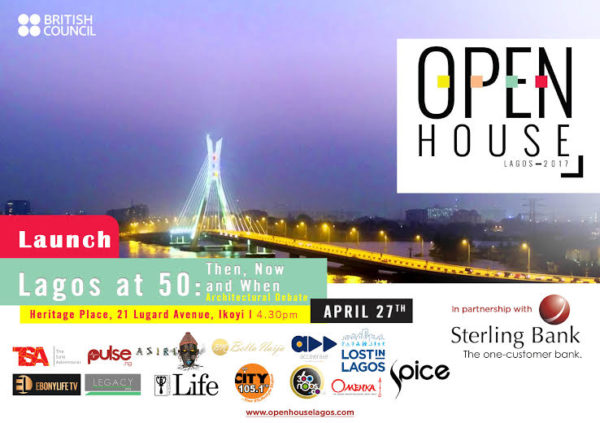 Open House Lagos 2017
Join us as we discuss Lagos' 50 Years of existence and survival and what that can mean for the future of Lagos? The discussion will place lenses on the three Architecture design periods: Pre-independence Architecture, Contemporary architecture in Nigeria and Architecture of the Future.
Date: Thursday, April 27, 2017
Time: 4.30PM
Venue: Heritage Place, 21 Lugard Avenue, Ikoyi, Lagos.
Registration is FREE on www.openhouselagos.com
---
Zenbah! Throwback Thursdays
As usual exotic cocktails, nibbles and grubs, all while you bump and grind "Ice Ice Baby"! The perfection of the 90's rolled into one night; we told you, Thursday nights would never be the same again.
Date: Thursday, April 27, 201
Time: 7PM (Early Arrival Strongly Suggested)
Venue: Zenbah, 11B, Akin Adesola Street, V.I, Lagos.
Table Booking: 08177770055
---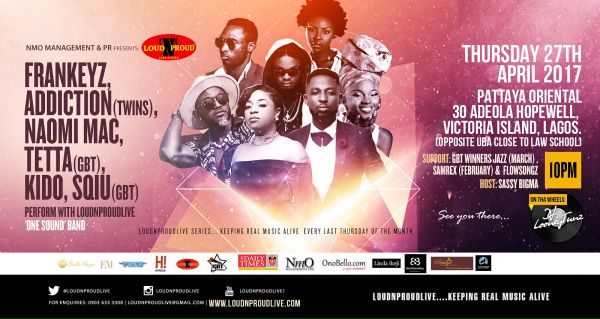 LoudNProudLive Series
Frankeyz, Addiction (Twins), Naomi Mac, Tetta (GBT), Kido, Sqiu (GBT) will perform Perform with LoudNProudLive 'One Sound' band. Support from: GBT Winners: Jazz (March) , Samrex (February) &  Flowsongz.
Date: Thursday 27th April 2017
Time: 9PM
Venue: Pattaya Oriental, 30 Adeola Hopewell, Victoria Island, Lagos. (Opposite UBA close to Law School)
Host: Sassy Bisma
Music Policy: DJ Looney Tinz
---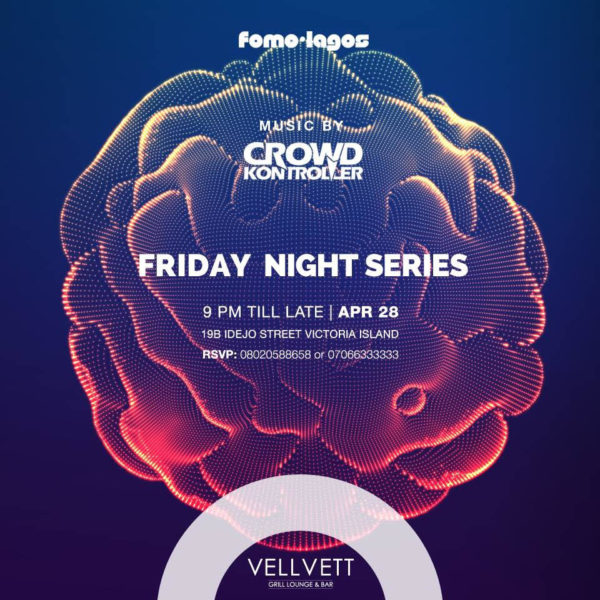 Fomo's Friday Night Series at Vellvett Lounge
Date: Friday, April 28, 2017
Time: 9PM
Venue: 19B Idejo street, off Adeola Odeku, Victoria Island.
Entry is FREE! Music by Crowd Kontroller.
---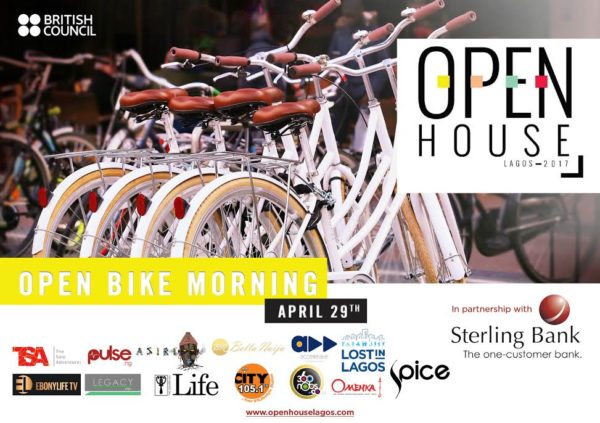 Open Bike Morning
For fitness enthusiasts, join Cycology on Saturday morning as they embark on the Open Bike Morning!
Date: Saturday, April, 29, 2017
Time: 7AM
Visit www.openhouselagos.com for more information.
---
Charity Zumbathon in Support of Autism Awareness
Date: Saturday April 29, 2017
Time: 7.30AM to 11AM
Venue: Lagos Preparatory School, 36/40, Glover road, Ikoyi
---
Open House Lagos Tour
Take a bus trip to 30 iconic buildings in Lagos for FREE! Some of the buildings include; Heritage Place, Makoko Floating School, Alara Store, Jaekel House, Ilukwe House, Railway Corporation, Radison Blu, Shitta-Bey Mosque and so many others.
Dates: Saturday and Sunday, April 29 and 30, 2017
Time: 9.30AM and 1PM daily!
Meeting Point: Sterling Bank Towers Car Park, Marina
Sign Up for FREE: www.openhouselagos.com
---
Urban ShopFest: What will Coco Chanel Do?
Where fashion meets music to create the ultimate shopping party, USF was designed as a sip and shop where drinks flow as customers dance to the latest tunes while perusing and shopping the latest fashion.
Date: Saturday, April 29, 2017
Time: 10AM – 8PM
Venue: The White Space 58 Raymond Njoku Street, Ikoyi
Enquiries: 08091116074
---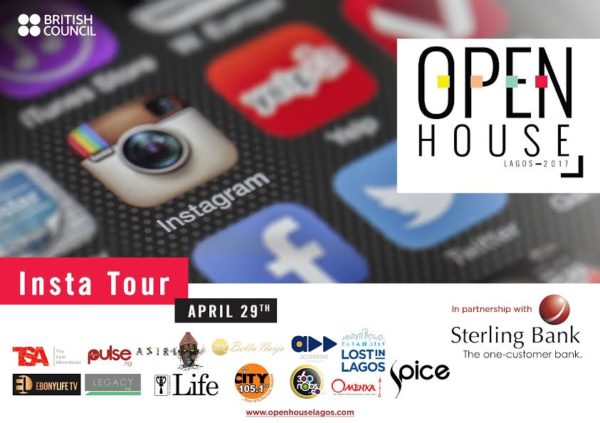 Open House Lagos Insta Meet/Tour
Calling all Photographers, Tourists and Architecture enthusiasts to participate in Open House Lagos Insta meet/tour. Come make new friends with shared interests, learn more about Lagos, hone your architectural photography skills and take cool pictures for the' gram'!
Date: Saturday, April 29, 2017
Time: 12PM
Meeting Point: Sterling Towers Car Park, Marina
Sign Up: www.openhouselagos.com
---
HE-Motions
Are you a man? Or you love one? Then you need to attend the He-Motions. At He-Motions, we will be learning the critical needs of a man -the foundational blocks of emotions in men and handling Amygdala hijack.
Date: Saturday, April 29, 2017
Time: 4PM
Venue: 15, Adelabu Street, Off Masha Bus-stop, Surulere, Lagos.
---
ASA Live In Lagos Concert 2017
Asa Live in Lagos Concert 2017 will once again showcase the breathtaking live musical concert; 'Asa' will be performing live with her Band and 30 piece Orchestra
Date: Saturday April 29, 2017
Time: 6PM
Venue:
Eko Hotel and Suites Victoria Island, Lagos
Tickets:
Standard ₦10,000, VIP ₦30,000, Table for 10 ₦2,500,000
For Table, Please Call 08152122911
---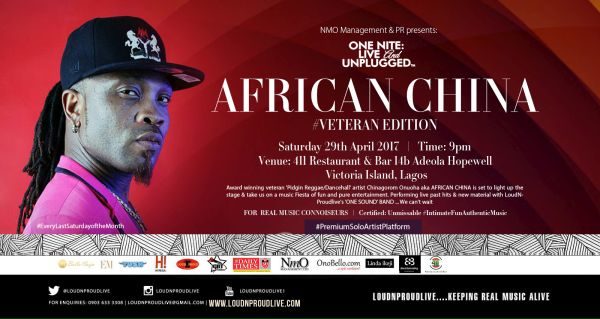 One Nite: Live and Unplugged with African China
Award winning veteran 'Pidgin Reggae/Dancehall' artist Chinagorom Onuoha aka AFRICAN CHINA is set to light up the stage & take us on a music Fiesta of fun and pure entertainment. Performing live past hits and new material with LoudNProudlive's 'ONE SOUND' BAND … We can't wait
Date: Saturday, April 29, 2017
Time: 9PM
Venue: 411 Restaurant & Bar, 14b Adeola Hopewell, Victoria Island, Lagos.
---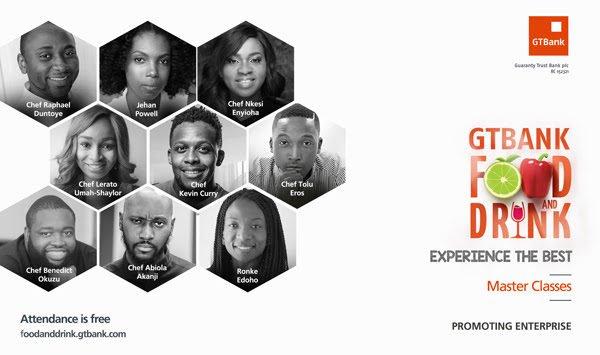 GTBank Food and Drink Fair
The GTBank annual Food & Drink fair is a 2-day food exhibition and networking event which aims to promote enterprise in the Nigerian food industry by connecting small businesses involved in the production and sales of food and food related items to a large audience of consumers, food enthusiasts, media and relevant stakeholders.
Date: Sunday and Monday, April 30 and May 1, 2017
Time: 10AM – 8PM Daily
Venue: Landmark Events Centre, 1, Water Corporation Drive, Oniru, Victoria Island, Lagos.
---
All Things Ankara Pop Up
As Creative Directors & Co-Producers we are proud to invite you to this awesome event exhibiting some of the best ankara (african print) designers and artisans!
Date: Sunday, April 30th, 2017
Time: 12PM – 8PM
Venue: D.C. Studio Rental – Photogroup Inc., 8040 Georgia Ave Ste 180, Downtown Silver Spring, Maryland 20910
Info: allthingsankara.com/popup
---
Uplevel Book Reading
Date: Sunday, April 30, 2017
Time: 2.30PM
Venue: Patabah Bookshop
---
HERE Photo Exhibition
Date: April 30 – May 14
Time: 4PM
Venue: Revolving Art Incubator, Silverbird Galleria, Victoria Island, Lagos.
---
Legend's Real Deal Experience
Uyo this weekend will be exciting. If you're in town please don't miss Legend Extra Stout's Real Deal Experience stop at the Discovery Park. The event will feature Nigerian Singer, Orezi live band Tipsy Kelvano and comedian De Don.
Date: Sunday, April 30, 2017
Time: 5PM
Venue: Discovery Park, Uyo.
Gate Fee: FREE
---
Come and experience jazz and fashion in one unforgettable night with Grammy award winners, Najee and Joss Stone. Celebrate the international Jazz Day in grand style as performances on the night will also include Waje, Yinka Davies, Dede, Heavy Wind, Tosin Alao, Xerona Duke and the host band, Sweet Sound.
Date:
Sunday, 
April 30,
2017
Time:
8PM

Venue: 
Eko Hotel and Suites 

Victoria Island, Lagos
Tickets: Standard: ₦10,000, VIP: ₦30,000

For Tables Please Call 08152122911