Nigerian State Governors & Chinese Industry Leaders Gather for the first Nigeria-China Governors' Investment Forum in China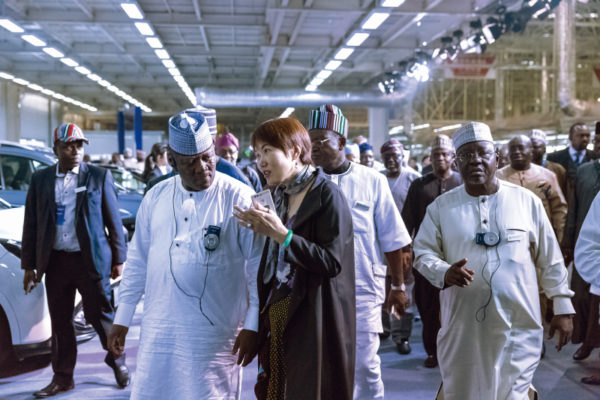 When top world industry presidents and national leaders who share similar passions gather for a time of presentations, discussions and exchange of ideas, magic always happens. In meetings such as this, with the right people connecting within a sphere of good intentions and available resources, the stage is often set for groundbreaking deals that positively impacts participating nations.
This is exactly what occurred when Choice International Group in partnership with the Nigerian Governors Forum brought together 15 State Governors from Nigeria with Presidents of some of the largest conglomerates in China for the first Nigeria-China Governors' Investment Forum in Guangzhou, China.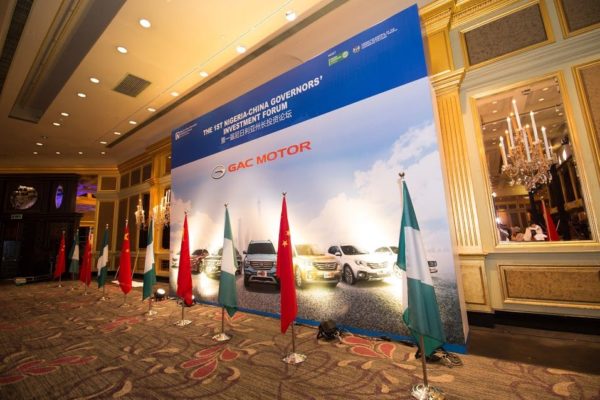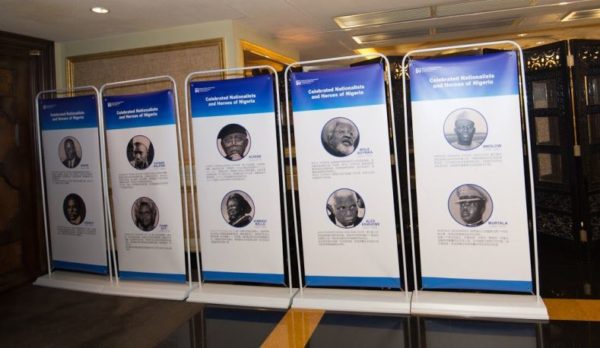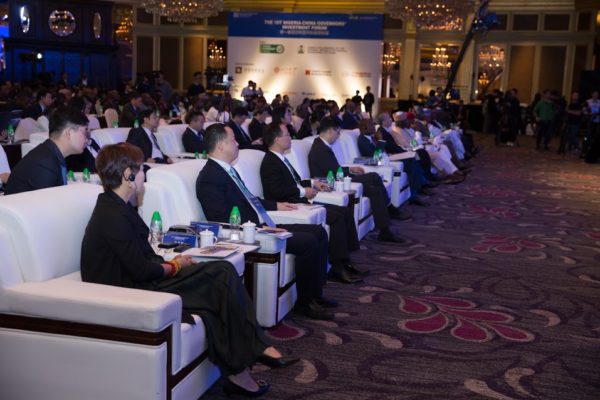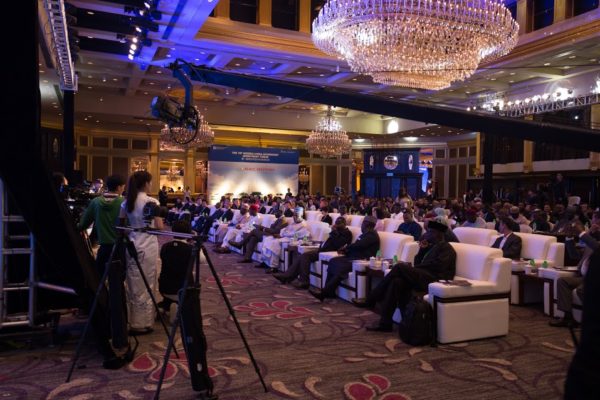 The two-day event, a first of its kind, had in attendance Governors representing all the Geo-political zones of the country such as Gov. Samuel Ortom, Benue State; Gov. Ifeanyi Okowa, Delta State; Gov. Abiola Ajimobi, Oyo State, Gov. Abdullahi Umar Ganduje; Kano State; Gov. Abubakar Sani Bello, Niger State; Gov. Okezie Ikpeazu, Abia State; Gov. Aminu Tambuwal, Sokoto State; Gov. Kashim Shettima, Borno State, Gov. Rauf Aregbesola, Osun State; Dep. Gov. Anambra State, Nkem Okeke, Dep. Gov. Ebonyi State. Others are the Chairman of the Nigerian Governors' Forum and Governor of Zamfara State,  Gov. Abdul'aziz Abubakar Yari, Plateau, Kwara and more. The Vice Mayor of Guangzhou, Cai Chaolin; President of GAC Group, Zeng Qinghong; President of Choice International, Diana Chan; the Executive Secretary of the NGF, M Shittu; CEO of Del-York International, Linus Idahosa; President of the China-Africa Development Fund and many other leaders of Fortune 500 Companies from China graced the event.
Following closely on the heels of the productive bilateral discussions that were held in April, 2016 between His Excellency, President Muhammadu Buhari and President of China, Xi Jinping, this Forum has brought about vital closeness between China and Nigeria as well as broadened the diplomatic and economic relationship between both countries.
It is the first time that such a large contingent of Nigerian state chief executives attended the same event abroad.
Outcomes of the Forum
The first Nigeria-China Governors' Investment Forum would go down in history as one event that set the tone for the sealing of major deals and an improvement in the economic sustainability of participating states.
These outcomes from the Forum will not be forgotten in a hurry:
The Abia State Governor, Dr. Okezie Ikpeazu, brokered a $1.5 billion project for the establishment of a shoe industry in Aba, the commercial nerve Centre of Abia State, from Huajian Shoe Industry in Dongguan, Guangzhou, China. The Abia State-Huajian Shoe Industrial City, which will be located in Aba, will have the capacity to produce 5,000 shoes per day and employ about 10,000 people directly and indirectly. The Abia State Government will provide the land and other investment incentives for the project, while the Huajian Group will fund the entire project.
The 15 State Governors and their teams visited the 121st Canton Fair in Guangzhou which provided the opportunity for participants to among other things access investment funding, develop new markets for Nigerian products and services, procure machinery and explore partnership.
Delta State Governor Ifeanyi Okowa sealed a deal with major manufacturing companies in China to boost mechanized farming in the state such that farmers would have access to basic modern equipment and other necessary tools required to make farming less cumbersome and very attractive.
President of fashion giants Miniso Group, Mr. Yu Guofu stated that his organization is interested in opening hundreds of shop outlets as well as a world-class University in Nigeria. This investment has a prospect of generating at least 20,000 employment opportunities across Nigeria. Miniso is one of the fastest growing retail chain businesses in the world.
The State Governors made several deals and connections to attract direct foreign investment to the country, job creation for teeming Nigerian youths and industrial revolution.
GAC Motor's GA8 and GS8, which were designated as the official vehicles for the forum, greatly impressed the delegates with their luxurious and comfortable ride experience, original design, exquisite craftsmanship and state-of-the-art technologies. The governors also had the unique opportunity of going on a guided tour of the GAC Motors Factory.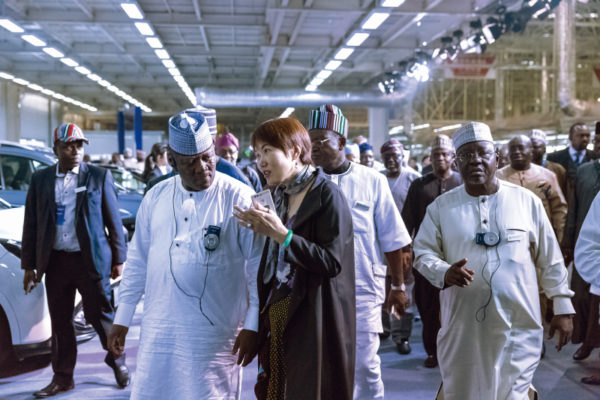 NOTABLE GUESTS & QUOTES
Everyone who attended this timely event attested to the fact that it signaled the start of an improved collaboration between Nigeria and China, with the delegates promising their cooperation and dedication to the outcomes of the forum.
Vice Mayor of Guangzhou, Cai Chaolin, said Nigeria as Africa's largest economy, and Guangzhou are highly complementary to each other in areas like manufacturing, agriculture, cultural exchanges and infrastructure development. Chaolin noted that there are vast potential for cooperation between the two countries, saying: "The Guangzhou Municipal Government has always attached great importance to all-round cooperation with Nigeria. We believe this forum will be a great opportunity for China and Nigeria to further their long-standing friendship, and construct a new bridge for investment activities between the two nations."
In her formal welcome address to the Forum, Ms. Diana Chan, President of Choice International averred that in line with China's One Belt One road policy, her company is now playing a key role as part of an increasing number of Chinese enterprises that are operating and investing in Africa. She said: "At Choice International, we take this investment seriously and are committed to ushering in a new blueprint to realize opportunities for our future mutual development. More importantly, we have also been building on relationships and enhancing opportunities for deepening the social, cultural and economic bonds between Nigeria and China. I am certain that we can create great possibilities together. Yes, starting from right here, with the right people, processes and products, all these will come together for the mutual benefit of both our nations".
Chairman NGF and Governor of Zamfara State; Gov. Abdul'aziz Abubakar Yari, welcomed the delegates to the forum, while emphasizing the need for Agro mechanization; he sees this as the bedrock of Nigeria's development. He reiterated the need for the diversification of the Nigerian economy from oil to Agriculture, which is one of the goals of the current administration of Nigeria and urged the Government of China to partner in this endeavor.
Benue State Governor, Samuel Ortom in his presentation expressed the desire of Benue State Government to engage in joint venture through equity participation with foreign investors, Public Private Partnership, Build, Operate and Transfer as well as Foreign Direct Investment. "The state is a fantastic location for the development of agriculture-allied industries due to accessibility and abundance of raw materials and we are willing to give special attention to infrastructure to support investment projects" the Governor said.
President of GAC Group, Zeng Qinghong while delivering his speech said that GAC Group's private brand GAC Motor has developed stable sales channels in Nigeria and achieved outstanding sales records. "With automobiles as a bridge, GAC Motor has not only benefitted Nigeria with high-quality products and services, but has also brought management expertise and technologies there, thus increasing employment and enabling resource integration, technological innovation and sustainable development.
The Delta State Governor, Ifeanyi Okowa while on a tour of some manufacturing companies in China during the two-day Forum was quoted as saying: "We are going round everywhere to talk to big time industrialists, manufacturers and experts in production of goods and services; and at the end of this investment forum we should be able to commence urgent paper work with our foreign investment partners and equipment suppliers. We are working very hard, piloting a new era of massive socioeconomic remodelling of our state."
According to Mr. Linus Idahosa, CEO of Del-York International – "It is high time we began investing in our appreciating assets rather than our depreciating assets. I was quite impressed by the speech of Prof. Haiwen of the HSBC Business School, in which he analyzed the trajectory Nigeria's road to development will take as compared to that of China. It is imperative that we place premium on human capital development. Indeed, with the opportunity of setting up vocational institutes for skills acquisition and development that this forum offers, we enhance the important process of bridging the gap between industry and academia."
The successful investment forum came to a close with a cooperation signing ceremony that featured the presentation of commemorative plaques and attendance certificates at an exquisitely elaborate closing banquet.
The Forum is an initiative of Choice International which is the sole authorized representative and distributor of GAC Motors and Gree Air conditioners in Nigeria and also the brand owners of Lontor home appliances.
———————————————————————————————————————-
Sponsored Content