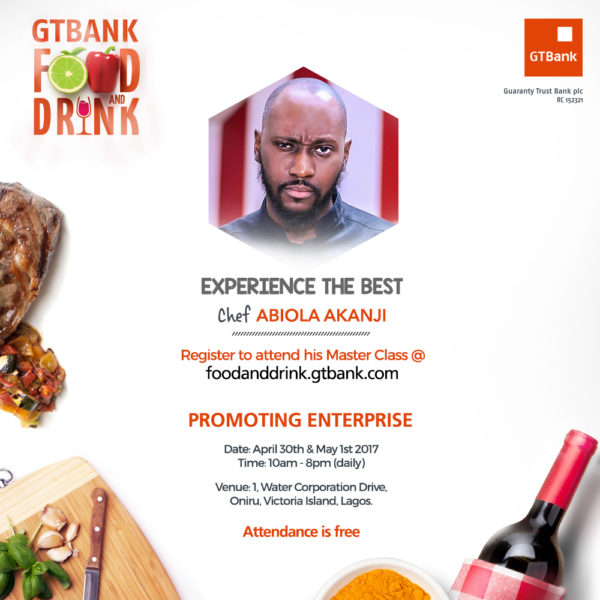 Renowned culinary expert, Abiola Akanji, will be at the GTBank Food and Drink Fair to share his more than a decade experience in the art of food making.
Date: Saturday, April 30th, 2017
Time: 11.00 am
Venue: 1, Water Corporation Drive, Oniru, Victoria Island, Lagos.
Popularly known by food lovers as Chef Stone, Abiola's talent for food making has been evident since his childhood, and through his time at the French Culinary Institute and International Culinary Education Centre, both in New York, he has honed his skill to become the chef's chef. Abiola owns The Red Dish Culinary School, one of the most reputable culinary schools in Nigeria with over a thousand graduates since its inception.
Chef Stone will lead a Masterclass at the GTBank Food and Drink Fair to share his wealth of experience in culinary arts and the business of food making.

Want to be part of Chef Stone's audience? Click here http://foodanddrink.gtbank.com/registration/masterclass/ to register for his Masterclass.
Please note that the GTBank Food and Drink Fair is FREE to attend and does NOT require registration.
—————————————————————————————————————–
Sponsored Content