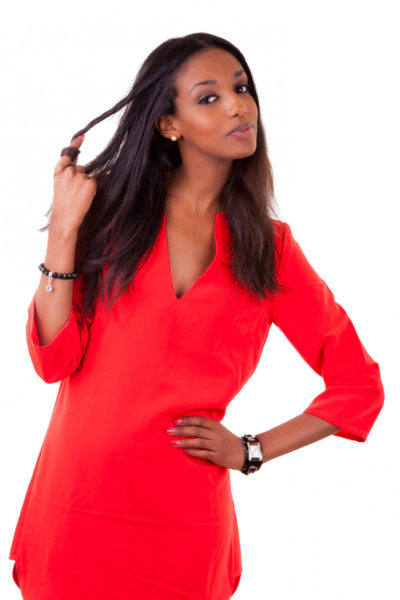 I have stopped caring when people look down on me because of my size.
When I was growing up, I was quite the picky eater. I disliked a lot of food types, especially beans, amala and fish.
I ate only rice – not because I really liked it, but it was better than beans. I didn't really mind Eba or pounded yam. I still don't really eat most fish species, till date but I consume meat.
I could do without food for days, thriving only on snacks or fries and fizzy drinks. I used food as silent treatment to press home my demands.
While my siblings were growing rapidly with big chests and muscles (the guys) and big bosom and butts (the ladies), I was very small, though with fat cheeks.
In Nigeria, looking big is a sign of good living. Maybe this is why a lot of modern day parents do everything possible including giving their kids (who aren't picky eaters) drugs to enhance their feeding habit in order to fatten them.
The 'butty' look is a body goal for some people's kids. I see a lot of fat kids everywhere. There's the belief that if you are small, your parents aren't trying at all. It means you are suffering or not well fed compared to other drug enhanced fatty kids.
My parents had this mentality too. They thought people would feel I was not being looked after. People made snide remarks about my stature saying things like 'why aren't you like your sister? How come you are still small since the last time I saw you?' It was embarrassing and a little bit shameful.
So, I lived with this "shame" of being small for the most part of my teenage and early adult years. I secretly desired to be big, just like my siblings so I could earn some respect from people who would, and who have never mattered to my destiny. I looked for body validation.
But it never worked, even when I started taking appetite-boosting drugs. It made me eat more, sleep soundly and very weak. I was drained of all energy. It completely knocked me out and I would lose my working strength for the rest of the day.
I looked better, but not necessarily big. It helped when I stayed on fat enhancing drugs, but immediately I stopped, I went back to 'slim'.
The snide comments which got to me most were from my parents- "what else do you want us to give you so that you can be big? People will cheat you with this stature" e.t.c
Every time I went out with my younger sister, she earned more respect. People knelt to greet her. Even older people assumed she was older than them because of her size.
I wanted all my respect back, so I frowned a lot in those days, just maybe it would make me appear older and make people to take me more serious. It never worked.
But today… when people look at me after three decades and say "wow, I love your stature", gratitude floods all over me. When people say "oh, you look even much younger than your age", I feel accomplished.
Just the other day, a driver at the park had referred to me as 'this girl'. I was completely irked. What do you mean by "This girl? Do you know how old I am?" But I had to caution myself before going silly to add "do you know who I am? like some people do when they want to fight dirty in public or when you mistakenly 'brush' their car and their car is a bit finer than yours.
Now, I like the look of surprise on people's face when they hear "well, I finished high school about 16 years ago" and they exclaim "you?" Trust me, that shock they experience is pure bliss for me.
Not that people still don't look down on me based on body assessment, but now, it doesn't affect me. I let it pass. Or, maybe I just don't care anymore. It's their shame for judging me based on size. It shows the perverted sense of judgement and stereotypical nature of the average Nigerian.
When my younger sister tells me how she jogs from her Ikeja house, for several miles every morning, just to burn some calories, I always have a wide smile on my face or an evil grin or a smirk when she's not looking. Now everybody says to her 'why don't you be like Yetunde'. The table has turned.
I see a lot of stories online about people looking for ways to add flesh, while fat people are looking for how to lose fat and stay healthy.
While people bother about keto diets and low carbs, low sugar, slimming tea, I consciously add a spring to my steps and walk past them.
My friend Bisi said to me, 'fat doesn't come immediately. It accumulates. One day you'd wake up by 40 and realise you are suddenly fat. So, don't get decieved at all that you still can't acquire some fat.' That's her school of thought, but I don't  agree.
Whenever I attend a family gathering with my siblings, I look at all of them in their full, heavy 'babariga/agbada' or iro and buba and I don't wish to be like them, because some of them look like they are my parents.
For a long time, I made my clothes with only two yards of material. I just stepped up to three yards. I have been sleeping and waking up as 55kg for the past 14 years of my innocent existence. Though it gets annoying sometimes.
My mum personally apologised to me years later when she had to register at the physiotherapy department, UCH for limb exercise and she met a lot of people there who had weight problems. So she got home one day and said ' I am sorry. This stature of yours is the best. Please keep it up. Don't change it for anything in the world'. That statement made my day.
What if I was fat? Would I have hated my body? Absolutely not. Maybe I would have struggled with it just like I did with my slim stature. But I would have grown to love it soooo much. I would have rocked it with style. I like fat people when they wear native. It looks good on them. Most clothes do. Maybe African wear is made to suit fat people more. But it flatters the shape of slim people too. Because an average African woman is supposed to have the right curves in the right places.
The secret of good living isn't how much you gobble down big bowls of jollof or pounded yam, but eating healthy and being content with your looks.
Love your body. Love yourself. If after doing all you can to add or reduce weight and it doesn't work for you, rock it with some finesse and poise. Nobody can love you if you don't love yourself. Delete the stereotype and negative vibes about body size from your head and you'd enjoy your sanity more.
Live your life and appreciate God for the great body he gave you. He never makes mistakes.
Stay healthy…whether fat or slim.
Photo Credit: Dreamstime