Vaya, Queen of Katwe, 93, 76 Top Africa Movie Academy Awards 2017 Nominations | See the Complete List
Vaya, a film directed by Akin Omotoso, a Nigerian living in South Africa and a South African production has been nominated in ten categories for the Africa Movie Academy Awards (AMAA) 2017.
At a press conference addressed by the Academy Jurors on Sunday May 14th, 2017 at the Raddison Blu Hotel & Conference Centre in Kigali, Rwanda, the President of the Jury, Berni Goldblat, a Swiss citizen named Vaya, Queen of Katwe from Uganda, 93 and 76 both from Nigeria among films with higher number of nominations.
This year, a total of thirty categories are up for grabs by Africa's leading actors and filmmakers from the continent and the Diaspora. The Jury announced a new AMAA Best Comedy category and three special Jury prizes this year following the quality of films that were submitted for the awards according to Goldblat.
"Every year the competition gets stiffer and this year, in particular, we have great films for consideration. The quality of production in Africa continues to improve and national governments are investing to support the growth of the motion picture industry. This is a major achievement for AMAA in its 13 years history. The government of Senegal recently announced $3million US dollars fund to support filmmakers in Senegal. Because of the level of standards AMAA has established as a Jury based award, filmmakers in Africa are very conscious of attention they put into their works and this has impacted on production value compared to 13 years ago when AMAA started," he said
After Vaya, '76, a periodic Nigerian film got the most nominations with eight while Ugandan movie about local chess champions, Queen of Katwe which stars Lupita Nyong'o, was also nominated in eight categories.
93 Days, a movie about the 2014 Ebola crisis in Nigeria, earned seven nominations and other Nigerian productions such as Oloibiri and Slow Country got seven and four nominations respectively.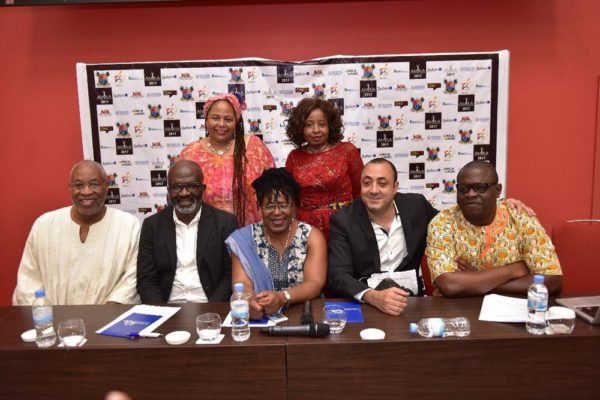 Shaibu Hussieni, a member of the Jury and Chairman of College of Screeners briefed the journalists in Kigali about the process that led to the selection of the nominees from the pre-college screening stage by AMAA film selectors to when the College of Screeners decided on the best among the 438 films that were submitted for the AMAA Jurors' consideration.
"The College of Screeners which had 6 University lecturers, four of them hold PhD degree in film and communication studies and one was a full Professor and other professionals and critics in the industry decided the films that the Academy Jurors considered for the nomination. After the announcement of the nominees into the various categories, the Jurors will meet again to decide on the final winners that will be announced on the awards' grand celebration night in Lagos.
"We are also proud of the quality and diversity of the Academy Jurors and the members are renowned and globally respected filmmakers, festival programmers, curators and academics. The Jury after this nomination process will again do justice to determine the winners."
The new date for the awards ceremony in Lagos has been fixed for July 15th, 2017 and it is officially hosted by Lagos State Government. Check out the Nominations list belowEFERE
Check out the Nominations list below
Best Short Film
1. Bout – Nigeria
2. On Monday Last Week – Ghana/USA
3. A Place for Myself – Rwanda
4. Silence – Nigeria
5. Kieza – Angola
6. Yemoja: Rise of the Orisa- Nigeria/UK
7. Marabout – Senegal
8. A Place in the Plane – Senegal
Best Animation
1. Black Barbie – Ghana
2. Got Flowers – Nigeria
3. Gyrow – Nigeria
4. Pull – Nigeria
Best Documentary
1, Legacy Of The Hills – Mali
2. Makoko: Future Afloat – Nigeria
3. House in the Field – Morocco
4. Vivre Riche – Cote D'Ivoire
5. House of Nwapa – Nigeria
6. Mama Colonel – DRC
7. The African Who Wanted To Fly – Gabon
8. La Colere Dans Le Vent (Anger in the Wind) – Niger
Best Film in African Language
1. Logun Ofe – Nigeria
2. Call Me Thief – South Africa
3. Félicité – Senegal
4. Vaya – South Africa
Best African Film Living Abroad
1. Saving Dreams – Nigeria/Canada
2. While We Live – Burkina Faso/Sweden
3. Theory of Conflict- Nigeria/USA
4. A Mile in My Shoes – Morocco/Canada
5. Hell's Fury- Nigeria/USA
Best Diaspora Shoot
1. Kbela – Brazil
2. Ca$h Out – USA
3. The Tale of Four – Curacao
4. 90 Days – USA
Best Diaspora Documentary
1. I Am Not Your Negro – Haiti/France
2. 13th – USA
3. Les heritiers du Vietnam (Martinique)
4. Horace Tapscott, Musical Griot – USA
Best Diaspora Feature
1. West Indies Gang – Guadeloupe
2. Fences – USA
3. Birth of a Nation – USA
4. Double play – Curacao
5. Moonlight – USA
Achievement in Production Design
1. Call Me Thief – South Africa
2. Félicité- Senegal
3. 76 – Nigeria
4. Queen of Katwe – Uganda
5. The Last of Us- Tunisia
Achievement in Costume Design
1. Queen of Katwe- Uganda
2. Ayamma- Nigeria
3. Keteke – Ghana
4. The Last Of Us – Tunisia
5. Logun Ofe – Nigeria
Achievement in Make Up
1. Dora's Peace – South Africa
2. Oloibiri – Nigeria
3. Ayamma- Nigeria
4. The Last of Us – Tunisia
5. Slow Country- Nigeria
Achievement for Soundtrack
1. Vaya – South Africa
2. 93 Days- Nigeria
3. A Mile in My Shoes- Morocco
4. 76 – Nigeria
5. Félicité – Senegal
6. While We Live- Burkina Faso/Sweden
Achievement in Visual Effect
1. Wulu – Mali
2. Oloibiri- Nigeria
3. Whale Caller – South Africa
4. Queen of Katwe – Uganda
5. Slow Country – Nigeria
Achievement for Screen Editing
1. Call Me Thief- South Africa
2. Vaya – South Africa
3. While We Live – Burkina Faso/Sweden
4. CEO – Nigeria
5. Félicité- Senegal
Achievement for Screen Play
1. Oloibiri – Nigeria
2. Dora's Peace- South Africa
3. Félicité – Senegal
4. While We Live- Burkina Faso/Sweden
5. Vaya – South Africa
Best Nigerian Film
1. Green White Green
2. 93 Days
3. CEO
4. 76
5. Ayamma
6. Oloibiri
Best Young/Promising Actor
1. Pabillo Koza – Dora's Peace
2. Medina Molanga – Queen of Katwe
3. Azwille Shanane-Madiba – Vaya
4. Austin Rose – Call Me Thief
5. Adam Kanyama– While We Live
Best Comedy
1. Funny Enough (Snaaks Genoeg) – South Africa
2. Three Wise Men – Nigeria
3. Keteke – Ghana
4. A Trip To Jamaica – Nigeria
Best Actor in a Supporting Role
1. Adonijah Owiriwa – 76
2. Warren Matsimola – Vaya
3. Olu Jacobs – Oloibiri
4. Papi Mpaka – Félicité
5. Richard Seruwazi – While We Live
6. Majid Michel – Slow Country
Best Actress in a Supporting Role
1. Inna Moja – Wulu
2. Theresa Edem – Ayamma
3. Taiwo Ajai Lycet – Oloibiri
4. Nmonde Mbusi – Vaya
5. Somkele Idhalama – 93 Days
6. Angelique Kidjo – CEO
Best Actor in a Leading Role
1. Sambassa Nzeribe – Slow Country
2. Ibrahim Koma – Wulu
3. Richard Mofe Damijo – Oloibiri
4. Amine Ennaji- A Mile in My Shoes
5. David Oyelowo – Queen of Katwe
6. Dann Jaques Mouton- Call Me Thief
7. Ramsey Noah – 76
8. Jahwar Soudani – Last Of Us
Best Actress in a Leading Role
1. Vero Tshanda – Félicité
2. Lydia Forson – Keteke
3. Lupita Nyong'o – Queen of Katwe
4. Bimbo Akintola – 93 Days
5. Josette Bushell-Mingo – While We Live
6. Rita Dominic – 76
7. Khabonina Quebeka – Dora's Peace
8. Zimkhitha Nyoka – Vaya
Best First Feature Film by a Director
1. Happiness is a Four Letter Word –Thabang Molaya- South Africa
2. Green White Green – Abba Makama – Nigeria
3. Wulu – Daouda Coulibaly – Mali
4. Bunjoko – Kizito Samuel – Uganda
5. The Last Of Us – Alaeddine Slim – Tunisia
6. Rain – Daniel Mugerwa – Uganda
Best Director
1. Daouda Coulibaly – Wulu
2. Steve Gukas – 93 Days
3. Mira Nair – Queen of Katwe
4. Izu Ojukwu – 76
5. Daryen Joshua- Call Me Thief
6. Akin Omotosho – Vaya
7. Alain Gomis – Félicité
8. Ala Eddine Slim- The Last Of Us
9. Said Khallaf – A Mile in My Shoes
Best Film
1. The Last Of Us – Tunisia
2. A Mile in My Shoes – Morocco
3. 76 – Nigeria
4. Vaya- South Africa
5. 93 Days – Nigeria
6. Queen of Katwe – Uganda
7. Félicité – Senegal
8. Wulu – Mali
9. Call Me Thief – South Africa