"Bar man, give me my usual…" | Watch Jidenna Reveal what Nigerians and their Favourite Beer have in Common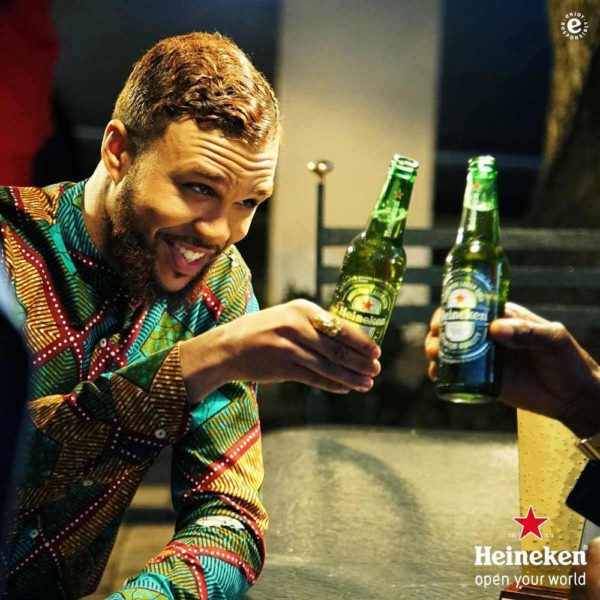 World's leading beer brand, Heineken now has a spanking new ad. Haven't seen it? Don't sweat it – we'll bring you up to speed.
International music star and Nigeria's coolest son, Jidenna headlines the sentimental ad, themed 'There's more behind the star.' Jidenna highlights similarities between Nigerians and Heineken. And there are a couple of them.
World famous…
Heineken can be found in 192 countries. From Paris to Johannesburg, Madrid to Moscow, Cairo to Montreal. Wherever Heineken is to be found globally, there's also an 80% chance you will find a Nigerian. Your favourite beer and countryman in your favourite city? How cool is that?
In this ad, Jidenna finds his 'brother' in Oslo, Norway. See for yourself what happened:
Quality reflected in titles…
What about Nigerians' famous love for titles? The ad touched on that too. As a Nigerian, it is not unusual to see people with formal titles like Professor, Barrister, or native ones like Awujale, Ozuruigbo, Olowu, Oniroko, Chief, Igwe, Amir Argungu, Gbong Gwon, Olomu, Amanyanab or Jagaban (okay, maybe we went overboard with the last one) but the list goes on.
But there is one title that is both necessary and sufficient – Heineken Master Brewer, justly earned after 15 years brewing experience.
Ever witnessed a Nigerian who was improperly addressed? Then we guarantee you can relate with this:
No, we're not done yet, there's more…
Here's our personal favourite, Jidenna going back to his roots bearing gifts and all, but not forgetting his favourite beer

Now you know why Heineken feels at home anywhere and everywhere. How about a toast?
———————————————————————————————————-
Sponsored Content