Acting President Yemi Osinbajo on Wednesday said state governors must safeguard the lives and properties of all citizens residing within the borders of their respective states.
Osinbajo, who gave the directive at a consultative meeting with the governors at the Presidential Banquet, Abuja, said the directive had become imperative in view of the fact that "Nigeria is indissoluble''.
He warned that leaders must not allow "the careless use of words and careless expressions" that might degenerate into crisis."
"We are a people that like to talk and we express ourselves loudly but it is expected for us to recognise that it is those same words that can cause conflagration that can unfortunately lead to calamity. We must be careful of how we express ourselves.

What we have seen in recent times is that some of the languages used have tended to degenerate badly and I think that we must begin to speak up against some of these things and ensure that we protect our democracy and our nation from the hands of rhetoric that may just divide us," he said.
He commended the leaders from the North and South for their openness at the consultations, stating "that they were extremely responsible even in their criticisms of what they felt were issues that should have been better handled."
"I think that their criticisms were fair and balanced. I must commend them for their sense of responsibility and their leadership."
Osinbajo challenged the governors to find lasting solutions to the herdsmen and farmers crisis, especially the way that some of these have resulted in flashpoint across the country.
According to him, the problems are multidimensional but the states have a very important role to play especially because they are in control of land in their territories.
He also stressed the need for the governors to show greater unity of purpose and the determination to work together to resolve various challenges facing Nigeria as a geo-political entity.
The acting president said they must resist the temptation to play politics especially with matters of security, but to reach for simplistic narratives that might be originally expedient and satisfying.
"Sometimes intentions are perceived on the account of the fact that they have wrong perception about a particular thing. I think it is in our place to ensure that we dig down the fact and ensure that people are given the fact and ensure that we don't colour them with politics," he said.
Twenty-three governors, four deputy governors, Service Chiefs, Inspector-General of Police Ibrahim Idris, National Security Adviser, Babagana Monguno and some cabinet ministers attended the meeting.
Speaking to State House correspondents after the meeting, Governor Abiola Ajumobi of Oyo state said the meeting agreed to keep Nigeria united.
He said the governors also pledged to address problems causing unnecessary of agitations by Nigerians.
"It has been unanimously agreed that the unity of this country is sacrosanct, is non-negotiable and we have all agreed to work together to educate people.

Anytime you have agitation, usually there will be poverty, there will be unemployment, there will be hardship, so we should address fundamentally these areas of poverty, unemployment and hardship.

Nigerians are by nature a united people, nobody cares whether you are from the north, south or the east.

Unity must be there and we cannot play with the unity of this country. The consensus has been that there must be unity.

The message is for Nigerians to work more together and collaborate. We have more to gain when we are united. We cannot afford to break, and anybody who is thinking of that (he) is wasting his time and we will not allow it, not in this country. All of us are unanimous about that," he said.
More photos below: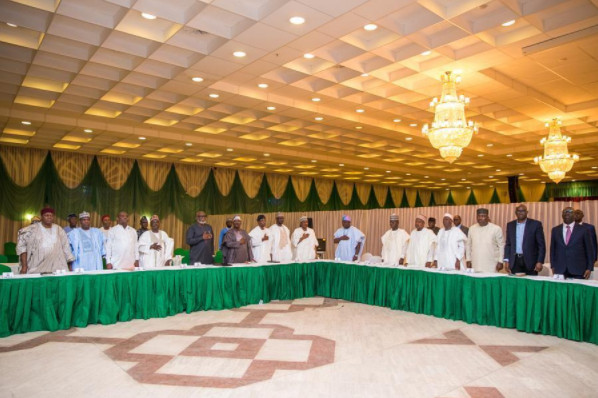 Photo Credit: Instagram – @tolanialli | @novoisioro