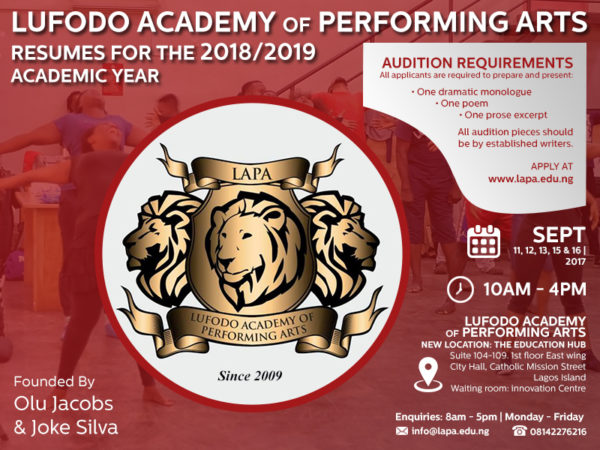 Are you interested in becoming an actor, improving your acting skills, or building confidence in presentations and performance skills?
Yes? Then apply for one of the limited seats available as Lufodo Academy of Performing Arts (LAPA) resumes for the 2018/2019 academic year with the maiden edition of its full time 2-year conservatory program.
Lufodo Academy of Performing Arts (LAPA), an initiative of Olu Jacobs and Joke Silva, is an educational institution that delivers world-class hands-on training in the performing arts disciplines. Our rigorous practice-based curriculum is geared towards producing accomplished creative professionals who will raise the standard of Stage, Television and Film production in Nigeria.
We proudly offer a full time, 2-year conservatory program, accredited  by the National Board of Technical Education of Nigeria (NBTE),  at the end of which graduating students will be awarded a National Innovative Diploma in Performing and Media Arts. Our intensive and highly practical curriculum, culminating in a nationally-recognized certification, makes us an excellent fit for secondary-school leavers and budding industry practitioners seeking to pursue the craft of stage and screen acting to the highest professional standards.
To Apply:
Go to lapa.edu.ng
Fill out and submit the application form. Ensure to upload the requested documents.
Select an audition date and time slot.
Applicants are required to prepare and present one dramatic monologue, one poem and a prose from an established writer.
NOTE: We are looking to train students with and without acting experience, therefore, acceptance into the academy is not dependent solely on your performance at the audition. The audition enables the Academy to evaluate the level you are at, and your ability to physically and mentally withstand the tasking training schedule.
Audition dates: September 11th – 13th, 15th & 16th, 2017.
Time: 10am – 4pm.
Venue: Education Hub; Suite 104-109. 1st floor, East wing, City hall, Catholic Mission Street, Lagos Island.
Waiting Room: Innovation centre.
Contact email: [email protected]
Cell number: +2348142276216.
———————————————————————————————————
Sponsored Content