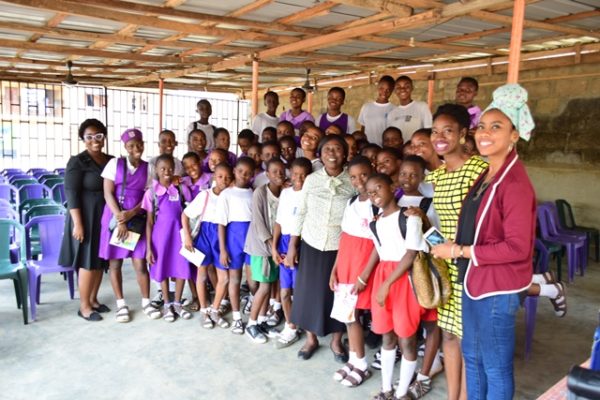 Star Girl Education Foundation (SGEF) recently concluded a one-day career mentorship programme of 38 girls in Junior Secondary School at Ikosi Junior High School. The program entitled "Choosing the Right Career" was very well received by the Principal, Vice Principal and Career Counsellor at Ikosi Junior High School. The program empowered girls with the various 21st-century careers and also the ability to find their purpose and passion early in life.
Star Girl Education Foundation team made up of Funmilola Kehinde, Tomi Bamgbelu, Anu Adelakun, Seun Taylor and Onyechi Chukwujama expressed their satisfaction at the success of the program. They also encouraged the girls to find their strengths and focus on it very early. They emphasized the importance of having a good relationship with God as it is the bedrock of success in life.
At the beginning of the program, the girls expressed their desires to become Doctors, Fashion Designers, Accountants and Bankers only. Most of them had a limited view of the 21t century careers such as Social Media Managers, IT Consultants and the likes.
The team mentored the girls on the new age careers and the great possibility of carving a career path in them. After the end of the program, the girls were more aware and educated about the new career paths and also promised the team they would work hard and never give up on their dreams.
Star Girl Education Foundation is an educational NGO for junior secondary schools; we facilitate learning and development using technology, mentorship programmes and latest innovations in career evolution to prepare the female child for opportunities in the future.
We aim to expose them to as many career options as possible and steer them in the most fulfilling career path.
Our Vision is to educate, motivate and inspire 10,000 young girls in becoming better leaders through the provision of mentorship and training in the next 10 years.
—————————————————————————————————————————
This content has been published for free as part of BellaNaija.com's commitment to youth, education, healthcare and community development as part of our corporate social responsibility programme