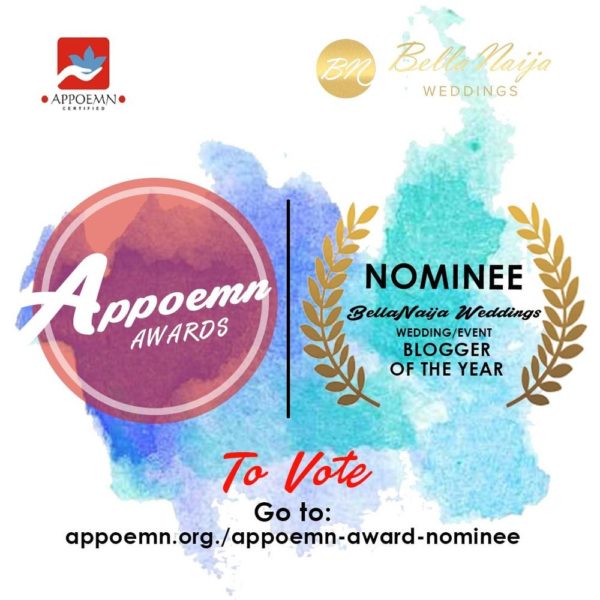 The Association of Professional Party Organizers and Event Managers of Nigeria (APPOEMN) has released its list of nominees in the 2017 APPOEMN Awards.
BellaNaija has been nominated in the Wedding/Event Blogger of the year category and we want to thank you, our dear BellaNaijarians for your support all these years.
"BellaNaija has been selected because they demonstrate business excellence and the highest standards of ethical conduct, integrity and civic and social responsibility," the organisers said.
APPOEMN is an association with a mix of seasoned Events Professionals that have been at the forefront of Event Planning and Coordination in Nigeria, for the past 15 years.
The award ceremony which will wrap up the 2017 The Event Industry Conference (TEIC) will hold on September 17, 2017 at Havilah Event Centre, Oniru.
To vote, head over to http://appoemn.org/appoemn-award-nominee/ (BellaNaija's category is on number 30 in the list).
See full list of nominees below:
1. Event Caterer of The Year
Malas
Sisi Pepper Konsult Catering
Culinary Woks
Oleander
JK Partyworld
2. Event Decorators Of The Year
Wedding Guru
Nwandos Signature
Yvents Kouture
SaraO
Aquarian Touch Decor
3. Kiddies Parties Organiser Of The Year
Playbarn
Hooray Mama
Kids Kulture
Fara & Zara
Wiggles Parties
4. Bridal Showers Organizer Of The Year
Just Showers
Partyfullyyours
Showers By Just Weddings
Partito by Ronnie
Alfa Showers
5. Florist Outfit Of The Year
Aralia By Nature
Flowerplus
Rosety Garden Flowers
Newton & David
Adelas Havens
6. Rental Company Of The Year
KFA Rentals
Naphtali Rentals
Markbee
Tent Events
Classicus
7. Event Dj Of The Year
DJ Lammy
DJ Obi
DJ Skillz
DJ Poppaey
DJ Biso
8. Traditional Wedding Attire Designer Of The Year
Molbaks Alasooke
Bimmms24
Deola Sagoe
The Elect Aso-Oke
Tisbee Aso-Oke
9. Wedding/Party Compere (Mc) Of The Year
TeeA
Gbenga Adeyinka The First
Mc Ajele
Mc Abbey
Mc Saco
10. Event Band Of The Year
Shuga Band
Faith Band
Ebony Band
Veentage Band
Sharp Band
11. Special Effects/Lighting Designer Of The Year
Innovate Media
Eventecture
Box18 Media
Megavision
Think & Succeed – Buchi
12. Stage & Props Designer Of The Year
Hermosaboda
Eventecture
Jones B Woodpeckers
Nelson Jack
Equally Diverse Solutions
13. Multimedia Company (Audio-Visua) Company Of The Year
Megascreen
Shadowze Audiovisual
Sakal Multimedia
Seyi Body Lawson
Mobile Screens
14. Best Purpose Built Event Space Of The Year
Classique
Muson
City Hall
Harbour Point
Landmark
15. Best Hotel Venue Of The Year
Eko Hotels
Oriental
Sheraton Ikeja
Renaissance
16. Best Drinks Supplier Of The Year
Bonix
Maldesa
Drinkspro
Icebox
Nybd
17. Event Photographer Of The Year
Jide Odukoya
SC George
Klala
Photonimi
Wani Olatunde
18. Fingerfoods And Confectionery Outfit Of The Year
Ofadaboy
Larry Spice
Saheeto
Goldilux
Fingerking
19. Desserts and Sweets Outfit of the Year
Sweet cravings
Salt Lagos
RL Desserts
Dessert Studios
Licious
20. Cake designer of the year
Cakes by Tosan
Helado Delicia
Cakes byAndy Clark
Edible Spice
Dainty Affairs
21. Makeup Artiste of the Year
BM Pro
Faces by Labisi
Makeup by Ashabi
Oshewa Beauty
House of Tara
22. Event Videographer of the year
LadiMilan
Lanre Esho
Cinematics
Storm Blast Media
This Media Girl
23. Event security company of the year
Spartan Security
Event Solution
EventView
Maximus
24. Cocktails supplier of the year
Mandies
Eventi cocktail
Barcode
Drinks Pro
Cocktails in & out
Ellesbox
25. Event accessories supplier of the year
Alhaja Partyneed
Sedu
Gigshire
Lights and Events
Swalek
26. Event shows/programes of the year (for more than one year annual events)
HOTR The Experience
GTB Food and Drink
Wed Expo
Lagos Count Down
Grill Festival by grind
27. Aso ebi/fabric store of the year
Foradora Fabrics
Sas Textile
Nakenohs
Bunnie Bee Fabrics
Kwamuhle Frabrics
28. Event magazines of the year
Ovation
Wedding planner
Munalachi Bride
City People
Encomium
29. Entertainment/Live Shows of the year
Calabar festivals
Lagos festivals
AY Live
ASA Concert
Elite Corporate Night
30. Wedding/Event Blogger of the year
BellaNaija Weddings
Nigerian Wedding
Africansweethearts
Owanbe Parries
Sugar weddings
31. Best corporate entertainer/Host
IK Osakioduwa
Joseph Benjamin
Dotun (Cool FM)
Kemi Adetiba
Osas Ajibade (Host)
32. Award for Outstanding contributions to the events industry
GTB for organising events
Diamond for sponsoring events
Lagos State government
Baileys
33. Traditional Wedding Compere (Alaga)
Ile oko ya – Mrs Akinwunmi
Strictly Weddings – OluremiSAN
Sokoyokoto- Mrs Folusho Ogunjimi
Mrs Toyin Makinde
Tokotaya – Mrs. Titilayo Adegboye
34. Eru Iyawo
Rostal flowe
rEruiyawo
Bispaq
Buttercups
Esho la mode
35. Party Shop
Simbabe
Partylocks
Party perfect
Ribbon room
36. Wedding Stationery- Invitation cards
The Wedding Store
Ink Heart Studio
Souvenirize invitations
RadephKoza
37. Wedding dressmaker of the year
April by Kunbi
Mai Atafo
Yemi Shoyemi
Toju Foyeh
Tope Fnr
38. New Planner Alert 2017
Trendybee events
Rymba Galore
Magna Events
Coker Creative
2706 Events
39. Events professionals in the diaspora doing us proud
Segun Gele
Kesh Events
BCG Events
Brides by Nona
Doyin Fash
40. Event Performer of the Year
Olamide
Davido
Tiwa Savage
Timi Dakolo
Korede Bello
41. BBQ and Grill
Kmac
Sean B
Islander
Grind grill
Buffalo wings