Today's quick #BNFroFriday interview features Daboju Ogboru. Daboju describes herself as a "Hairpreneur". She started her hair care blog called naijahaircangrow.blogspot.com 6 years ago and then opened a brick and mortar hair care centre called Savvy Chic Hair Beauty Hub in 2013 comprising of wholesale/retail hair care products, accessories, in salon services and an e-commerce platform for hair and beauty products in Nigeria.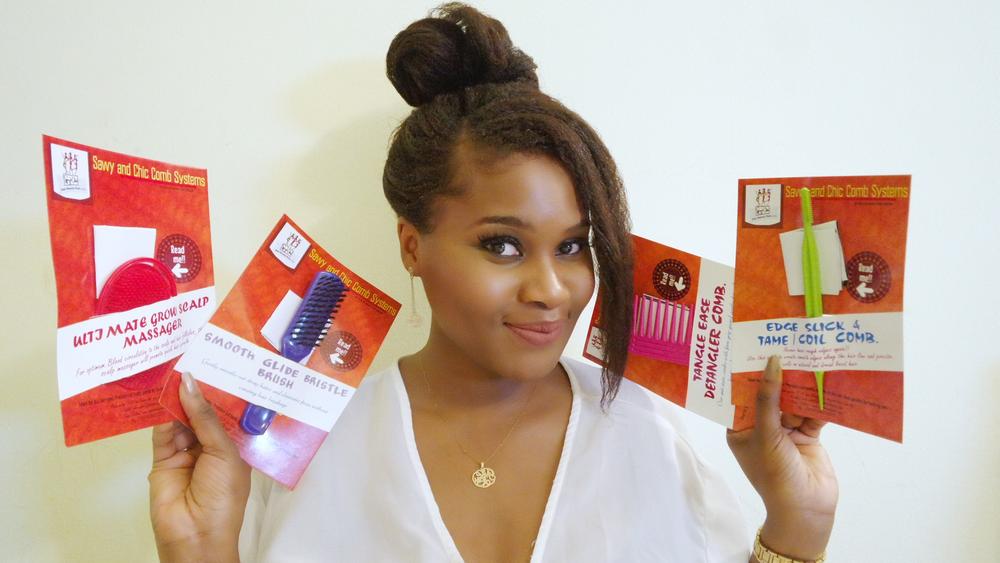 In the brief interview below, the hair expert shares advice for different hair textures. Do you have permed or coloured hair or are you in your transition phase? Dabs has a few helpful tips for you!
***
Advice for;
Someone with relaxed/permed hair:
Stretch your relaxer to 3 to 4 months so you have enough new growth to touch up and you avoid relaxer overlaps which can thin out the hair. Your hair also needs regular protein treatments (more than afro hair) because the relaxer has chemicals that alter the protein bonds that form the hair strands thereby making them more fragile and prone to breakage, regular protein treatments will restore the lost bonds and strengthen the hair strands from within.
Someone thinking of going natural:
If you'd like to go natural, do it for the right reasons. I have found that ladies who went natural because it was trending or because they wanted their hair looking like a YouTube hair guru often end up either frustrated to the point they start relaxing again or they simply never deal with their hair and wear extensions all the time. Be realistic about your expectations especially when it comes to styling your hair based on your hair texture and growth rate. Know that natural hair requires attention and care for it to look healthy and lush.
Someone in the transition phase:
Be patient, the line of demarcation where your relaxed hair and new growth meet is very fragile, always work with damp moisturised hair while styling. Trim off your ends in bits until you are ready to fully be natural, don't let your ends split randomly because you know you will be getting rid of them soon. Trimmed ends will make combing and detangling more manageable because they tangle less.
Someone contemplating the big chop:
It's a bold move but if you can rock it, go for it!! I would recommend doing it at a salon or the barbers though instead of at home or with regular scissors.
Someone with a TWA:
The TWA phase I have heard is very liberating, you can shower with the water on your head every day! I would recommend trying out styles that define curls like finger coils and wash and go's at this stage.
Someone with coloured relaxed hair:
Hair dyes like relaxers are chemicals and most of them regardless of their claims tend to be too harsh on the hair and dry it out because they erode the hair's outer layer of protection (the hair cuticle) to deposit the colour especially if you are going light (blondes and reds). Therefore, there is, the need for constant intensive moisture hair treatments to counter the dryness until the colour grows out.
Someone with coloured natural hair:
With natural hair, dryness is still experienced but because it's one less chemical application as compared to relaxed coloured hair, naturals can pull off having coloured hair without it getting as dry or damaged. Just keep up the moisture treatments and space out the colour application sessions to at least 3 months intervals.
Someone contemplating colour/dye:
Know that there are different types of hair dyes- permanent, semi- permanent, temporary dyes and plant based dyes. The safest options are plant based dyes like Henna, however, their colour output is not as strong as chemical dyes which as I mentioned earlier tend to dry the hair out and require regular intensive moisture treatments.
***
In the past, Daboju spoke to BN Beauty about her business and her first book, a children's hair care journal titled My First Hair. To find out more, click here to see the entrepreneur edition of our weekly hair column.
If you'd like to be featured on #BNFroFriday, tag us on Instagram or send an email to [email protected] and let's make it happen!
Have a great weekend, beauties!