Hello, BellaNaijarians!
The weekend is almost here, and the list of all the exciting events happening this weekend is ready.
Scroll through to see.
For all the events happening near you, be sure to follow @bnrsvp on Instagram.
To have your event featured, send an email with details of the event – Theme, Date, Time, Venue and a short description – to events (at) bellanaija (dot) com.
Do not forget to check BellaNaija.com every Thursday for the complete event listing in Nigeria.
**
Mama Africa Yemi Alade Live 
Date: Friday, August 4th
Venue: Howard Theatre, 620 T St NW, Washington, DC 20001, USA
For more Information, visit www.yemialadedmv.com
---
Velvett Friday Night
Date: Friday 4th of August
Venue: Velvett Lounge,
Time: 9PM
---
Singles & Married
'Singles and Married' is a one-day relationship seminar aiming to impart the essentials of cultivating a good relationship towards achieving overall well-being. It is organized by the Celestial Church of Christ (CCC) Worldwide, Youth Organization, Lagos State Chapter, Sisters' wing.
Date: Saturday, August 5, 2017
Time: 10AM
Venue: CCC Zion Cathedral Lekki
Theme: Set my feet upon a rock (Psalm 40:2)
---
The Despicable VIP Party
Date: Saturday, August 5, 2017
Venue: Kellys 411 Hendon Wat NW4 3LH
Time: 11PM
---
Patterns & Stitches
Date: Saturday, August 5, 2017
Time: 2-5PM
Venue: Playhouse Children's Center, 7 Harold Shodipo street, off Joel Ogunnaike Street, GRA, Ikeja.
---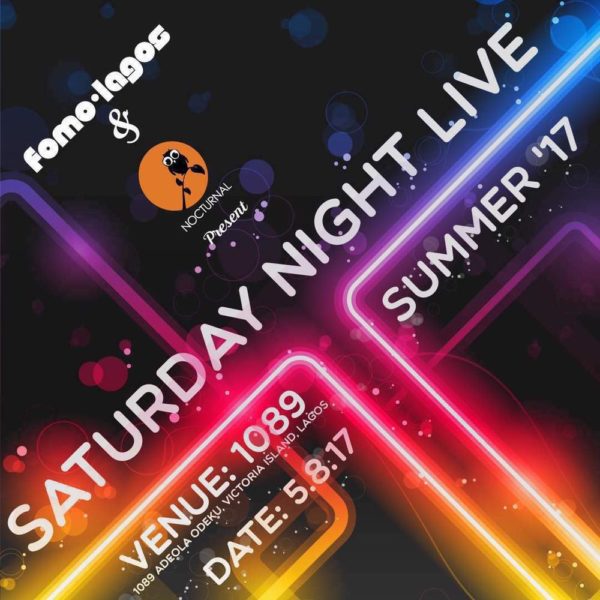 Saturday Night Live! Summer '17
Date: Saturday, August 5, 2017
Venue 1089 Adeola Odeku, Victoria Island.
Time: 10PM
---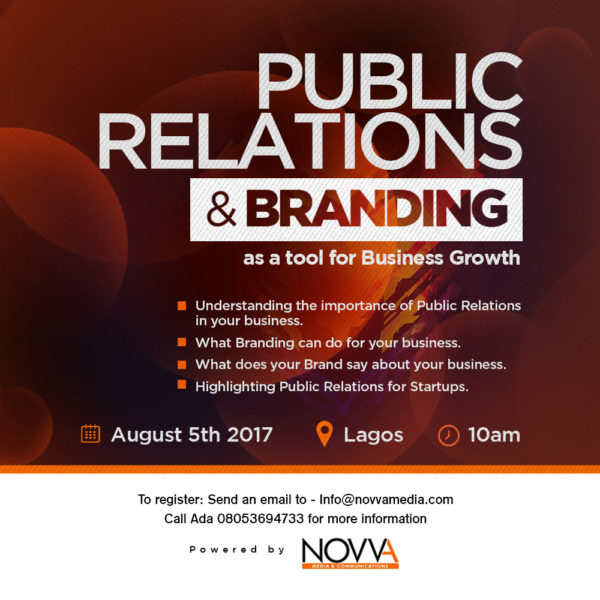 Branding & PR as a tool for Business Growth
The importance of public relations and branding in our career and business is always underestimated, come and join other business owners as PR and Branding consultants lecture on the importance of these components in your business.
Date: Saturday, August 6, 2017
Venue: Lagos
Time: 10AM
---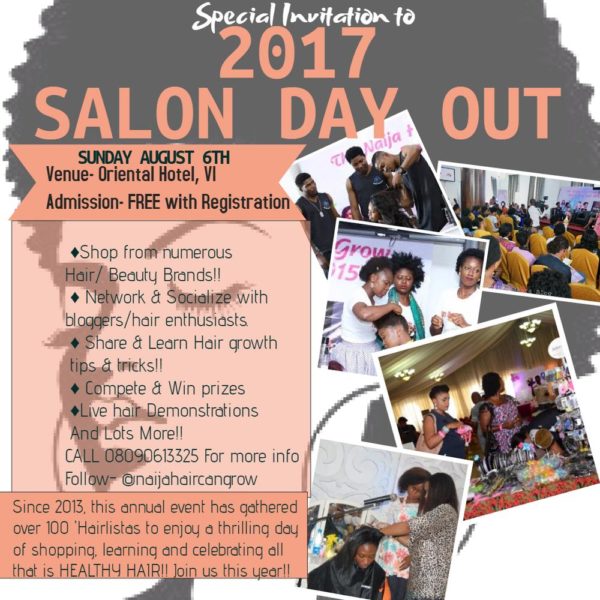 Salon Day Out
The Naija Hair Can Grow Salon Day Out is the ultimate celebration of healthy hair by Lagos Hair fanatics!! It promises to be a full day of activities involving hair seminars/talks and practical hair care knowledge sharing, live hair styling makeovers by talented professional hair stylists, shopping from international and home grown Nigerian hair care brands, hair competitions, networking and so much more.

Date: Sunday, August 6, 2017
Venue: Oriental Hotel
Time: 11 30AM – 7PM
---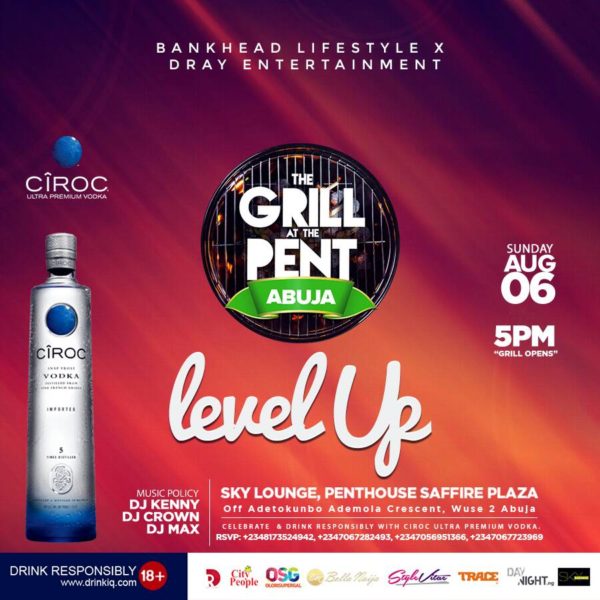 GATP Abuja: Level Up
Come party with the coolest rocks as we raise the standards in the Federal Capital.
Date:
 Sunday, 
August 6, 2017
Venue: Sky Lounge, PentHouse Saffire Plaza, Abuja.
Theme: Level Up