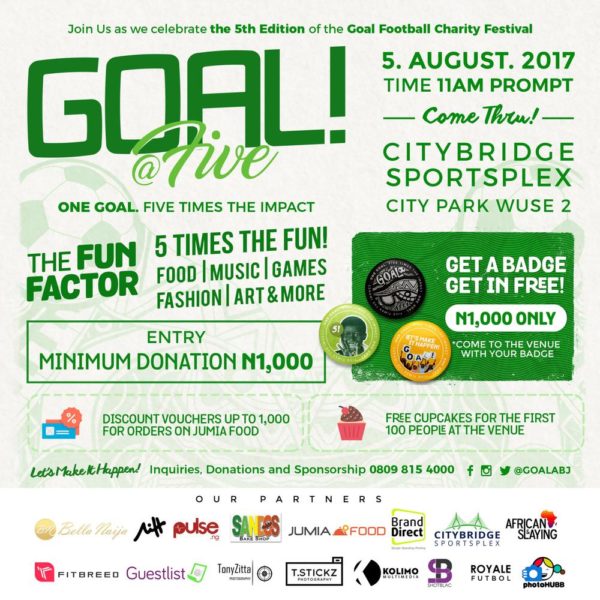 Consistency, as they say, is key. Year after year, the Goal Initiative has continued to push borders to reach out to the less privileged in the bid to enrich and impact many lives as possible. 2017 is no different. In addition to programs in motion, Goal initiative has partnered with Evergreen NGO and Arm the Child to put together the #SummerSchoolForIDPs program. This program, aimed at providing basic education to over 100 internally displaced kids was initiated on July 14th, 2017 to be concluded August 4th, 2017. It has been a wonderful experience for the kids and the public has also been supportive.
In the bid to consolidate its efforts thus far, Goal Initiative is set to put up the 5th iteration of the annual charity football festival, tagged [email protected] on August 5th, 2017 at Citybridge Sportsplex, City Park, Wuse II  Abuja. The event promises to be packed with fun-filled activities for families and individuals across all age groups. With the inclusion of Food and Drink vendors, games and activities on site, special appearances and performances, and art showcases the event guarantees all attendees five times the fun. Entry to the event is a minimum donation of N1,000 (one thousand naira). Alternatively, prospective attendees could purchase one of the goal badges, priced at N1,000 (one thousand naira) and gain access to the event. Ultimately, the event is organized to raise funds for the less privileged. As such, all proceeds from the event will go to charity.
Date: Saturday, August 5th, 2017
Time: 11.00 am prompt
Venue: Citybridge Sportsplex, City Park, Wuse 2 Abuja
Hosts: Frances Theodore and Sir Timmy
Music Policy: DJ Romie
As football is the core of this event, there are 5 novelty matches scheduled to take place on the day; Team Nigeria Vs. Team world, Team Ruby Vs. Team Hibiscus, and Team Agon Vs. Team Ole. The kids won't be missing out in all the fun, as they will also square off in two friendly matches. The matches are themed to communicate the objectives of the organization and its work. Amongst many others, the event is to promote Gender equality via the Team Ruby Vs. Team hibiscus match; the match will feature female players in an high impact friendly match. With these dynamics, the event is slated to be the biggest of all put together by the organization.
More Information as follows:
Visit the website here and follow us on Instagram and Twitter or call us on 08098154000 for donations, sponsorship more information.
Let's make it happen!
————————————————————————————————————————-
This content has been published for free as part of BellaNaija.com's commitment to youth, education, healthcare and community development as part of our corporate social responsibility programme