Gold, Silver & Bronze Plaques for Ideas House Limited at EXMAN Awards… As Kehinde Salami Becomes EXMAN President!
Following the election that took place during the Annual General Meeting (AGM) of the Experiential Marketers Association of Nigeria (EXMAN) on Saturday, July 29th, 2017, Kehinde Salami has emerged the new President of the Association.
Kehinde Salami who was previously the Association's General Secretary was sworn in on the same day alongside other newly elected executives by his predecessor Dr. Rotimi Olaniyan at the Association's first Awards Night which held at the Federal Palace Hotel, Lagos.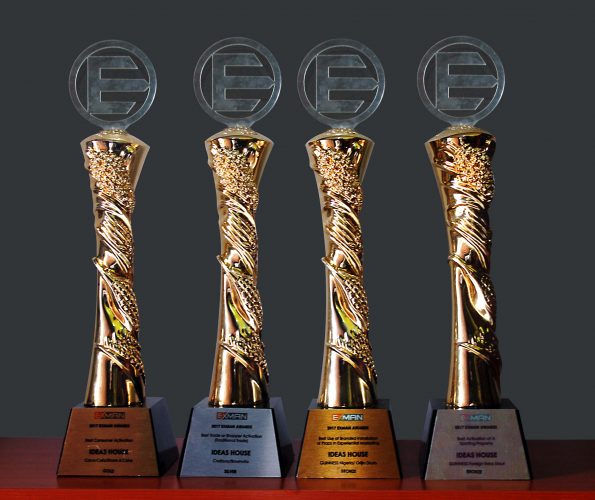 Kehinde Salami is also the CEO of Ideas House Marketing Communications Limited, an experiential marketing company, and marketing consultant to several blue-chip companies in Lagos. As a marketing expert, his experience spans the European and African landscape, having worked for several reputable blue chips such as British Airways LE, Heathrow Express, and Timberlands UK.
Ideas House's A&T and FMCG teams were also winners on the memorable night as they walked away with  Four (4) awards from the inaugural Awards ceremony; Best consumer activation- Gold, Best trade or shopper activation (traditional trade)- Silver, Best activation of a sporting property- Bronze, Best use of truck branded installation of props in experiential marketing- Bronze
Speaking at the event, the new President, thanked everyone for their immense support and promised to keep EXMAN's flag flying high. He commended Dr. Olaniyan and the outgoing executives for a job well done and promised to embark on forward looking initiatives such as working with financial institutions to bring about single digit lending rates for the member agencies.
EXMAN is the sectoral trade body for forward-looking experiential marketing communications agencies in Nigeria. It also serves as a co-operative of the best experiential marketing agencies in Nigeria. The association exists to support, promote and defend the interests of over 45 member agencies, with a total billing of over thirty billion naira through comprehensive core services and platforms.
—————————————————————————————————————————–
Sponsored Content