The challenge the Nigerian agricultural sector is facing is not unavailability of arable lands, neither is it lack of manpower but spoilage of produce due to poor or non-existent storage facilities and/or lack of access to buyers.
Three Nigerian-Americans – Isaiah Udotong, 21, Uzoma Ayogu, 21 and Ikenna Nzewi, 22 – are hoping to change that using their Y Combinator-funded startup Releaf.ng.
Relief aims to tap into the tremendous growth potential of the Nigerian agricultural sector by fostering trust among businesses in the Nigerian agricultural sector.
Isaiah, the company's CEO, schooled at Massachusetts Institute of Technology (MIT) majoring Mechanical Engineering. He worked at Facebook as a software engineer for 2 summers. While at Facebook, he built a mobile app in an intern hackathon and his product was selected as the best of his intern class to present to Mark Zuckerberg.
Uzoma who is the CTO of the startup, schooled at Duke University as a Mechanical Engineering major. He worked at General Electric as an engineer. He currently sits on Duke's Board of Trustees along with Tim Cook, CEO of Apple, among others.
Ikenna, Releaf's COO, schooled at Yale University as a Computer Science major, and worked at Bain Consulting as an associate consultant. He has founded 3 other companies before and is in Harambe Alliance, which is the premier society for African entrepreneurs.
They say they were inspired to work in Nigerian agriculture by Former Minister of Agriculture and current African Development Bank (AfDB) President, Akinwumi Adesina.
"I am proud to have mentored these brainy young Nigerians in the US driving Releaf company. Great assets of Africa! These young Nigerians in the US will dominate agribusiness in Africa in future," Adesina had shared about the trio on Twitter.
In this interview with BellaNaija, the founders tell us that they have been working in stealth, up until the $120k fund from Y Combinator earlier this year. They say Releaf aims at bringing offline Business-to-Business (B2B) solutions online. They are taking it upon themselves to verify these businesses, so as to create a trustworthy platform for buyers and sellers of agricultural products.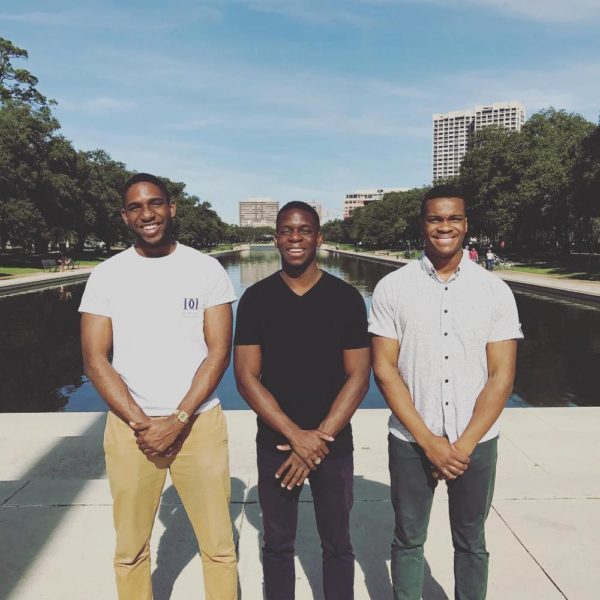 **
Please tell us about yourselves and why you started Releaf
All three of us are Nigerian. We have been fortunate enough to attend university at MIT, Yale & Duke in the US. We've also worked at some of the world's best companies (Facebook, Bain, GE) but realised this work was not what we really wanted to do with our lives.
From a young age, we've all wanted to contribute towards Africa's Growth story. The idea of Releaf came during a video-conference call. We decided to work on projects with private companies in Nigeria as a method to begin working towards our goal.
Our founding thesis was that the most tangible way we can contribute towards Nigeria is by helping stimulate growth in the private sector. We were inspired that agriculture was going to be the future and path to prosperity for so many in Nigeria and the continent so we set forth to learn from those in the space and find ways to contribute.
Please tell us about Releaf
Releaf is a B2B marketplace that connects African businesses to verified buyers and suppliers they can trust. In Africa, few businesses use B2B websites often due to rampant scammers. Releaf is unlocking the tremendous value African trade has to offer by taking offline interactions and digitizing them through our online platform. All businesses on the platform go through a verification process.
Releaf believes that building trust in online transactions will massively increase transaction volume and efficiency across the continent.
Congratulations on the $120k Y Combinator fund. Walk us through the steps that led to applying for the funding and what you believe made your application successful.
The $120K is an investment that gave the investor (Y Combinator) shares in our company. We had been working on Releaf while finishing college for the last two years and our team had decided that after graduation, we were going to head to Nigeria to build the business full-time. But before moving Nigeria, we wanted to work during the summer in the United States under mentors that would help us improve as startup founders. For that reason, our goal was to get into an accelerator that would help us scale up as entrepreneurs for the summer.
We made it a goal to apply to the Y Combinator program in January. We received a great deal of advice from mentors, entrepreneurs, and friends during the application process. And after interviewing in person, we were accepted in the Spring.Our main strength as applicants was our team with unique experiences and an obsessive passion for our work. All 3 of us were Nigerian-Americans with technical experience. We had 2 years of experience working remotely on with businesses in Nigeria. Most importantly, the problems we were tackling aligned with all of our long-term aspirations.
What are your implementation plans for the grant? and what plans for accountability have you put in place?
The money has been used for operating costs this summer. Hiring a few key individuals to speed up product development. A trip to Nigeria during the summer program to do some customer discovery and product iteration. The accountability comes from having to present your traction after the 3 months at Demo Day to over 200 of the world's most renowned investors.
What is the scope and operational plan for Releaf?
We hope to bring trust to Nigerian agriculture as much as possible over the next 12 months. After that we may think about looking at other legacy industries that are highly fragmented. We really want to focus on doing one specific thing well for now.
We intend to setup an office in Lagos for the time being. Our team will stay flexible and intend to travel to various states to setup seminars and meetings with agribusiness owners in their locale.
How do you plan to secure and verify the data on farmers?
Right now agribusiness owners who sign up for our platform are asked to provide their CAC numbers and some other materials to demonstrate that they are genuine businesses.
Tell us about some of the work you've done so far in Nigeria with the farmers…
Thus far we have a few hundred businesses registered on our platform, requesting to connect with buyers and sellers of their commodities. We are working to facilitate fruitful connections between these businesses online, to increase transparency and by extension, trust.
A large percentage of Nigerian farmers operate in rural areas with poor access roads, poor storage facilities, and little or no internet connectivity. How do you want to make this large market know about your business?
We are thinking about SMS based opportunities for reaching farmers and using traditional media like radio and print as a distribution channel of our services.
What are some of the challenges you've experienced and how do you plan to overcome them?
Building a business in Nigeria when you're not consistently in Nigeria has been very difficult and at times very slow. The progress we've made thus far has been strong, but we know things will really ramp up once we are on ground permanently in October.
Operating a business in Nigeria from abroad has also been difficult from a timezone perspective. Given that California is 8 hours behind Nigerian time, we are often awake till the late hours of the night (3 or 4am) to ensure that we can communicate with businesses through the morning when they're often very active. It has been tough adjusting our sleep schedules, but the excitement and appreciation that we get from our users when we are responsive at their active hours makes it all worth it.
It has also been difficult learning how to create a product for Nigerians, as there are not as many success cases to mimic – compared to the West. However, that constraint has just further enforced in us that we must always learn, experiment, and learn more in order to increase value and engagement for businesses.
What is your unique selling point? What is Releaf doing differently, and what are your plans to continue to be in business 10/15 years down the line?
Our focus is not on the quantity of the B2B marketplace but the quality. Our emphasis is on trust and verification and not just transaction volume.
We want to create an environment where people are able to get access to the networks of their current trusted business partners. Businesses work with their direct connections and often are not able to tap into their extended networks of credible businesses. By bringing these trade interactions online, we can reveal those networks. With more business interactions occurring in known networks, there is a much lower chance of fraud or scam.
How do you ensure that buyers and sellers who have been matched, follow through with their agreement? Do you get the products from sellers (and payment from buyers) and transfer to the other party, or you allow the business make their deals on their own?
Currently we are validating that we can connect the right parties who are serious about doing good business with one another and they transact offline and on their own. We do monitor how things go because if there is some misconduct, then that individual gets removed from the platform.
After we validate that, we can automate trusted connections, then we will begin to manage payments and transactions on the platform to increase efficiency and transparency for both parties.
Finally, please share 5 practical tips that you've picked up on your journey, and how others can learn from some of your mistakes.
Find good people to work with above anything else. It is not your idea, not your product not your funding that will make you successful. Purely the team with which you build your vision.
Do not delude yourself into thinking that someone actually wants what you are building. Be very frank, upfront and even pessimistic about the chances of someone wanting your product. See if they will use it or if they will pay for a prototype before you spend months building.
Always be user-driven. You can make educated assumptions, but learn how to validate or invalidate them quickly. Once you have validated that someone wants what you're building, find a very small segment of people and focus on them to guide your company. You can do so many different things when working on a startup, but the two most important things are talking to customers and building the product. That's all your focus should be on in the beginning.
Make sure that you are not damaging relationships while trying to grow too fast. We made the mistake of trying to grow and learn so rapidly without paying closer attention to those we interacted with along the way. In learning from these mistakes, we strive to take care of relationships and do things the right way, even if comes at the expense of not growing as quickly.
Be willing to pivot towards a different direction that can take you towards your vision. We've had to make a couple major pivots when elements of our business model were not working. However, we've always maintained the same vision of providing value to private sector companies in Nigeria and further, on the continent at large.
Thank you for speaking to us at BellaNaija and for inspiring the BN Fam with your passion for the work you do. We wish you all the best!
You can connect with Releaf on Facebook, Twitter and their Website.