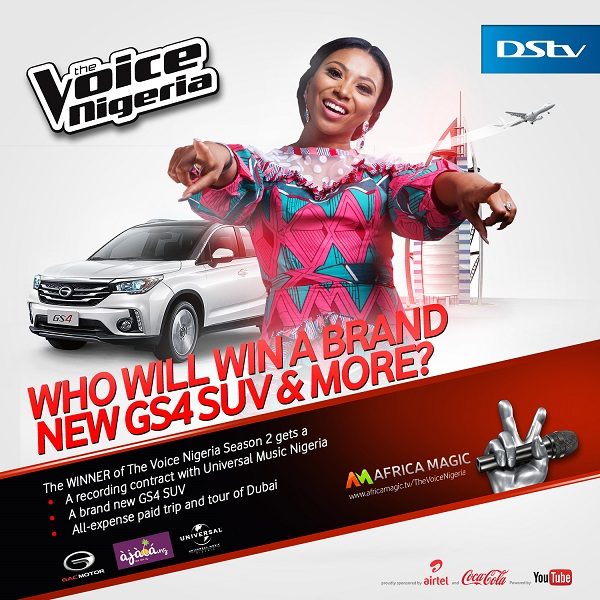 Public voting opened immediately after what can only be described as a series of epic performances on last Sunday's The Voice Nigeria show.
#TeamPatoranking got the show rolling as Kessydriz performed Tina Turner's 'What's love got to with it', whilst Afolayan sang J Martin's 'E No Easy.' Hightee thrilled with Lauryn Hill's Doo Wop and Voke sang Reekado Bank's Ladies and Gentlemen. Patoranking saved Hightee.
#TeamYemiAlade was up next as Chris Rio performed 'Stiches' by Shawn Mendes. Ifeoma touched a few nerves as she sang Andra Day's Rise up. Jahnomso followed with Show me love by Robin S and Bunmi sang Yemi Alade's 'Want you.' Yemi Alade saved Ifeoma.
Following this string of impressive performances was #TeamWaje with Efezino kicking off with a rendition of Clean Bandit's 'Rockabye.' Glowrie gave an emotional performance of Adele's Hello while Favour sang Tiwa Savage's All over and wow, the 80s man, raised the bar with his performance of 'Kool' and the Gang's 'Get down on it.' Glowrie was saved by Waje.
#TeamTimi had Bada who sang Sean Kingston's Beautiful girls while Amarachi (sister to Dawn from Season one) performed Meghan Trainor's No. Wolei sang Brymo's Ara and finally the strong voiced Precious regaled the coaches and audience with his lovely performance of Whitney Houston's Nothing. Precious was saved by Timi.
To vote for your favorite contestant, simply send their respective SMS numbers to 32052.
For #TeamPatoranking
Kessydriz – Text 01 to 32052

Afolayan – Text 02 to 32052

Voke – Text 04 to 32052
For #TeamYemiAlade
Chris Rio – Text 05 to 32052

Jahnomso – Text 07 to 32052

Bunmi – Text 08 to 32052
For #TeamWaje
Efezino – Text 09 to 32052

Favour – Text 11 to 32052

Wow – Text 12 to 32052
For #TeamTimi
Bada – Text 13 to 32052

Amarachi – Text 14 to 32052

Wolei – Text 15 to 32052
You can also vote online by visiting the website here and following the easy steps below: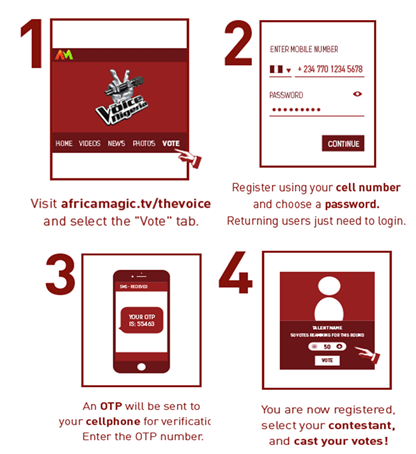 Voting closes on Thursday, August 31st, 2017.
Make sure you tune into Africa Magic Showcase and Africa Magic Urban every Sunday at 7.00 pm Nigerian time to catch all the excitement with The Voice Nigeria, proudly sponsored by Airtel and Coca-Cola and powered by YouTube.
Follow us on Twitter, Instagram @AfricaMagic and on YouTube: The Voice Nigeria to find out more. You can also visit the website here or here for more information.
—————————————————————————————————————————————————————–
Sponsored Content