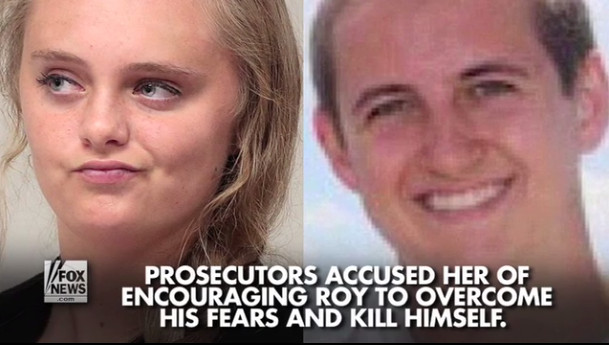 A Massachusetts judge has sentenced a 20-year-old woman Michelle Carter to 2 and a half years behind bars for urging her boyfriend to commit suicide.
Michelle was found guilty of involuntary manslaughter in June after texts showed that she, at 17, urged 18-year-old Conrad Roy III, whom she referred to as her boyfriend, to commit suicide.
The two had built a virtual relationship largely on texting from 2012 to 2014, and Roy who suffered from depression had confided in her about his suicidal thoughts.
She had first asked him to seek help, but two weeks before his death, she was reported to have told him to take his life several times.
Her legal team had argued that both she and Roy suffered from mental illness.
BBC reports that she'll serve 15 months behind bars and five years of probation.
Her lawyer had said it was a "horrible circumstance that she completely regrets."
The Judge was however of the opinion that her age, level of maturity or even her mental illness did not have any significant impact on her actions.
The prosecution, speaking at the hearing, had said her actions killed Conrad, and she showed no remorse for it.
The prosecutor also read a statement from Roy's mother, who said not a day went by that she didn't mourn the loss of her son.
Michelle in text messages sent two weeks before Roy's death had reportedly said: "Hang yourself, jump off a building, stab yourself I don't know there's a lot of ways."
Just moments before his suicide, she had sent him texts that contained "You need to do it, Conrad," and "All you have to do is turn the generator on and you will be free and happy."