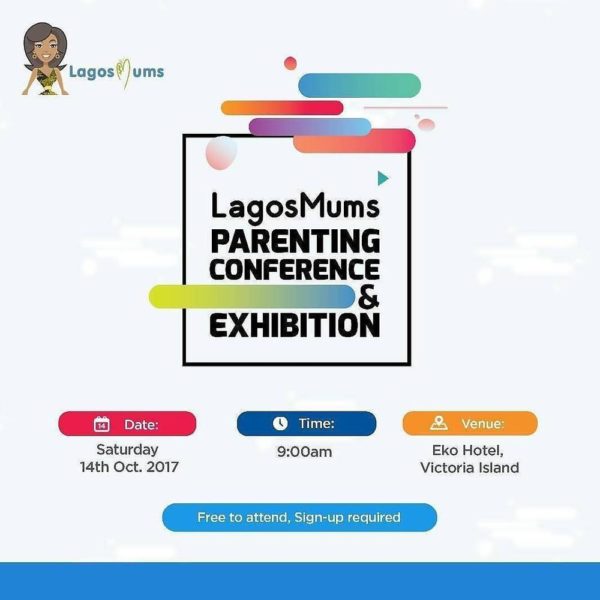 LagosMums presents the 4th Annual Parenting Conference and Exhibition. The event is free to attend but attendees need to register.
Date: Saturday, October 14th, 2017.
Time: 9 am- 6 pm.
Venue: Eko Hotel Victoria Island, Lagos.
Over the past three years LagosMums has successfully hosted its annual parenting seminars with our wonderful mums, dads and speakers in attendance. This year we are anticipating bigger, better and more for our attendees.
LagosMums annual parenting events have become a popular way for parents to meet and network, talk about raising children, discuss strategies for work – life balance and so much more! So if you have never joined us before, join us for our upcoming event.
The LagosMums platform was created in 2011 by Yetty Williams to fill a void for mums, parents and caregivers. Over the years, LagosMums has grown its online platform through social media to be the premier provider of family lifestyle content. It is also committed to organizing programs and events that benefit its community and the society at large.  If you are looking for information on parenting, trying to find out what to do with the family, find a school or simply want to connect, LagosMums.com is your hub.
This year, for the first time, we will be having an exhibition. The exhibition will showcase select companies, with products and services that cater to every aspect of the family. So come ready for some good deals and to learn about new products and services.
The theme this year is "Parents Winning" and deals with the reality that there is no crash course for parenting and neither is there a perfect way to parent. Parenting in the 21st Century comes with several influences and challenges to navigate. However, when like-minded parents come together to deliberate and discuss – we learn, build a community and help each other on the parenting journey.
"The past events have been a huge success and we look forward to this event being bigger, better and offering attendees more. This year we are offering multiple sessions and master classes based on the needs of parents. I am very excited that we have been able to continue to grow thanks to the amazing support of the LagosMums community and sponsors" – Yetty Williams, founder of LagosMums.
This year we have an array of speakers and topics, each speaker brings a unique perspective and insight to being a parent and all the joys and realities that come with it.  Some of the topics this year include raising children in a digital age, work life balance, finance and money matters, healthy living, coaching, choosing the right schools, revolutionizing education, special needs, spiritual parenting, digital media and business tips for mumpreneurs among others.
LagosMums launched this networking series because of its passion to create a forum, which raises awareness and drives a deliberate shift in raising children in the digital age. The past events which have been well attended, saw mums, dads and experts in an interactive session to discuss parenting matters, share experiences and gain valuable advice in a collaborative and encouraging environment.
The event is expected to attract 1000 mums and their families to interact, network, learn and share advise. This event offers a great opportunity for companies whose customers are mums and their families to showcase their products and services. Attendees can also get an early start on their Christmas shopping.
The LagosMums parenting conference and exhibition is free to attend, but registration is required.
For more information visit LagosMums.com and register, to book a stall email [email protected]
Follow us on Instagram, Twitter, and Facebook.